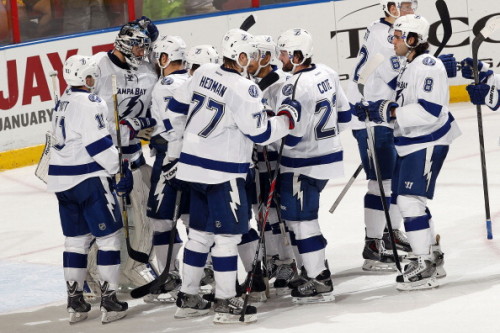 The dog days of August continue on, and for us Floridians they're sweltering hot. We long to see our Tampa Bay Lightning take the ice because it reminds us hockey season is near, which means we can spend a lot of our free time in an icy cold arena instead of outside in this unbearable heat. To help pass the time remaining, I've come up with a list of five reasons you should attend a Bolts game sometime soon.
1) The Bud Light Party Deck
A fairly new addition, the Bud Light Party Deck was added during the summer 2011 renovations at the Tampa Bay Times Forum. It's located on the terrace level and can be accessed from section 304 or 328.
There's plenty of food and beverage options to choose from as well, plus the view is second to none. If you want to hang out with friends, watch the sunset or just chill after a big win, this is the place to go.
Oh, and did I mention it's free with your game ticket? So forget wasting tons of money at a dive of a bar. Just go up the escalator and there you are!
2) Watching Steven Stamkos work his magic on a daily basis
For a team that's seen its fair share of struggles on the ice, the Lightning hit the jackpot following the 2007-08′ season. That was when they were awarded the first overall draft pick, which they used to select center Steven Stamkos.
After a tumultuous rookie season, Stamkos has broken out in a big way. He's broken all sorts of Lightning records, most notably Vincent Lecavalier's 52 goals in a season. He also took his place in NHL history by becoming the second player this century to score 60+ goals back in 2011-12′.
I know, I know. You're probably saying "So what? I'm able to watch Stanley Cup winners in Jonathan Toews, Patrick Kane, Sidney Crosby, etc on a regular basis." To that I can only say one thing. Watch Stamkos play, and you'll be left absolutely speechless because of how he's able to make even the best goaltenders look foolish at times. Quite simply, he scores goals and makes plays other guys can't always see.
The best part: You get to hear the song "Hammertime" every time he buries that puck behind an opposing netminder. And with his accuracy, that's pretty much every game!
3) Real lightning (or close enough)
Another piece of owner Jeff Vinik's vision to turn the Tampa Bay Times Forum into a favorable destination, tesla coils were added during the 2011 offseason. These hang from the ceiling and offer a uniqueness not all arenas have.
Basically, these light up just like lightning strikes before a game and after the Lightning score. So, say the team scores eight goals. That equals eight amazing strikes, similar to what you often see in the night sky around Tampa Bay. Pretty awesome, huh?
4) Community Heroes
Redundant as it may sound, this is yet another one of Vinik's ideas to help make Lightning games so great.
He, along with his wife Penny, created this program three years ago to honor people who make a difference in the Tampa Bay area. They share a story at each of the 41 home dates throughout the regular season and, if the team makes it to the postseason, one hero is recognized at each game held in Tampa.
The hero receives a $50,000 check to a non-profit charity of their choosing, a Lightning jersey with their last name on the back which is presented by a random Bolts player and recognition on "Lightning Vision" (the arenas new videoboard). They also receive a standing ovation from the thousands in attendance, a tribute to how great our fanbase is!
5) A team on the rise

It's been over 10 years since the Lightning captured their first Stanley Cup. Now, after millions of different coaches (OK, I'm exaggerating a little bit) and a revolving door of players, this particular team looks primed for major success.
Steven Stamkos should be back at full speed following a devastating injury that halted what looked to be an extremely special season in the making, defenseman Victor Hedman looks like a legitimate Norris Trophy contender and Ben Bishop has some unfinished business to take care of after an injury cost him the opportunity to be part of the teams brief postseason run.
Young guns Nikita Kucherov, J.T. Brown, Tyler Johnson, Ondrej Palat and Radko Gudas look to build upon successful rookie campaigns as well.
Couple that with all the moves general manager Steve Yzerman made this offseason and, though nothing's guaranteed, the Lightning look to be ready for that next step.
What could be better than that?
Love Reading About Hockey?

Subscribe to keep up-to-date with the latest and most interesting hockey news!
| | |
| --- | --- |
| | We hate spam just as much as you |