Featured
National Hockey League (NHL)
Top Five 2018 NHL free agent signings that could surprisingly happen
There's plenty to be optimistic about for a number of teams heading into the NHL's 2018 free agency.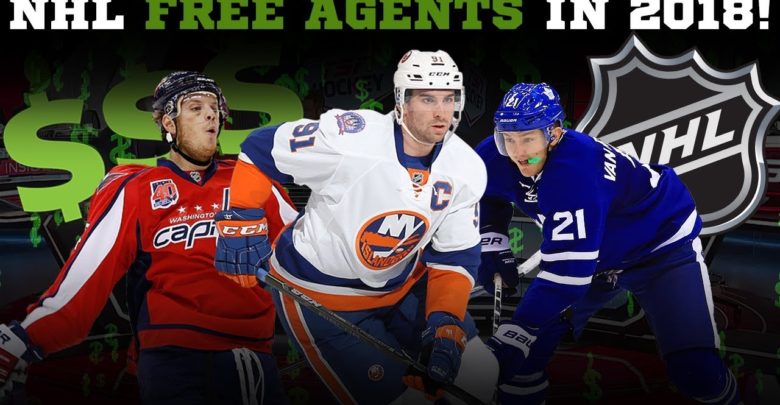 The 2018 NHL Entry Draft has passed, and whether or not you were pleased with how your respective team drafted, there's hope on the horizon with the NHL's unrestricted free agency (UFA) period taking place on Sunday, July 1.
With the recent news of the NHL's salary cap increasing by $4.5 million (now $79.5 million) for the upcoming season, there's more leeway for teams to make a big splash in UFA and acquire that big named skater that they've had their eyes set on since as far back as the last offseason.
Hooked on Hockey Magazine takes a look at the top five surprising NHL free agents signings that could happen in 2018 come July 1.
Rick Nash – Forward
There's one UFA that this hockey enthusiast believes could end up being an x-factor for a handful of teams, but there's one club in particular that may end up pursuing this 6-foot-4 winger. Forward Rick Nash would complement the Philadelphia Flyers lineup, and in large part because of his notable two-way play.
10 years and 1 day ago, Rick Nash scored what may go down as one of the best goals in NHL history. Magical. pic.twitter.com/At4a4zW763

— HD365 (@HockeyDaily365) January 19, 2018
The City of Brotherly Love has been in need of a responsible playmaker such as Nash for far too long, and the power forward would solidify a gap in the Flyers' lineup at either the left or right wing position. Nash, 34, still has much to offer for a Stanley Cup Playoff contender and for a Flyers squad that finished with one of the worst ranked penalty kills (29th), plus an average power play (15th). Philadelphia would drastically improve on special teams with the addition of No. 61.
RICK NASH POWER PLAY GOAL! BEST TRADE EVER! #NHLBruins pic.twitter.com/rlsACUjJu7

— Casey Baker (@CaseyBake16) March 2, 2018
The former first-overall pick (2002) finished last season with just 34 points (21 goals, 13 assists), but joining the likes of Claude Giroux, Wayne Simmonds, Jakub Voracek and company would boost those point totals.
James Neal – Forward
All of the indications are pointing towards the idea that forward James Neal will re-sign with the Vegas Golden Knights, but perhaps the 30-year-old will consider exploring other options after having an impressive offensive showing with the expansion Vegas Golden Knights.
ICYMI: James Neal scored the game-winning goal. pic.twitter.com/J59MJamz5q

— Vegas Golden Knights (@GoldenKnights) February 9, 2018
Yes, Vegas did the unimaginable by reaching the 2018 Stanley Cup Final, but in order to continue the success story, Neal may not be in the team's best interest to offer the type of lucrative contract that he's looking for this offseason. The Boston Bruins could lose out on re-signing Nash, as Boston already lost UFA prospect Ilya Kovalchuk to the Los Angeles Kings, so don't be surprised if the former 40 goal-scorer ends up signing with an Original Six franchise in the Bruins come next week.
Neal offers invaluable Stanley Cup Playoff exposure, considering that the 6-foot-2 winger has reached the Stanley Cup Final the past two years and with two different teams (Nashville Predators – 2017 & Vegas Golden Knights – 2018). Neal and Boston would be a nice fit for each other and he could be the lucky charm that the B's need heading into next season.
Mike Green – defenseman
Yes, the Buffalo Sabres have a skater that's never played in a single NHL game to date, but 2018 No. 1 overall selection, Rasmus Dahlin, is expected to be a Norris Trophy winner in due time. Still, that doesn't mean that the Sabres shouldn't pursue other top defensemen heading into this offseason. Dahlin is going to need a veteran mentor and an all-star caliber blueliner such as Mike Green could be worth paying for if you're a team such as Buffalo.
Top Unrestricted Free Agent Defensemen (with '17-18 stats)

1. Mike Green (66GP-8G-25A-33PTS)
2. Calvin de Haan (33GP-1G-11A-12PTS)
3. Michal Kempny (52GP-2G-6A-8PTS)
4. Thomas Hickey (68GP-5G-19A-24PTS)
5. Jack Johnson (76GP-3G-8A-11PTS) pic.twitter.com/rqOjLd31zx

— SiriusXM NHL Network Radio (@SiriusXMNHL) June 25, 2018
Mike Green picks up his own rebound for his first goal & ninth point in the first six games of the season. #NHLAllStar #LGRW pic.twitter.com/E47tqylBH0

— Detroit Red Wings (@DetroitRedWings) January 10, 2018
The Sabres are going to have to overpay for the former first-round draft pick (2004), but Buffalo desperately needs to improve its blue line and it has the type of money to convince Green to sign with a Cup-less Sabres squad. It's farfetched, but it also makes sense from a business and hockey-decision standpoint.
James van Riemsdyk – Forward
Teams such as the New York Rangers and Islanders, New Jersey Devils, San Jose Sharks and Vegas Golden Knights are all going to be in on winger James van Riemsdyk come July 1. The New Jersey, native is the top UFA available at the winger position and is in the prime of his career. Teams that need more offense, especially on the power play, and are going to do whatever it takes to sign JVR and improve their top-six forward situation.
https://twitter.com/JeffVeillette/status/976248738246201344
Let's take a wildcard team that could go after this skater that's played his entire career in the Eastern Conference (Philadelphia & Toronto)…the Anaheim Ducks. It's time for the Ducks to move on from a former top goal-scorer (winger) Corey Perry and shake up things with their lineup. Signing the former second-overall selection (2007) would offer a dynamic presence up front that team needs to stay in contention as a top team in a tough Pacific Division out west.
https://twitter.com/JeffVeillette/status/850853753385357313
John Tavares – Forward
John Tavares is the most sought and media-worthy UFA since the NBA's LeBron James during the summer of 2010. Tavares is currently in Los Angeles, California and reportedly meeting with five teams to listen to their pitches. It would seem that there are three teams that shouldn't be a surprise to land one of the game's best overall skaters entering the upcoming 2018-19 season – Toronto Maple Leafs, San Jose Sharks and the New York Islanders.
John Tavares with a Filthy Goal showing off a Windmill! 😱👏🏻 pic.twitter.com/bWrR4V5h2x

— Bar South N Celly™ (@BarSouthNCelly) January 20, 2017
Though, the Dallas Stars are in the fold and it's possible that the center would find Dallas a good fit for the sake of his career. The Stars already have a handful of notable star-power on their roster that entails skaters such as Jamie Benn, Tyler Seguin, Alexander Radulov and goaltender Ben Bishop among others. Adding Tavares to Dallas' lineup would make sense for both sides and would more than likely see the Stars back in the Stanley Cup Final at some point for the first time since 1999-2000.
Tweet your NHL related questions to @KMcKenna_tLT5  to have them answered & be sure to use the hashtag #McKennasDigest
Kyle McKenna covers the NHL for Hooked On Hockey Magazine. He can be reached on Twitter (@KMcKenna_tLT5) 
Love Reading About Hockey?

Subscribe to keep up-to-date with the latest and most interesting hockey news!
| | |
| --- | --- |
| | We hate spam just as much as you |