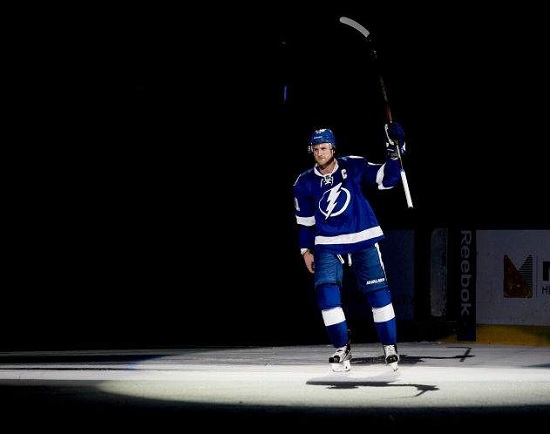 First and foremost, I think it is important to point out that I don't think Steven Stamkos is very likely to be traded.
Now that that disclaimer is out of the way, I do think it would be fun to take a quick look at potential destinations for Stamkos if he was to be traded. After all, there have been rumors that he could be moved, the Tampa Bay Lightning are in salary cap hell, and the Lightning just proved they could win a cup without their captain in the lineup.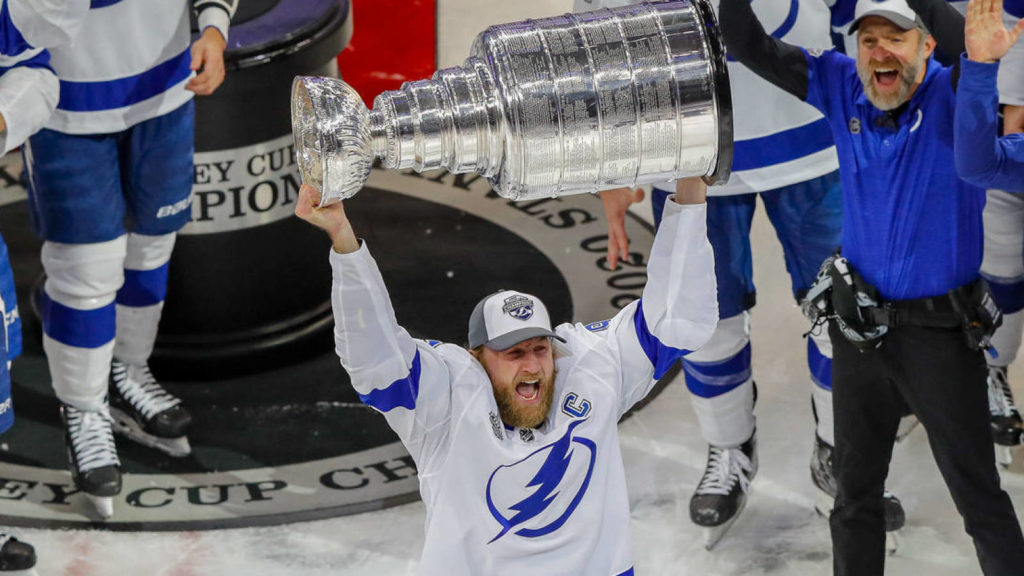 Side note: If you want to read something else fun that is relevant to this article, I wrote a piece almost two years ago with the silly premise of "what if every team had to trade their captain for another?" (Click for part one, part two, and part three). In that article I even suggested a scenario that could see Stamkos moving on and back-up Curtis McElhinney coming back as part of the deal. Clearly McElhinney was the difference with his zero games played in the playoffs.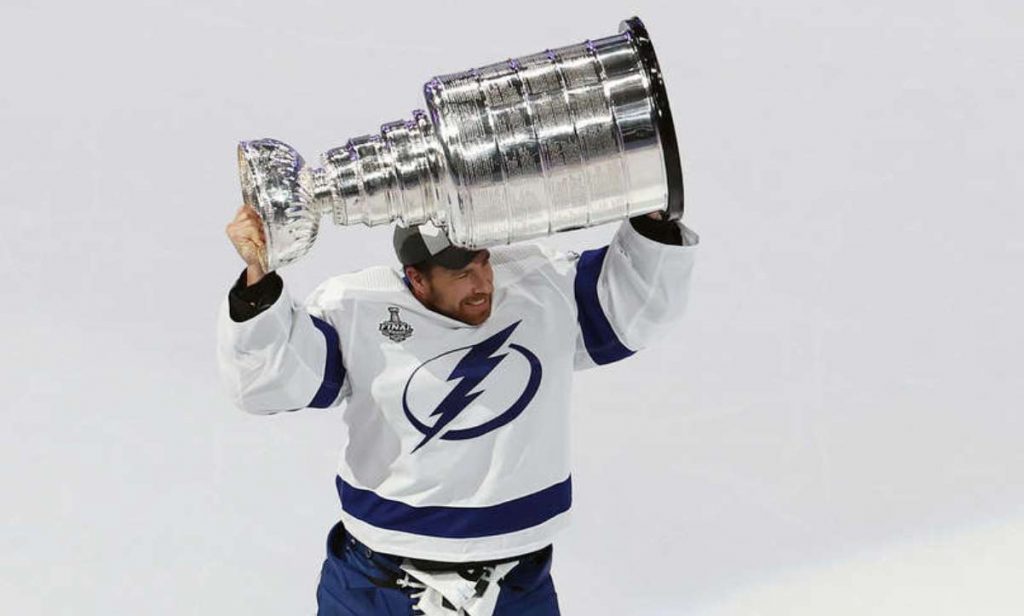 Back to Stamkos though, you can see why he would be a highly sought after target if he became available. His resume reads like this:
-197 point in 124 games for the Sarnia Sting in the OHL
-Won the Bobby Smith Trophy as the OHL's scholastic player of the year for his academic efforts off the ice
-Was CHL (combination of major junior leagues in Canada – OHL, WHL, and QMJHL) First Team All-Star and won CHL's Top Draft Prospect Award in his second OHL season
-First player in Sarnia Sting history to have their number retired (2017)
-2008 World Junior Gold Medal
-2008 first overall draft pick
-Two time Rocket Richard Trophy winner (2010, 2012)
-Six time NHL All-Star
-2016 World Cup of Hockey Gold Medal
-Most career goals by a Lightning player all-time (422)
-Over a point-per-game player (832 points in 803 games)
So yes, he's a very good player. Stamkos is also only 30 years old with a contract that last more seasons at a reasonable $8.5 million cap hit. This is important because Stamkos will only be 34 when the contract ends and should be elite or very good for the remainder of the contract.
Another important piece of information is that his contract has a $8.5 million AAV, however the real cash goes from $9.5 million this season, to $7.5 million next season, and then $6.5 million in each of the last two seasons. This could open up trades to teams that don't care about the cap hit but want to pay less real cash.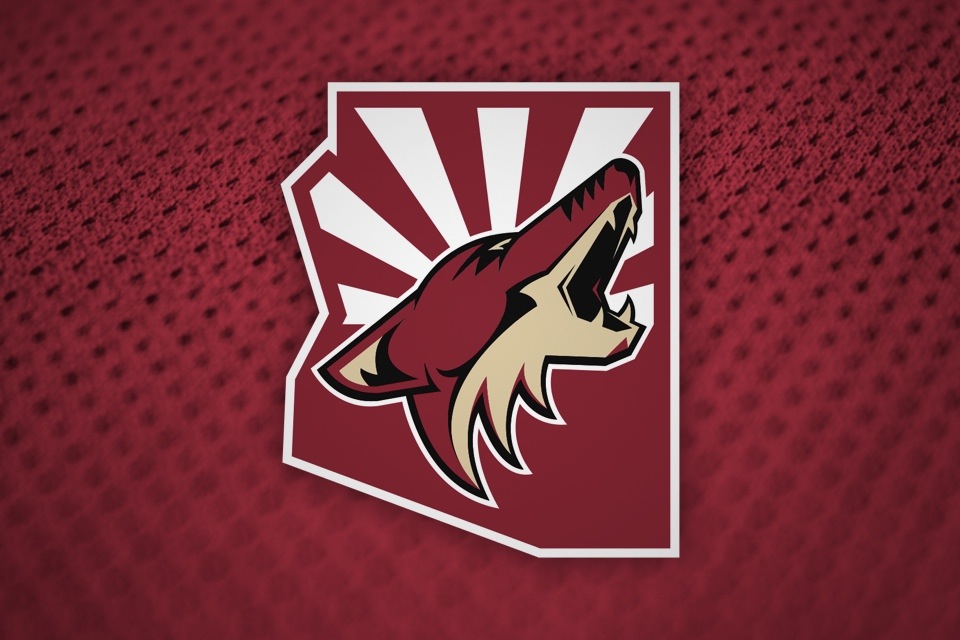 But why would the Lightning trade Stamkos anyways? A quick look at their CapFriendly page shows that they have $2.8 million in cap space – isn't that good?
Well, no, seeing as the Lightning still have to sign restricted free agents Anthony Cirelli, Mikhail Sergachev, and Eric Cernak left to sign. It's been suggested by The Athletic that they could command over $11 million between the three of them (Cirelli $5.25 million, Sergachev $3.7 million, and Cernak around $2.4 million) to re-sign with the Lightning and could fetch even more if they signed offer sheets.
That leaves the Lightning over $8 million short and cap space, and still over $3 million short even if they manage to move Tyler Johnson, who was put on waivers (and cleared them) and is said to have submitted a list of teams he'd accept a trade to.
So instead of creating multiple holes on a Stanley Cup roster by moving out two, three, or even four players and finding cheap replacements, why not move a guy who was only on the ice for a total 2:47 in the playoffs? A player who Tampa already has a replacement for in Brayden Point and Point's replacement on the second line in Cirelli?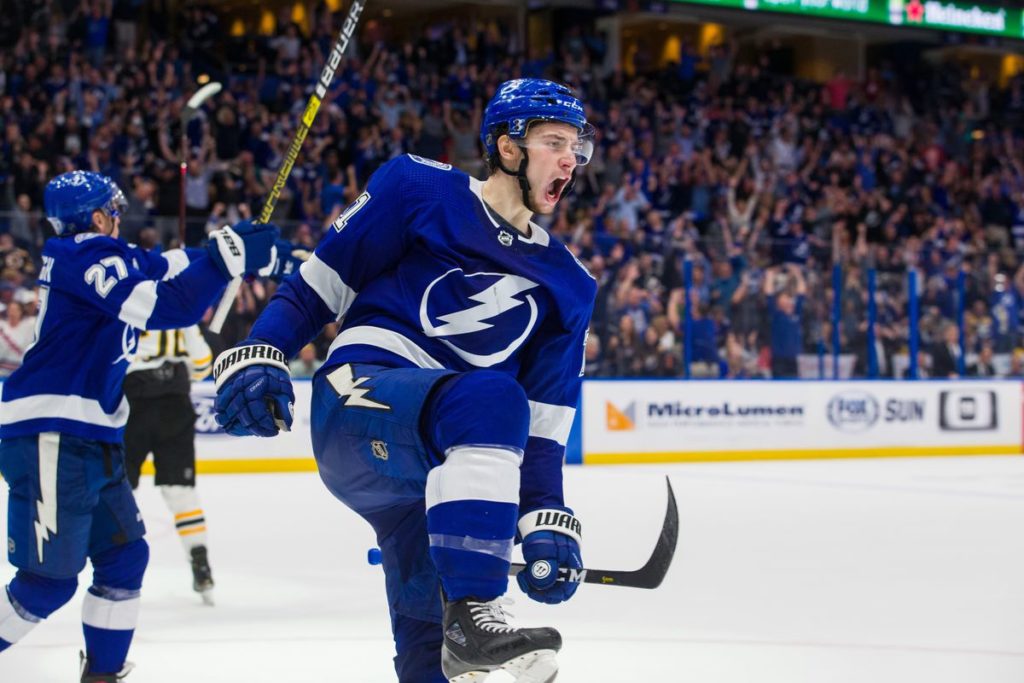 So with that in mind, why not look at some possible options for a Stamkos trade that could make sense in the (extremely) unlikely scenario that he does get moved.
1) Detroit Red Wings
The Red Wings are still in a rebuild and Stamkos is a true competitor, that doesn't seem like a great fit on the surface.
Dig a little deeper however and this deal might make some sense. Dylan Larkin seems like a top line center but is often overexposed due to the lack of depth on the Wings roster. He's also 24 and out of contract in three years and it may be hard to convince him to stay if the Wings aren't improving. A trade for Stamkos could make the Wings both a deeper team, allowing Larking to flourish more, and show him they are willing to make moves to improve the roster.
Detroit is also a big market in the NHL so Stamkos could help drive some jersey sales and reignite passion from a fan base that has had to watch a dynasty transform into a bottom feeder. Prospects and draft capital would be would Tampa would be after if they moved Stamkos, as they need to clear salary and get back cheap, retainable assets.
Detroit has plenty of those and $9.5 million in cap space for this season still to spend. Would something like one of Detroit's center prospects, Joe Veleno or Michael Rasmussen, another prospect, plus a first and and second round pick get it done?
Doesn't Stamkos have a connection with Detroit, along with some sort of strong connection between the two teams' general managers too?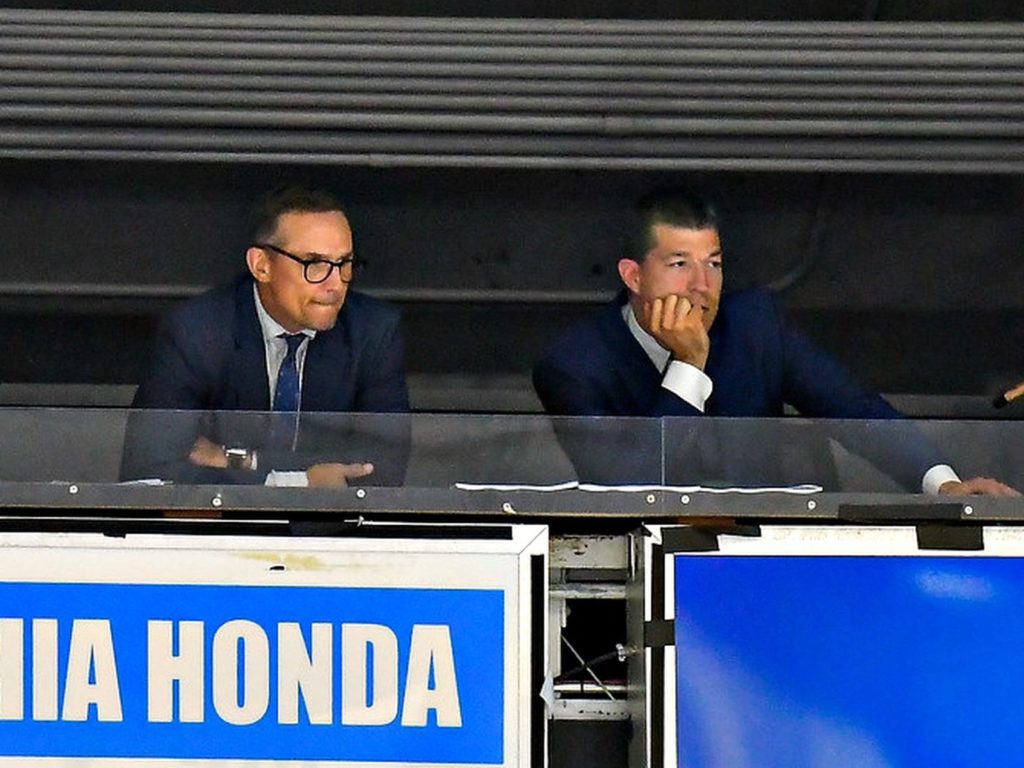 2) Buffalo Sabres
Buffalo has a young, superstar, first line center in Jack Eichel. They also have a second line centre in recently acquired Eric Staal, along with prospects Dylan Cozens and Casey Mittelstadt.
However, in a perfect world, wouldn't Staal be your third line center at the age of 36? And in the event that your prospects aren't ready to take over (Cozens) or as good as you thought (Mittelstadt), wouldn't you want some extra depth down the middle? The answer to these questions should be yes.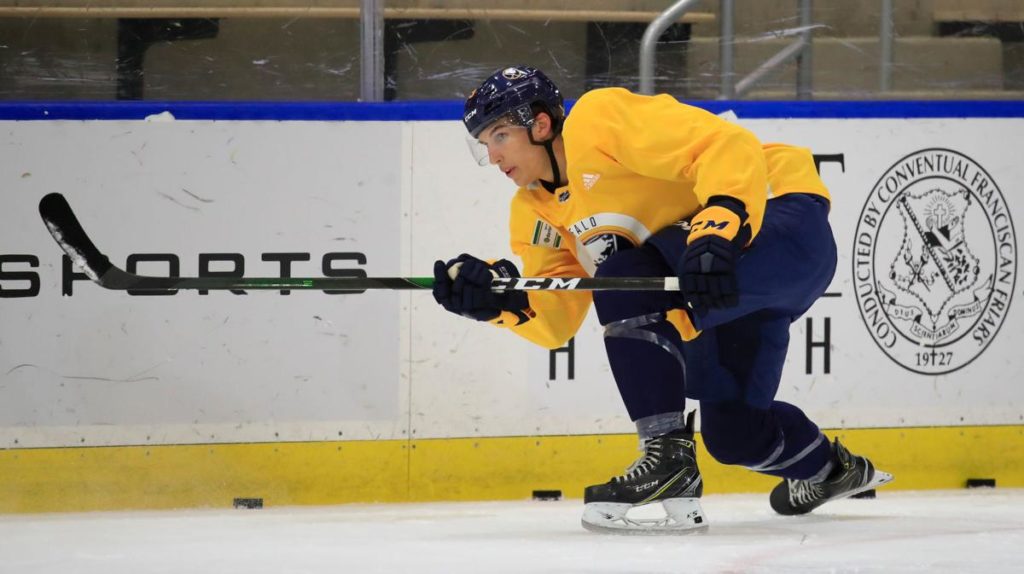 Stamkos could also provide veteran leadership to a team that could use it. Plus his addition, along with Taylor Hall, Staal, and the continued development of stud number one defenseman, Rasmussen Dahlin, could push Buffalo from playoff hopefuls to division contenders.
Some other good reasons for a Buffalo deal include the fact that Buffalo is close to Stamkos' hometown of Markham, and the fact that if Cozens does prove to be ready, Stamkos could slide to the wing later in the contract, much like what happened to him in Tampa with Brayden Point. Did I mention Buffalo has over $13 million in cap space according to CapFriendly?
Beyond Cozens, Mittelstadt, and the recently drafted Jack Quinn, Buffalo doesn't have many high-end prospects – meaning they'd likely be less willing to part with one – but if you're getting Stamkos does it not make sense to at least look at something involving maybe Mittelstadt and a first and/or multiple mid-round picks?
3) Calgary Flames
This option makes the most sense fit-wise, with the Flames being a team that has a solid defensive corps, a new franchise goalie in Jacob Markstrom, but needing someone to upgrade on or complement Sean Monahan down the middle of the ice.
The Flames also make the least sense of the options I'll list in terms of cap space. This only have about $1 million in space according to CapFriendly, and still need to sign Oliver Kylington on the back end.
The Flames are in a weird middle ground in the NHL, somewhere no team wants to be. Not good enough to win a Cup, but not bad enough to draft high-impact players. Part of that is the fact that Sam Bennett hasn't lived up to his draft status, and Monahan is probably best suited as the 1B or second line centre on a Cup contender.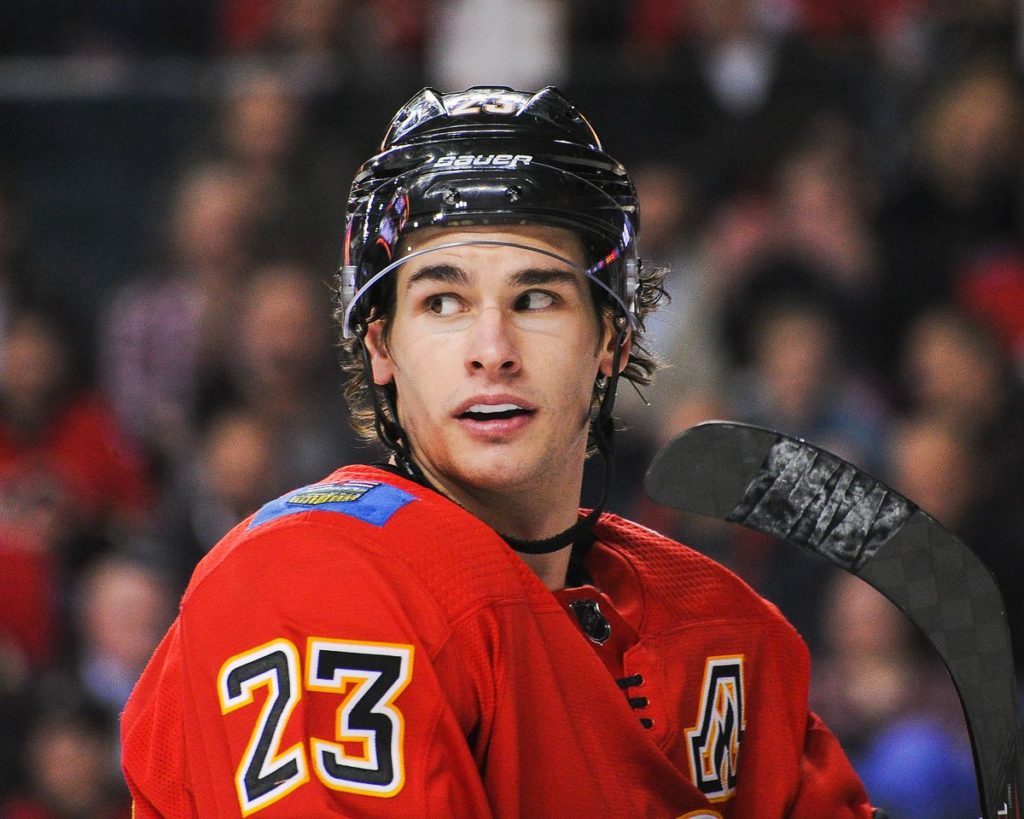 Stamkos easily upgrades that position and gives you a boost up front that could make Calgary a bonafide contender.
The issue is of course, the salary cap, and how Calgary would navigate that. Likely two of Mikael Backlund ($5.35 million), Noah Hannifan ($4.95 million), Johnny Gaudreau ($6.75 million), or Milan Lucic ($5.25 million) would need to move. Then Calgary would need to move whatever assets it gets in that deal, along with some of their own prospects or draft picks.
Still, something worth at least exploring if you are Brad Treliving and are fighting for your job.
4) New York Rangers
This actually looked like a plausible option until earlier today when it was announced the Rangers had re-signed Ryan Strome to a two year, $4.5 million per season deal. Clearly the Rangers weren't sure about Strome, who had been through three teams and averaged 30 points since entering the league in 2013-14, before breaking out with 59 points in 70 games during the pandemic-shortened season.
There were reports the Rangers were looking at other options, including Bob Mckenzie tweeting that the Rangers had looked to Jack Eichel.
Imagine my surprise when I started making calls today and heard Jack Eichel trade rumours, including unverified chatter he may have at some point recently requested a trade out of BUF and that NYR were amongst interested teams. This, of course, required further investigation.

— Bob McKenzie (@TSNBobMcKenzie) September 28, 2020
That said, if there was a legitimate chance to land Stamkos and create one of the league's best one-two center punches with Mika Zibanejad, the Rangers would do it.
Strome would probably be movable after being on pace for around 65 points and a two year, $9 million contract overall isn't that much of a commitment for another team. That makes the nearly $11 million in space the team had before the Strome signing available again – which gives your room for Stamkos' $8.5 million and some wiggle room.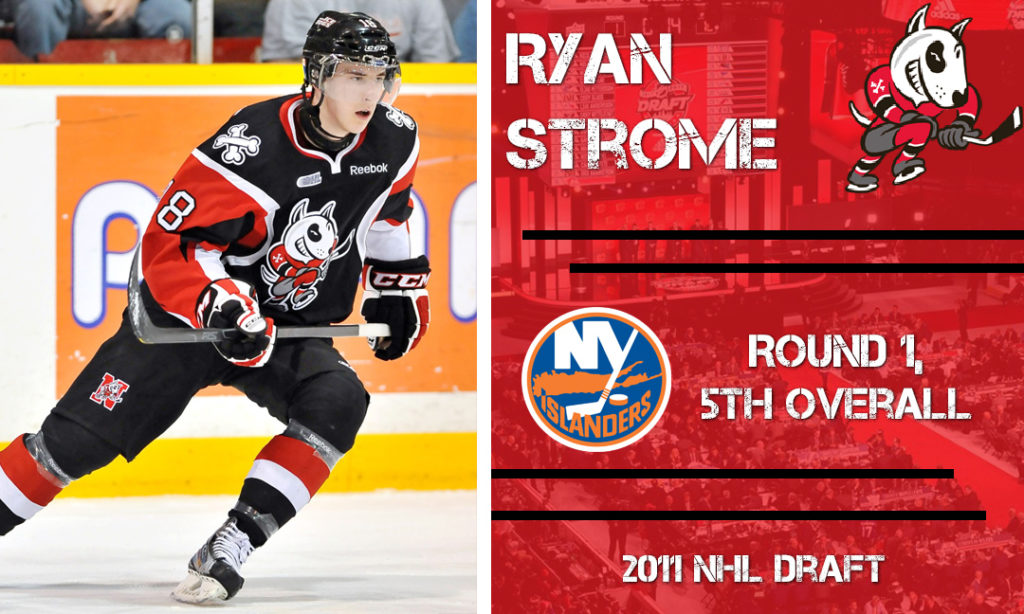 So if you move Strome and free up the cap space, adding Stamkos is a no-brainer. Stamkos would propel the high-flying Rangers from up-and-comers to a team that is in the conversation with the Penguins, Flyers and Capitals for division contenders, if not overall contenders.
Keep in mind former Rangers's GM Glen Sather said that he had a deal in place to acquire Stamkos back in his rookie season of 2008. That means there must be at least a bit of familiarity between the organization and the player.
The Rangers could also put together a very temptation offer including one of Anthony DeAngelo or Adam Fox, with Jacob Trouba's contract unlikely to be moved and thus a logjam on the right side of the defense. The Lightning have Sergachev once he is re-signed, but could still potentially lose Cernak to a trade if they can't re-sign him or an offer sheet if someone else covets him for higher than the Lightning can afford. Luke Schenn is then your next man up, which is a scary thought if he's in your top four.
Again, the Strome deal makes this unlikely to happen, but think of the old saying of "if Gretzky can get traded…"
Like I said above, Stamkos is a great player, Tampa wants to keep him, and any deal would be hard to put together for either side. It's still fun to think about however.
What are some of your trade ideas to get Tampa cap compliant? Let us know in the comments of this article or on Facebook.
Love Reading About Hockey?

Subscribe to keep up-to-date with the latest and most interesting hockey news!
| | |
| --- | --- |
| | We hate spam just as much as you |