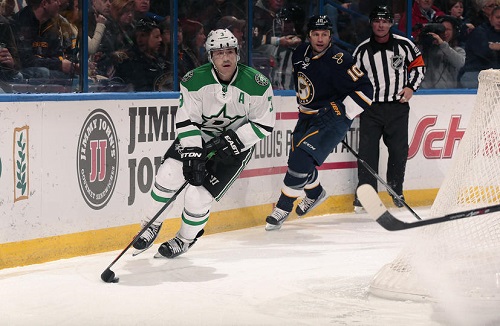 Newly signed Toronto Maple Leaf defenseman Stephane Robidas said Tuesday that the right leg he broke twice last year feels even better than it did at the start of the 2014 Stanley Cup Playoffs. He's fully expecting to be ready for the team's training camp this September.
"My leg is great. I've been skating quite a bit, skating for maybe a month ago, and things are going very well. I'm on schedule," Robidas said. "I would say it feels better now than it felt while I was playing in the playoffs last year, so it's very encouraging."
The 37-year-old just signed a three-year, nine million dollar contract with the Leafs on July 1st.
By August 21st, it will be four months since his injury. By September's training camp, it will have been almost five.
When he returned from his first leg fracture, suffered on Nov. 29th against the Chicago Blackhawks, he was about three months and three weeks recovered.
Robidas acknowledged that this recent signing will probably be his last. By the end of the contract, he won't be in his thirties anymore. He's grateful that he'll likely be finishing up with a storied franchise in Toronto.
"Let's face it, I'll be 40 years old by the end of this deal, so it'll probably be my last deal," Robidas said. "So having a chance to finish it Original Six like that is pretty special."
Last year, the Leafs' oldest player was Colton Orr at 31 years old, one of four players in their thirties. The Leafs hope Robidas, a 15-year veteran who has played in 47 Stanley Cup Playoff games, can add experience, specifically helping out the younger defensemen on the team.
"The big reason why [Toronto] got me was they want me to help those two young guys, [defensemen] Jake Gardiner and Morgan Rielly," Robidas said. "I'll probably play with one of them, and they want me to kind of mentor them."
Robidas remembers what it's like to be a young guy in the league. When he first started playing regularly in the NHL with the Montreal Canadiens in 2000, then 11-year veteran Eric Weinrich reached out to him and helped him find his way.
Since then, he's tried to do the same for others. He helped Nicklas Grossmann find his NHL legs when the Swede first arrived in Dallas in 2006, and Brenden Dillon stayed in the Robidas household when he first came up from the AHL Texas Stars in 2012.
Robidas said working and skating with the younger players "keeps him young."
"Its something that I really enjoy doing," Robidas said. "I remember what the older guys, the veteran guys, made me feel whenever I walked in the locker room and just to [help you] feel like you were part of the team and that you belong there, and I think that's a big thing for younger guys … it made me feel comfortable when I played in Montreal."
Toronto is Robidas' second team since leaving the Dallas Stars, but it's only been a little more than five months since he was traded from a city he called home for 11 seasons.
The March 4th trade to the Anaheim Ducks came when the Stars were in the hunt for a playoff spot, and Robidas was expected to be back well in time for the first round.
"Obviously, it was tough for me. I didn't expect that, especially at the time," Robidas said. "Honestly, if you asked me two years ago, I thought I was going to retire as a Dallas Star and probably end up living there when I was done playing, that's how much I loved the city … but whenever I got traded to Anaheim, that's part of the game."
Robidas' short stint with Anaheim, a heavy Cup contender, did not end up the way he'd hoped. In Game 3 of the first round against his old team, the Stars, he broke his right leg again, this time in a different place, shelving him for the season.
"it was really disappointing. I thought when I got traded from Dallas, at the time, I saw myself lifting the Stanley Cup at the end of that. I really did. I thought that I had really good chance to do that," Robidas said. "The dream was over pretty quick… it was very disappointing for me to go down like that."
But Robidas said he greatly appreciated that Stars general manager Jim Nill sent to a team projected by many to go to the Finals that year.
"For me, an opportunity to win a Cup, I think that's the reason I've got to thank Jim Nill. He's the one that gave me that opportunity [to play for Anaheim]," Robidas said. "He did it for me and my career, and trying to help me."
Besides winning a Stanley Cup, Robidas said he hopes to just have fun in his last few years in the league. After he retires from playing, he hopes to work for an organization as a coach or in management.
"I just enjoy playing the game," Robidas said. "I want to win a Cup, that would be my number one goal, but I want to enjoy myself and enjoy the game and soak everything in."