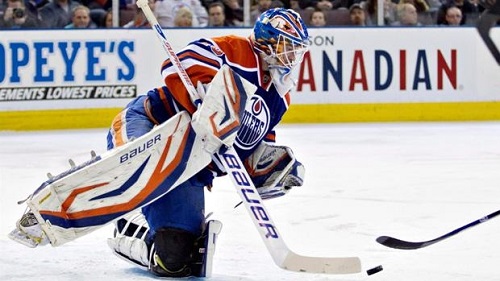 Players have been flying on and off the Edmonton bench within the last few days as the Edmonton Oilers made a series of trades.
Perhaps the one that got the most attention was goalie Devan Dubnyk, who was traded to the Nashville Predators. In return, Edmonton got forward Matt Hendricks. Edmonton later acquired goalie Ben Scrivens from the Los Angeles Kings in exchange for a third round draft pick.
The Dubnyk scenario is an unfortunate one, as he's gotten a large brunt of the negative feedback from fans and the media. While he has obviously made some mistakes and let in some shots that really shouldn't have been let in, the defense do – or at least, should – play a huge role and I don't believe the blame should be put solely on his shoulders. There are often a lot of gaps in that blue line and there's only so much one person can do.
The scrutiny of Dubnyk this season meant it likely wasn't completely out of the blue or a huge surprise. The 27 year old commented that "when a season goes this way, I think no one really feels safe and everybody accepts that there's a possibility of something happening."
While Dubnyk has been Edmonton's starter for awhile, and indeed went into the current season as the starting goalie, he was flailing a little bit. In response, Edmonton signed Ilya Bryzgalov to a one-year contract. Apparently that wasn't enough for them and they had bigger plans in revamping their goaltending – cue Ben Scrivens.
MacTavish spoke with the media about the trade, saying that "We really felt for everybody it was a time for change with Devan. It gives us an opportunity to bring in another goalie in Ben Scrivens who's had, statistically, a very good season so far, and gives us an opportunity to have a pretty good luck at him going forward here from now to the end of the year to see where he possibly could fit in to our longer-term goaltending plan."
Scrivens will likely get more ice time with the Oilers than he did in Los Angeles, and he did a phenomenal job in place of Jonathan Quick, so it's left to be seen how he does in Edmonton.
"Ben came in and played outstanding in relief of Jonathan and really was making a case for himself as a No. 1 NHL goaltender in the starts that he had," MacTavish said about Scrivens. "That caught everybody's attention, and that's what's given him this great opportunity."
Matt Hendricks, the forward who Edmonton traded Devan Dubnyk for, comes to Edmonton mere months after signing a four-year, $7.4 million deal with the predators. However, Nashville's coach wasn't using him much, and Hendricks felt a trade might be in his future.
Hendricks spoke with Edmonton radio station AM 630 and confessed "it wasn't a real great fit from day one. Looking back at it, there's a lot of players in the Nashville organization that kind of bring the same traits that I bring."
There's definitely a role for him in Edmonton – MacTavish compared Hendricks' potential impact on the team to Andrew Ference, who was acquired this past summer.
I like the idea of Hendricks supporting figures like Luke Gazdic, Boyd Gordon and David Perron. A lot of Edmonton's forwards have speed and can quickly get around their opponents, but don't exactly instill fear because they're not particularly confrontational or aggressive.
Not only is it good to have the opponent think twice about coming to attack you, I think it's good for team morale. While some disliked it, I think the moment between Yakupov and Gazdic on the bench after Yak's fight against Winnipeg was brilliant. It was a great show of camaraderie and an acknowledgement of Yak's finally getting physical and defending himself.
There's something to be said for speed and skill, yes, but I don't think a little scrap would hurt the Oilers. I think those moments of passion and aggression help the team hold together and encourage one another, and give fans something to root for.
It is important to play with your head – players need to be aware of where they are on the ice, where their teammates are, how the play is unfolding, etc. However, there's something about playing with your heart – it might not be measurable in stats, but passion can have a huge impact on a team.