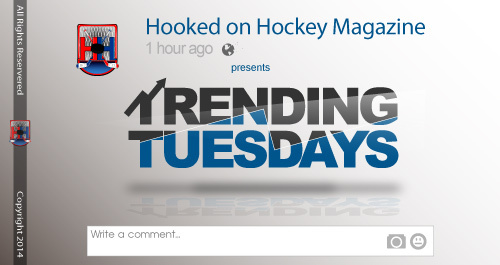 Welcome to another edition of Trending Tuesdays!
This time on a Wednesday morning! That's right folks, you get a double dose of our daily segments today due to a little backup we had yesterday. That's a two-for-one deal for the ages! As for the past week's trending news:
This week we look at what was hot and not for the week beginning October 21st and running through October 27th.
Who's hot (teams): Edmonton Oilers, Florida Panthers, Los Angeles Kings, Anaheim Ducks
After enduring an extremely slow start to the 2014-15 season, the Oilers have won four straight games to arrive at .500 for the first time. Meanwhile, the Ducks were nearly unstoppable, with a 7-1 record, before suffering a 4-1 defeat at the hands of the San Jose Sharks Sunday. The defending Stanley Cup champion Kings also stood out in a positive way, winning six consecutive contests to dismiss any thoughts of a potential Cup hangover…at least for now. Odd as it may seem by looking at win and point totals, the Panthers put the NHL on notice by collecting six of a possible eight points on their first road trip. Furthermore, they earned at least one point in every single game, a step forward all things considered.
Who's not (teams): Pittsburgh Penguins, Washington Capitals, Columbus Blue Jackets
In the last week, the Penguins and Capitals have gone 1-2 after hot starts that included three wins in four or five games respectively. The Blue Jackets are plagued by injuries, but regardless their play as of late has not been as good as it was the first week of this season.
Who's hot (players): Jeff Carter, Tyler Toffoli, Tanner Pearson, Ben Scrivens, Brad Boyes, Corey Perry, Darcy Kuemper
Dubbed "That 70s Line," the trio of Carter, Toffoli and Pearson was key to the Kings recent hot streak, combining for 33 points and an unreal plus-32 rating in the past seven games. It should be no surprise then that Pearson leads all rookies in points, goals and plus-minus, while Carter was selected as the league's first star last week.
Scrivens is a big reason the Oilers are .500 after beginning the season 0-4-1, posting an 2.33 goals-against average and .920 save percentage in wins over the Tampa Bay Lightning, Capitals, Carolina Hurricanes and Montreal Canadiens. For that reason, he was selected as the NHL's second star last week.
Kuemper, meanwhile, just continued his outstanding play in net, allowing just two goals against while facing a combined 45 shots in a couple of starts. That includes a 26-save shutout of the Arizona Coyotes. His three shutouts lead all netminders, while his 1.51 GAA ranks fifth in the league.
Both Perry and Boyes were important to their respective teams success last week, with one game-winner apiece.
Who's not (players): Evgeni Malkin, Jaroslav Halak, Steven Stamkos
Playing on a team with Sidney Crosby, many expect Malkin to help the Penguins win close games. Last week he failed at doing that. Despite producing two goals and five points he had a minus-4 rating in four contests. The biggest of those stats is the minus-4. He was especially bad in the team's two third period collapses against the Philadelphia Flyers and Detroit Red Wings.
Halak had a terrible showing, allowing five goals in two periods of play before being replaced by Chad Johnson during the New York Islanders 5-2 home loss against the Toronto Maple Leafs a week ago today. He then sat out the next couple of games, both wins, yet is expected to start again Tuesday night when the Winnipeg Jets come into Nassau Coliseum.
An elite goal scorer coming off one of his better weeks, Stamkos did not play his best on the Lightning's just-completed five game road trip. He was held scoreless in three of the games and produced just one point in another. In fact, the only contest he played really well in was the road opener on Oct. 18 in Vancouver, tallying two goals, an assist and a plus-2 rating. Not exactly what anyone is used to seeing from one of the league's best snipers.
Top current trending hockey stories:
*New York Rangers forward Chris Kreider escapes suspension, while teammate John Moore's been offered and accepted an in-person hearing for their hits on Wild forwards Jonas Brodin and Erik Haula. It's believed Moore could be suspended five games or more for an illegal check to the head.
UPDATE: Moore given five game suspension.
*Sharks tough guy John Scott has been suspended two games without pay for leaving the bench on a legal line change to initiate a fight with Ducks forward Tim Jackman during the Oct. 26 game. Because of his repeat offender status, he'll forfeit over $17,000 of his salary.
*Captain Eric Staal returns to Hurricanes lineup on Oct 28 after missing five games due to injury. He's tasked with trying to lead the winless Canes to their first win and possibly more, as they are the front-runners to land phenom Connor McDavid in the 2015 NHL Draft.
This week's big games:
Wild @ Boston Bruins, Oct 28.
Ducks @ Chicago Blackhawks, Oct 28.
Red Wings @ Capitals, Oct 29.
Kings @ Penguins, Oct 30.
Ducks @ Dallas Stars, Oct 31.
Capitals @ Lightning, Nov 1.
Stars @ Wild, Nov 1.
Islanders @ Sharks, Nov 1.
St. Louis Blues @ NY Rangers, Nov 3.
Fantasy Trends: Buy low on Tuukka Rask and Nathan MacKinnon. A good defenseman to add in place of the injured Zdeno Chara and Victor Hedman, both out 4-6 weeks, would be the Lightning's Anton Stralman or the Devils' Damon Severson. Dougie Hamilton will be seeing a lot more ice with Chara out as well. If you're in search of a goaltender, look to pick up Blue Jackets Curtis McElhinney.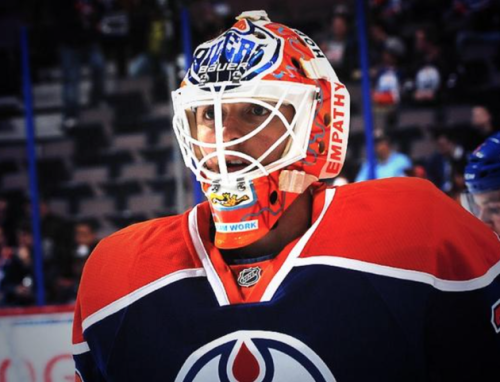 Most added player: Oilers goaltender Ben Scrivens
Most dropped player: Hurricanes winger Alexander Semin