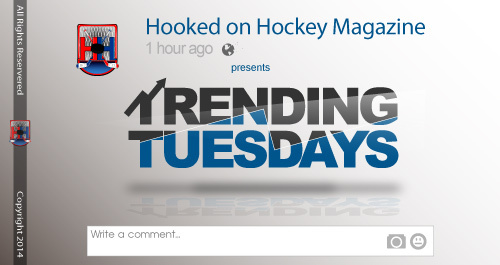 Welcome to another edition of Trending Tuesdays!
This time you get two weeks worth, as we were backed up and unable to give you the trends of the hockey world for the past couple of weeks. Call it a Black Tuesday, as this deal's the same as or better than the Black Friday deals you'll run into at the end of this month.
This week we look at what was hot and not for the two week span beginning October 29 and running through November 10.
Who's hot (teams): Pittsburgh Penguins, Tampa Bay Lightning, Boston Bruins
After experiencing a couple of minor bumps in the road early, the Lightning and Bruins both are on extended winning streaks. In fact, the former hasn't tasted defeat since their embarrassing 7-2 loss at Minnesota October 25th to end a long and tiring five-game road trip. Since then, they've collected six straight victories to find themselves tied atop the NHL standings on this beautiful Tuesday morning. For the latter, it's been a five-gamer that's put them back in the top 10 and within striking distance of taking over the Atlantic Division lead. All of which has been accomplished without top defenseman Zdeno Chara (Tampa Bay's been doing much of their damage minus top blueliner Victor Hedman as well). The Penguins, meanwhile, have bounced back from a down week towards the end of October, winning seven consecutive games to land in the top five and, with games yet to be played, could find themselves on top before long.
Who's not (teams): New Jersey Devils, Dallas Stars, Minnesota Wild
In the past few weeks, the Devils, Stars and Wild have gone from serious playoff contenders to teams searching for a spark. Losers of four straight, the first two teams have struggled with injuries and inconsistent play. For the Wild, it's been a combination of goaltender Darcy Kuemper coming back to earth after his early season success and the losses of top scorers Zach Parise and Jared Spurgeon, along with tough guy Matt Cooke that's contributed to their three game losing streak, but excuses are for wimps. I don't see the Lightning or Bruins using them, so why should these teams be able to?
Who's hot (players): Marc-Andre Fleury, Sidney Crosby, Ben Bishop, Tyler Johnson, Vladimir Tarasenko, Patric Hornqvist
Long considered a bust in big game situations, Fleury has been one of many keys to the Pens success this season. His past five wins, two being shutouts, have contributed to the team's league-high seven game win streak.
Crosby and Hornqvist played a role in the Steel City success as well. Widely regarded as one of the NHL's best, Sid the Kid racked up a career-high five assists in the teams latest win. As a result, he now sits atop the league in assists and points. A relative newbie to the spotlight, Hornqvist has played well on the Pens top line. He has four goals in the past five contests, including a single game-winner, to catapult him into the top five when it comes to goal-scoring.
Bishop, meanwhile, continued his solid play in net, allowing no more than three goals against while facing a combined 141 shots in his last five starts. He also stopped all three shooters in the teams last game, a 4-3 shootout win over the Detroit Red Wings Sunday night. His nine victories tie him with Fleury and Pekka Rinne for second in the NHL as well.
Both Johnson and Tarasenko have been on fire lately. A Calder Trophy finalist last year, Johnson's 13 assists and 18 points lead the Lightning's offensive attack, while Tarasenko's 14 points over the past two weeks resulted in him being named the NHL's third star last week and first star the week before.
Who's not (players): Jason Spezza, Erik Karlsson
After getting off to a strong start in the lonestar state, Spezza's produced one point in his past five games and has an combined minus-3 rating. Not what fans expected from the former Ottawa Senators captain.
Speaking of the Senators, Karlsson's had a tough couple of weeks production-wise as well. He's produced no more than one point and has a minus-4 rating in five straight contests. His worst performance by far came November 1st in Boston, where he went scoreless while posting an horrendous minus-4 rating.
Top current trending hockey stories:
*Montreal Canadiens forward Rene Bourque has cleared waivers and been assigned to the American Hockey League's Hamilton Bulldogs.
*Stars forward Antoine Roussel's been fined for punching San Jose Sharks defenseman Justin Braun.
*The Lightning and Penguins look to extend season-high winning streaks tonight.
This week's big games:
Lightning @ Blackhawks, Nov 11.
Penguins @ Rangers, Nov 11.
Bruins @ Maple Leafs, Nov 12.
Kings @ Ducks, Nov 12.
Bruins @ Canadiens, Nov 13.
Predators @ Blues, Nov 13.
Blue Jackets @ Flyers, Nov 14.
Wild @ Stars, Nov 15.
Canadiens @ Red Wings, Nov 16.
Lightning @ Rangers, Nov 17.
Fantasy Trends: Don't sleep on Flyers forward Jacob Voracek. Also, keep a close eye on Hurricanes forward Elias Lindholm and Predators forward Filip Forsberg as potential replacements for players who are struggling or injured.
Most added player: Hurricanes defenseman Justin Faulk.
Most dropped player: Flames defenseman Dennis Wideman.