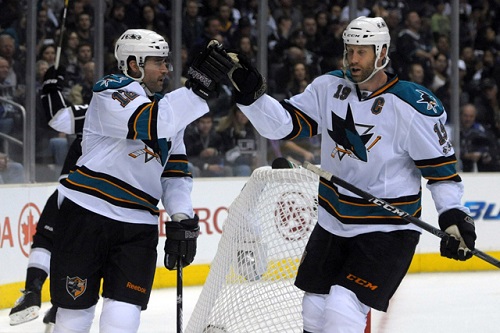 If you haven't heard the news yet you probably live under a rock…or at the bottom of the ocean with some Sharks…your choice. Captain Joe Thornton and franchise player Patrick Marleau recently signed nearly matching contracts to stay in San Jose pretty much the rest of their careers.
Marleau signed a three year contract that gets him $6.66 million annually. Jumbo Joe signed a three year contract as well, but for $6.75 million per year.
It's no surprise these two signed deals to stay in SJ together. Thornton and Marleau were drafted one, two in the 1997 draft respectively, and since the historic trade that sent Jumbo to San Jose, the two have thrived with each other. Marleau even said that had Thornton not re-signed with the Sharks, he may have left as well. Thornton had already had his contract done a few days before Marleau, but he waited to sign it until Marleau had his done.
Dan Boyle is now looking for a new contract with the teal men. He says he wants to finish his career with San Jose. Regarding Marleau and Thornton, Boyle said: "I couldn't be happier for them. They deserve it. I'm glad they're going to be a part of this team moving forward." He said he had nothing else to report, but GM Doug Wilson stated that they are trying to re-sign Dan as well.
Fresh off of new contracts, Marleau scored a goal in Saturday's win against the Minnesota Wild, and Thornton scored two goals. You read that right…Thornton shot the puck (shocking).
Judging from what I saw Saturday evening at Dodger Stadium, the chances of San Jose hosting an outdoor game skyrocketed. What was thought to possibly be an utter disaster with low ticket sales, and the warm climate down in SoCal, turned into a pleasant surprise. The outdoor hockey game in sunny LA went off without a hitch.
Sharks COO John Tortora said that the Sharks are on a short list to hold an outdoor game in the future.
Of course that is based on several factors. Two main ones are whether or not the series will continue in the future, as well as where the game could be held.
If the rest of the NHL Stadium Series games turn out well, it's a possibility that the league will renew the series for another season. If the rest of the games fail, there may not even be outdoor games anymore aside from the Winter Classic. The game that was most worried about though was the one in Los Angeles, but that seemed to go well.
Now the question for the Sharks is where to host a possible game. Options would probably include AT&T Park, home of the San Francisco Giants, Stanford Stadium, on Stanford's campus, and Levi's Stadium in Santa Clara, future home of the San Francisco 49ers.
Levi's stadium probably wouldn't work. This is due to the fact that the 49ers are probably going to do as well as they did this season, if not better (Knock on wood. Go Niners!) Because it takes about three weeks to set the ice up and make sure everything is in good shape, Levi's stadium would turn into a rink while the 49ers would still be playing at home. Unless you want to watch football players skating around while playing football, the beautiful new stadium wouldn't work. Come to think of it though it would be pretty funny. New sport maybe?
Second option is Stanford's stadium. It holds a solid 50,424 people in it, which Sharks fans can definitely fill up. It's a fantastic venue, but in my opinion, one beats it.
AT&T Park.
This gorgeous ballpark, one of the most photographed sites in the country, according to instagram, would be a phenomenal place to hold an outdoor game. With McCovey Cove in the background, and a giant Coca-Cola bottle overshadowing a Pepsi sponsored team, the Sharks would look fantastic playing in downtown San Francisco. Even though it seats fewer fans than Stanford, why would you pass up on the backdrop of the bay.
Let's not jump the horse though. First the Sharks need to get the game. If it happens, then we can contemplate on who they will play and such, but it will surely be a game nobody would want to miss.