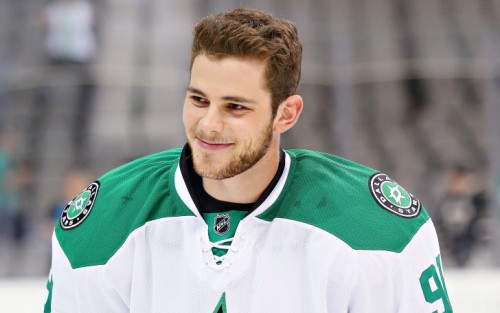 While the Dallas Stars may not be doing as well as many expected so far, their star forward Tyler Seguin is doing wonderfully, currently sitting comfortably at the top of the stat columns and leading the league in both points (38) and goals (23).
Great things were expected of Tyler from an early age, eventually leading to him being drafted 2nd overall by the Boston Bruins in the 2010 NHL Draft after a successful junior career. Seguin played pretty well on the Bruins, but didn't stand out too much on the star-studded lineup. One of his biggest moments as a Bruin came in round 3 of the 2010-2011 Stanley Cup Playoffs. He had been a healthy scratch for the first two rounds, but was put in to begin the 3rd round when Patrice Bergeron was injured. In his NHL Playoff debut he managed to score two goals and bring in two assists, making him the first teenager to score 4 points in an NHL Playoff game since Trevor Linden did it with the Vancouver Canucks in 1989. The Bruins later went on to win the Stanley Cup and returned to the Finals two years later, losing to the Chicago Blackhawks.
Just as Seguin began maturing as a player and making his rise to the top, he was traded to the Dallas Stars, who were looking for a young player to help lead them back to prominence. The trade saw Tyler, Rich Peverley, and Ryan Button heading down south in exchange for Loui Eriksson, Reilly Smith, Joe Morrow, and Matt Fraser. The huge trade took many fans by surprise as well as Tyler himself, who was initially upset about leaving Boston, his first team and the one he had won the Stanley Cup with and now considered home. Despite being upset, he embraced Dallas and came to the Lone Star State with that always-present and contagious smile on his face. He initially butted heads with Stars left wing and captain, Jamie Benn, with both men wanting to be the star players on the team and score the most goals, but they soon became excellent friends and learned that the secret to scoring more goals was to work together, thus the deadly pair was created.
The incredible chemistry between Seguin and Benn led to Seguin scoring a career high of 37 goals and 47 assists, for a total of 84 points in the 2013-2014 season, as well as a return to the playoffs for the Stars after a 5 year playoff drought. If that wasn't impressive enough, take a look at Seguin's stats just 29 games into the 2014-2015 season. With 23 goals and 38 points, Tyler is on the fast track to setting his new career high in goals/points, and the Maurice Richard, Art Ross, and Hart Memorial Trophies, as well as breaking plenty of franchise records. If he isn't impressing you enough with stats like that, I'll just give you a friendly reminder that our friend Tyler is only 22 years old and has plenty of time left in his career, which he will likely use to do even better than he already his. That's right, it's likely that this young gun hasn't even reached his prime yet. Be afraid. Be very afraid.
Love Reading About Hockey?

Subscribe to keep up-to-date with the latest and most interesting hockey news!
| | |
| --- | --- |
| | We hate spam just as much as you |