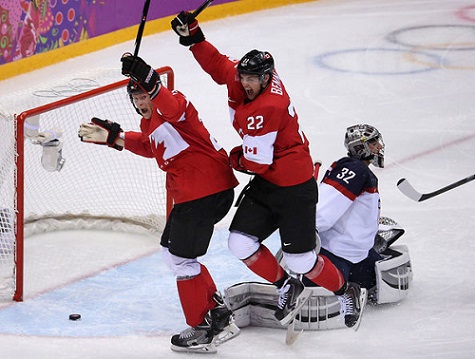 This was a rematch of the Gold Medal game from four years ago in Vancouver. In that game, Sidney Crosby scored the game-winner for Canada, beating goaltender Ryan Miller. The result this year in the semi-finals was no different.
The better team won. While there was a lot of buildup and hype for this game, one team definitely outplayed the other. This game featured some back and forth hockey, the type where it makes you sit on the edge of your seat.
After a scoreless 1st period, Canada would get on the board first. Jamie Benn passed back to Jay Bouwmeester who sent a shot on net. Benn raced back to the net and tipped it past goaltender Jonathan Quick to take a 1-0 lead.
Every time the US had a power-play, the Canadian defense took away quality opportunities. The Canadians did a great job clogging up the lanes and limiting the number of good scoring chances for Team USA. The U.S. did not handle the pressure well. On one power-play, the U.S. didn't even get a shot on net. "They defended well" said U.S. forward Ryan Callahan. The Stars and Stripes went 0-3 with the man-advantage.
Jonathan Quick was spectacular for the Americans. He made 36 saves in the loss. Quick stopped several good scoring chances throughout the game and kept the Americans in it.
The U.S. will hope to leave Sochi with a medal as they will play Finland in the Bronze Medal game Saturday morning. Canada will play Sweden Sunday.
Four years of hard-work for naught. What many people believed to be the most talented U.S team in a long time, will have to go back to the drawing board. Hopefully the U.S can regroup and capture that elusive gold medal, something they have not won since 1980.