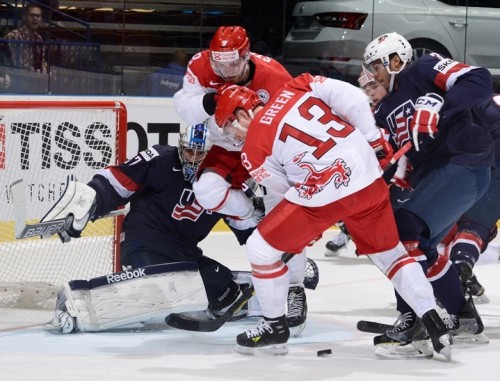 Article two of two. 12:47 AM. Somewhere in a Crowne Plaza somewhere along the Schuylkill River. The women's team attempted to teach me the art of the man bun. I'm wholly inept.
You know who ISN'T wholly inept? Connor motherf$%#ing Hellebuyck, UMass Lowell alum and black hole of puck-stopping gravitational force from which not a single Danish shot found the speed to escape from. Backstopping Team USA to a 1-0 win over Denmark, the imposing Hellebuyck turned aside all 21 shots he faced, occasionally summoning heroics matched only by the superhuman effort put forth by his counterpart-Rodovre Mighty Bulls' netminder Sebastian Dahm-an effort that repulsed all but one of the 41 shots thrown at him.
A scoreless first period-marred only by six PIMs total doled out between both squads-gave way to an eventful second, with the Americans doubling their shooting output from nine to 18. Not receiving any bail from his skaters, Dahm did what he could to hold the fort, conjuring save after save until Brock Nelson solved the Danish wall for the only goal of the match. Picking up the puck by the right faceoff circle, the New York Islanders' product skated beyond the goal line, warding off his mark and wrapping around the cage to sneak a shot in off of the stick of a late-adjusting Dahm. With his unassisted goal, the 23-year old Nelson secured a spot among the tournament's top-ten scorers, accruing six points off of four goals through five games played.
In spite of an increased effort on offense, the Danes were unable to knot things up, seeing two golden chances snuffed out by the pads of Hellebuyck. One, a clear-cut Oliver Bjorkstrand breakaway, was snubbed by the outstretched blocker of the Commerce Township, Michigan native, as he stuck with the 20-year old Dane's forehand-to-backhand cut like glue. An arguably more impressive save was managed roughly ten minutes later; reacting to a screaming one-timer, the American netminder got his catching glove to Jesper B. Jensen's effort, coughing up a rebound directly in front that was swept away by an American rearguard.
Staring at a Sunday matinee against the lowly Slovenians, Team USA should fortify their position atop Group B; with twelve points through five games, the Yanks must be wary of the Belarusian contingent hot on their heels, a squad that whooped them 5-2 and stockpiled 10 points through four matches. Should the remaining games shake out like they would on paper, though, the stateside skaters ought to come out the top seed.
I ate my first Philly-made Philly Cheesesteak today. Is it bad that I'm more of a Geno's guy? Oh, then I ate a whole pint of Ben & Jerry's because I obviously have a problem. Rowing is fun.
Love Reading About Hockey?

Subscribe to keep up-to-date with the latest and most interesting hockey news!
| | |
| --- | --- |
| | We hate spam just as much as you |