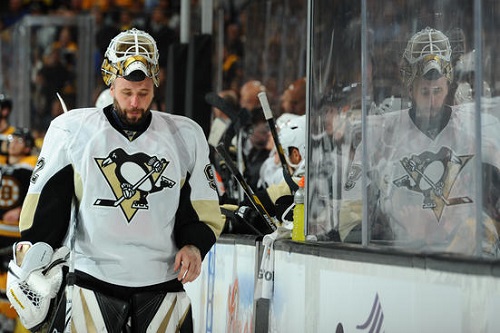 Penguins' backup goaltender, Tomas Vokoun, left practice last Saturday morning with swelling in his thigh later diagnosed as a blood clot. A scary proposition for the man who led the Penguins to the Eastern Conference Finals last year after starter Marc-Andre Fleury's abysmal couple of games during the first round against the New York Islanders. This is not the first time Vokoun has experienced a blood clot during his NHL career. Back in 2006, while playing for the Nashville Predators, Vokoun missed the final eight games of the regular season — and the Predators' Conference Quarterfinals series loss vs. the San Jose Sharks — with a blood clot, that time in his abdomen. Following that season Vokoun was traded to the Florida Panthers before joining the Washington Capitals in 2011-12 and settling with Pittsburgh last season. With Vokoun out indefinitely, and the sour-taste of Fleury's playoff performance still clinging to the taste-buds of Penguins' fans, what's to expect between the pipes this season in Pittsburgh?
The new backup is last year's starter for the Wilkes-Barre/Scranton Penguins (WBS) 26-year old Jeff Zatkoff. His numbers were solid last year for the WBS Pens — 49-games played, 26-20-0, .920 save percentage, 1.99 goals allowed average — but this being his first year with a NHL team he still has to prove he can play effectively with a big league club. In an article on penguins.nhl.com, head coach Dan Bylsma stated that Zatkoff has "flat out-played" most other back-ups in the leauge. This claim may seem unfounded, but perhaps not. Penguin General Manager, Ray Shero, has never been shy signing the players he thinks would help the team (Hal Gill, Chris Kunitz, Marian Hossa, Jerome Iginla, etc.) and this situation is no different. Penguin fans should rest easy: if Shero believes Zatkoff cannot do the job, he would have signed another veteran goaltender. Zatkoff must prove his Coach and GM made the correct decision — Penguin fans cannot endure another goaltending crisis.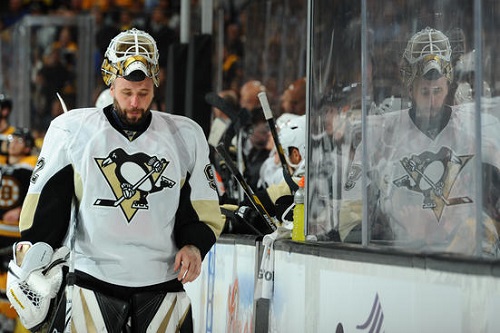 But let's not get ahead of ourselves here. The road to the Stanley Cup must run through Marc-Andre Fleury. When, or if, Vokoun returns, there will be questions about how effective he can be. He's a year older and experiencing another life-threatening injury could make retirement sound much sweeter. Zatkoff is an unproven, if talented, prospect. Fleury must be ready to step-up and quell the fans' nightmares of last year's playoffs. Be it Brett Johnson, Tomas Vokoun, or even all the way back to Ty Conklin, there seems to always be a cry against Fleury in Pittsburgh. But as soon as he starts playing consistent, excellent hockey those voices fade and the Penguins roll. Mr. Zatkoff, let's make sure to be good — no one is expecting great. It will be interesting to see what the tandem of Fleury and Zatkoff can do between the pipes and even more interesting, if Zatkoff lives up to potential, what will become of Tomas Vokoun in the long term. Regardless, it looks like goaltender will be the most interesting position to watch in Pittsburgh, again, this year.