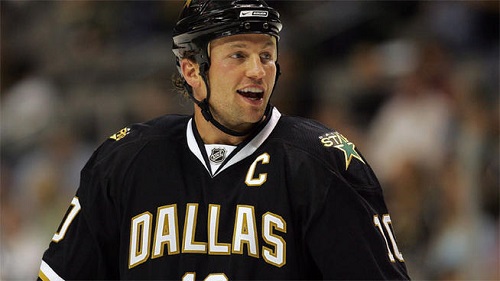 Dallas Stars fans packed the American Airlines Center on Sunday December 29th to not only watch some NHL hockey action, but to welcome home a former Star.
While rumors had been circulating for a while, many Dallas Stars fans were stunned on March 24th, 2013 when they learned that their beloved Star and captain of 7 years would be suiting up for the Pittsburgh Penguins after waiving his no-trade clause. While 34 year-old Morrow's play hadn't quite been up to his usual standards, he was still a huge part of the Stars team and a great leader. Brenden Morrow was a player that was always highly dedicated to his team and strived to win, something that helped him gain the admiration of his coaches and teammates, as well as making him a perfect fit for the role of captain.
Brenden first made his way into the Stars organization as their first round draft pick in the 1997 NHL Entry Draft, playing in the juniors from 1995 to 1999 with the Portland Winterhawks. His first game as a Dallas Star was played on November 22, 1999 against the Colorado Avalanche, in which he scored his first NHL goal against Patrick Roy. After performing very well throughout his rookie season, Morrow became a regular fixture on the Dallas Stars, often being known as a tough grinder forward, almost like a defenseman in a forward position, as well as a player that could step up and do well in a fight for his team. Playing alongside great talent such as as Mike Modano, Jere Lehtinen, Sergei Zubov, and many others, as well as serving under two Stars captains, Modano and Derian Hatcher, Morrow learned well and soon became one of the top players for the Stars. In 2006, Morrow was chosen to be the new captain of the Dallas Stars, replacing then captain Mike Modano, who stepped down to alternate captain. Morrow became the 5th captain in Stars history and began what would become the second longest reign as captain for the Dallas Stars. This reign lasted until he was traded late last season.
Morrow played well for the Pittsburgh Penguins, tallying up a total of 6 goals and 8 assists in a total of 15 regular season games, as well as 2 goals and 2 assists in 14 playoff games. Brenden signed a 1-year deal worth $1,500,000 with the St. Louis Blues on September 23, 2013 just in time for the 2013-14 season.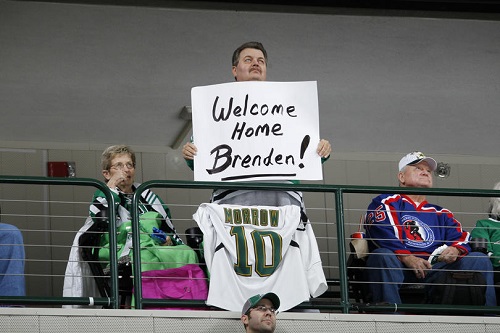 Fast forward to December 29, 2013. The Blues are facing the Stars for the second time in the season, with the first game being in St. Louis. Fans file into the American Airlines Center sporting their Stars jerseys, particularly the number 10 (no, not Horcoff). While no one really speaks of it, everyone knows this is a special occasion. Many fans are filled with bittersweet feelings of both happiness and sadness to see the return of a hometown hero. As the blues take the ice fans are scanning the team looking for the familiar number 10. As soon as Morrow stepped on to the ice he was greeted by a friendly cheer from a crowd that had anticipated his return. Fans were proudly wearing their Morrow jerseys, with some even donning signs welcoming the former Star home while video tributes and highlights from Morrow's career played on the jumbo-tron bearing the phrase, "Once a Stars, Always a Star".
The game was a hard fought battle as expected with the rivals teams really going at it during the 60 minutes of play. The Stars seemed off throughout, fumbling around with the puck at times, which led to a 3-2 OT win for former Stars head coach, Ken Hitchcock's St. Louis Blues.
Morrow made a couple tweets regarding the Stars and their fans after the game:
Thanks for the the reception from you stars fans tonight. Emotional game for me and so happy that one is over. A lot of great memories…

— Brenden Morrow (@Minimo1zero) December 30, 2013
shared together over the years. #sorrynotsorryforthewin
While it is debated by fans whether or not Morrow would fit on the current roster, one thing is certain. Morrow is one of the greatest players in Dallas Stars franchise history and will be sorely missed by Stars fans everywhere. It was a delight to have him as an integral part of the team for so long. Once a Star, always a Star.

Dallas Stars video tribute: