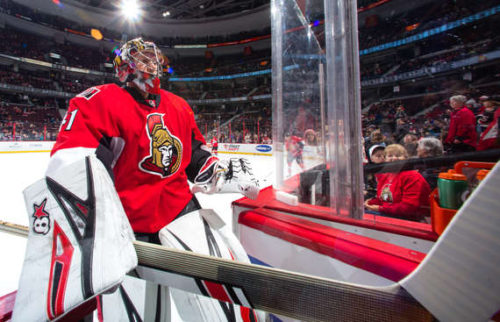 Ottawa's play through the first six games can best be described as mediocre.
The Sens have played well enough to win – or, at least, not bad enough to lose – three of their first five games of 2016-17. Two of those wins came against divisional opponents, but they weren't exactly of the convincing variety: one in OT over the Toronto Maple Leafs in which Auston Matthews potted four goals and another via shootout against the Montreal Canadiens.
That Montreal's only loss remains its overtime decision to the Sens should come as some form of comfort to the latter, but there remains work to be done. They were easily handled 5-1 and 4-1 by the Detroit Red Wings and Tampa Bay Lightning respectively, and though they defeated the Arizona Coyotes by a 7-4 final, they allowed the 'Yotes to stick around for much of the game.
Suffice it to say Ottawa's game isn't where it wants to be, even at this early stage of the season – a fact head coach Guy Boucher has made no attempt to deny. Through five games both aspects of the team's special teams look as dismal as last season, with their powerplay operating at a dreadful 7.1 per cent (28th) and their penalty kill at just 71.4 per cent (tied for 26th).
The Sens continue to allow an alarmingly high number of shots per game (31.4, tied for ninth most in the league), something that has translated into their allowing 20 goals, a number that ranks fourth most in the league. That's still no excuse for some of the goals allowed by goalies Craig Anderson and Andrew Hammond, whose struggles from 2015-16 haven't subsided.
Fortunately, for as bad as their defensive play has been through just five games, the Sens have been just as dominant in the offensive zone – though without the results. The team is averaging a league-high 34 shots per game, though they have just 17 goals to show for it (seven of those goals, as mentioned, coming in one game against the Coyotes).
Thus, when the Sens make the trip out west for three games against their western Canadian counterparts, they'll have their hands full: the Vancouver Canucks and Edmonton Oilers occupy the top two spots in the Pacific and have a combined 9-2-1 record, while the Calgary Flames are some good goaltending performances away from improving their 1-4-1 record.
Speaking of goaltending, the Sens will need some improved play in their crease if they want any chance of keeping pace with some of the Pacific's best. The Oilers and Flames have top-10 offences – Edmonton actually leads the league in scoring – and the Canucks have made the most of their opportunities, striking for 14 goals despite averaging only 27.7 shots per game.
And as alluded to earlier, Anderson hasn't looked anywhere near the goalie who almost singlehandedly led the Sens to the playoffs in 2012-13 in his four starts. He has a GAA of 3.66 and a save percentage of just .886, but his backup Hammond hasn't fared much better in just one start, allowing five goals to go along with an .800 save percentage.
As the saying goes, you can't win the division in the first month of the season, but you can lose it. The Sens are by no means out of it – they sit sixth in the Atlantic standings with six points, three behind the Canadiens – but if they want to keep pace with the likes of the Habs and Bolts, and gain a little confidence in the process, they can ill afford to go O-fer out west.