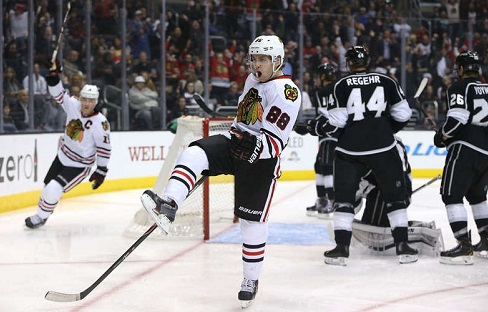 There is going to be a lot of talk of comparing this season's Western Conference Final to last year's. And while that is an easy and simple comparison, this is a new year. Now we have new expectations, new targets, and the aftermath of a full 82-game regular season.
The Los Angeles Kings had a handful of injuries to deal with this season, which wasn't the issue last year, and they're coming right into the third round with only a single day of rest while Chicago has been off for a longer stretch. Chicago also has home ice advantage in the series once again.
So far in this year's post-season, Los Angeles has had to battle through two Game 7's. This means they have been on the brink of elimination several times already. This could be seen as an indication that they are mere inches away from being eliminated, or, on the other hand, that they have been this close to the fire and have escaped unscathed. It depends on who you ask, Chicago fans or Los Angeles fans. But don't expect the Kings to be pleading for sympathy, they'll be ready to play.
While Chicago has been celebrating it's strong push through the playoffs, a microscope on the players will reveal some startling truths. Take Marion Hossa for example. As of this writing, Hossa has only netted two of his 47 shots on goal so far this post-season. That's a terrible percentage which is typically much higher for the all-star. Still, Big Hoss leads Chicago with points for forwards. This means a large majority of his points are coming from assists. If he starts to find the scoring touch that is well documented for him to have, those numbers are expected to jump up and some big-game goals will go Chicago's way.
Corey Crawford is worth a close look. Too many fans are still seeing Crawford as a 'just average' netminder. While there were some moments last season where that argument may have held water, that isn't the case this season. In fact, so far, these playoffs have been the opposite. Jonathan Toews has been able to come up with game-clinching goals because Crawford has been standing on his head down in his own end and giving his forwards chances to take the win. Chicago has seen too many overtime games already this post-season where one goal means the difference between being a hero and being the scapegoat. Crawford's wearing a cape high above the Chicago skyline.
The Kings have developed the well-earned reputation as one of the best defensive teams in the league. They shut down scorers, pure and simple. Chicago is a highly offensive team built on putting the puck in the net. The same could be said for the Anaheim Ducks, whom the Kings sent to the golf course. The difference between Anaheim and Chicago, though, is that Chicago doesn't have as high of a shooting rate. Chicago needs shots of quality, not necessarily quantity.