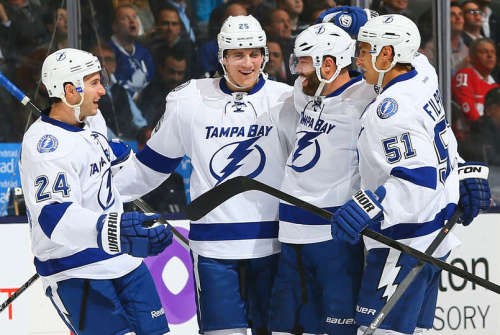 It's that time of year again. Rookie camp is practically over, training camp's beginning fairly soon (like this week) and predictions for the upcoming 2014-15′ season are rolling in from pretty much everywhere. Many of those have the Tampa Bay Lightning, a semi-Cinderella story last year, going deep into the playoffs. One major publication even has them winning the entire Eastern Conference and competing for Lord Stanley's Cup, something that makes me both smile and squirm at the same time.
What do all of these heightened expectations mean though?
First off, it should go without saying that the Lightning won't be surprising anyone this time around. People already know a healthy Steven Stamkos is capable of scoring about 50 goals and defenseman Victor Hedman has the potential to be a Norris Trophy contender. After last season's success, young guys like Ben Bishop, Tyler Johnson and Ondrej Palat have gained recognition, not to mention respect, league-wide as well. Because of that, these guys might have to make minor adjustments to their game so opponents don't begin running roughshod over them.
Secondly, the Lightning must avoid putting undue pressure on themselves. Hearing them speak, everything sounds good. They're aware championships aren't won before training camp begins, or even during the preseason. Even so, it's happened often where a team says all the right things, yet when it comes time to perform at the level most expect things begin falling apart. Whether it be mental errors or a still young team succumbing to the intense scrutiny placed upon them by fellow human beings, things just don't seem to work out.
That being said, I by no means am saying the Lightning will fail miserably during the upcoming 2014-15′ season. In fact, with the additions they've made on the back end, not to mention a healthy Stamkos and the extremely real possibility of 2013 third overall pick Jonathan Drouin making the leap from juniors, I believe this team can live up to, and possibly even surpass, the lofty expectations placed in front of them.
Are the Lightning going to rise up or struggle under the weight of very high expectations? Will my beliefs ring true or might the pressure catch up to a still young team? While unknown, that's something to keep a close eye on throughout their 2014-15′ campaign.