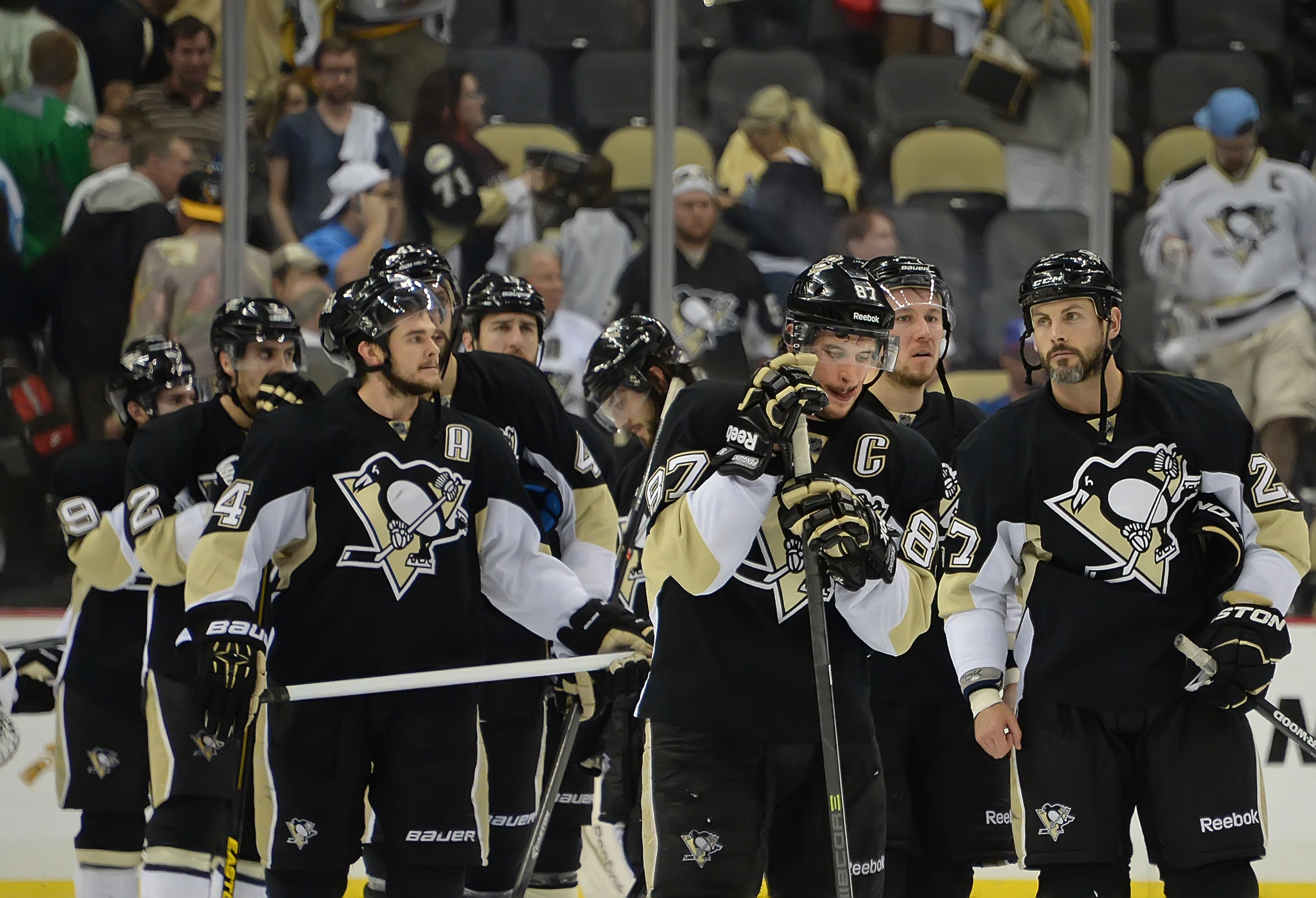 "Depth" is the buzzword of the summer for the Pittsburgh Penguins. After another disappointing playoff exit, failing to capitalize on a 3-1 series lead over the New York Rangers, new General Manager Jim Rutherford was faced with the task of giving the Penguins a much needed makeover. Many of the free agents signed this summer have been referred to as "depth" signings. What do the Penguins hope to gain from this sought after depth?
Gritty Goals
In the 2013 Eastern Conference Final, an all-star Penguins lineup could only find the back of the Boston Bruins net twice in four games- one from Chris Kunitz and the other from Brandon Sutter. Not seeing two former Art Ross winners on the score sheet is a huge red flag. Not only for the style of play, but for the style of the players.
At the 2014 NHL Draft, Penguins General Manager Jim Rutherford took note and traded away a sniper in James Neal for a gritty net-front presence in Patric Hornqvist. Much like Chris Kunitz, Hornqvist can often be found right around the crease and ready for a rebound. Totaling 22 goals last season, Hornqvist will certainly see some more chances with two-time Art Ross Trophy winner Evgeni Malkin playing along side him.
The Third Line
Long gone are the days of Jordan Staal, Matt Cooke, and Tyler Kennedy. The Penguins have attempted to fill that void in numerous ways that included Jayson Megna, Chuck Kobasew, Brian Gibbons, and many others. Unfortunately, no combination has come close to being the powerhouse that the third line once was.
In the 2012 Eastern Conference Quarterfinals, we saw a Philadelphia Flyers line centered by Sean Couturier shut down Evgeni Malkin. In the 2013 Eastern Conference Final we saw a well structured Boston Bruins team shut down the Penguins all-star lineup. In the 2014 Eastern Conference Quarterfinals, we saw a Columbus Blue Jackets line centered by Brandon Dubinsky frustrate the Penguins stars over and over again. Unfortunately, the Penguins have yet to do the same to their opponents.
Brandon Sutter has established himself as the anchor of the third line after a surprisingly great post-season and signing a 2-year, $6.6 million deal. Despite a merry-go-round of line mates, he has kept consistent face-off numbers, and his offensive touch is beginning to shine.
While Penguins Assistant Coach Rich Tocchet has said, "It's not out of the question for him to be able to play with Sidney Crosby some of the time," the third line seems like the perfect spot for Steve Downie. Often referred to as "one of those players you hate but wish you had on your team," his hard style of play is something the third line has been lacking for quite some time. If Tocchet can unlock the scoring touch of one of his past players, this will be a perfect fit.
With a face-off specialist in Brandon Sutter and a gritty right-winger in Steve Downie, what's left?
Nick Spaling finished the 2013-2014 season with career high numbers. Totaling 13 goals and 19 assists, he comes into the 2014-2015 season with the best numbers on the expected third line. With Brandon Sutter at center, his focus can go from face-offs to providing the third line with a little more offense.

While these names may not scream "the best third line in the NHL" it's hard not to see shades of Jordan Staal, Matt Cooke, and Tyler Kennedy in the new roster.
Protect Each Other
When asked about sticking up for teammates such as Sidney Crosby and Evgeni Malkin, "I can guarantee there won't be any liberties on those players this year." said Steve Downie. "Whatever team I've played on, I like to go out my way to stick up for my teammates. Every team needs a couple guys like that."
After Marc Staal had his way with Sidney Crosby in the 2014 Eastern Conference Semifinals, it would have been the perfect time for the Penguins to respond. Instead, they remained silent and kept playing their game. The same game that eventually lead them to lose a seven game series after being up 3-1.
A physical presence like Downie is needed, especially if he sees a few minutes on Crosby's line now and then. His presence on the roster sends a message on its own, but having someone ready to stand up other than one of Crosby's usual line mates is a great addition to the team. He certainly comes with some history, but he did play his best season under Rick Tocchet. Both seem confident in their and relationship and its ability to put Downie's career in the right direction.
Jim Rutherford and the rest of the front office have set up the roster for success. They quickly identified the needs and holes in the lineup. The bottom six is ready to frustrate and contribute both offensively and defensively more than ever before. The top six is balanced with some fast skaters, star centers, and net front players on each line. The Penguins are no longer top heavy or pushovers. They are an extremely balanced squad that can not only keep up and dominate the regular season, but one that can once again compete in the post-season with confidence.