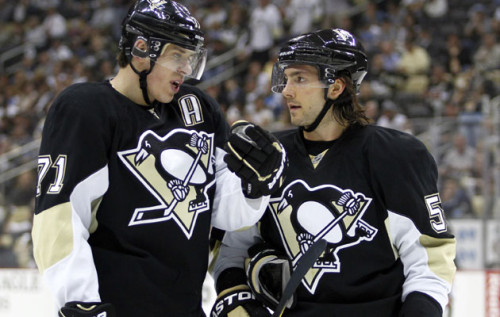 Let's start with the obvious: Phil Kessel is about to be our saving grace.
Already, the man has four points: two goals Tuesday against Carolina and both a goal and an assist Saturday against Columbus. That averages out to one point per game, which is ridiculously consistent and a big change regarding superstar scoring on the team as of late.
And based on Kessel's past performance with Toronto, it doesn't seem like those numbers are going to stop any time soon. After all, he was still averaging about 66 points per season with the Leafs. That can only mean that here, alongside some of the best players in the world, he will do even greater.
This also means that he'll be able to keep up production even if no one else is – since he's already done it so many times before. That way, when the annual rough patch of 13 key injuries and thus no scoring rolls around, we won't have to fully rely upon seven call-ups from the farm team. This time, we'll have Phil Kessel, the man who scores against all odds – just as long as he isn't one of the injured, too, of course.
Now, speaking of a lack of production from Pens superstars, it seems like our top talent is finally back on track for having an outstanding season. Of the 28 regulation points in the first four preseason games, Kessel, Beau Bennett, Kris Letang, Evgeni Malkin, Patric Hornqvist, Olli Maata, Daniel Sprong, Chris Kunitz, Sergei Gonchar, Sergei Plotnikov and Ian Cole – all big-name players – earned every point but two.
So our talent is finally back to consistently scoring, even if it doesn't always lead to a win. That's very refreshing considering the end of last season, when we weren't losing despite our trying but rather losing because we were barely even trying at all.
But that doesn't mean we shouldn't still be concerned.
While it's great that all of our star players are finally putting up the numbers we need again, everyone else isn't producing. Save for Bennett – who probably isn't even going to be on the bottom two lines this year if he can manage to stay healthy – the third and fourth lines have done nothing for us.
That's concerning. If our big-name players suddenly go out of commission again, we will be left in another desperate situation. We still are not well-rounded, which means that if there's any major blows again this year, we can kiss our Cup chances goodbye.
Sure, Kessel is good enough to keep a team alive, but that just doesn't cut it when running for the cup, as the Leafs' playoff success during his career has shown.
The very first game of the preseason is testimony to the above. There was only one "star" player on the ice that night, Bennett, which is why the scoring was stagnant until he put the game away in the very last round of the shootout.
While that's great for him to be the hero of the night, unfortunately, it was still just one win, and there's no possible way to do that every single game for an entire season in order to get to the playoffs. If that was the real team, we would lose, and we would lose a lot, which is exactly what happened last year and will happen again this year for Kessel if the injuries amount. It's because we still don't have true depth, and we should be worried about it.
So while I want to say that the Pens are proving themselves to be a different, better team this season, I really can't until every single person from top to bottom starts performing.
How we actually go about doing that, I don't know; I'm not a member of the coaching staff. But what I do know is that unless we fix it, we're going to have another mid-season failure and be just a bad as every year since we won the Cup.
But, hey, at least we seem to be pretty decent at 3-on-3.