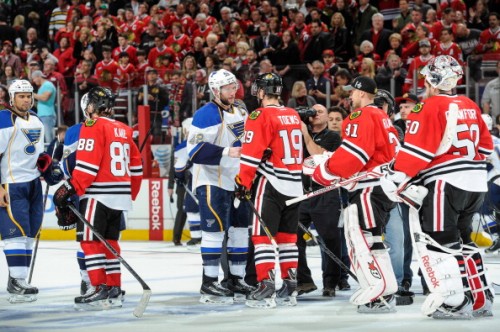 It's a storyline all too familiar for Blues fans: The team plays well in the regular season, only to be eliminated by a lower seeded team in the first round of the playoffs.
It was the Los Angeles Kings who had their way with St. Louis for two consecutive playoffs (2012 and 2013), but this time around the Chicago Blackhawks were responsible for the elimination. This after the Blues won the first two games of the series.
But this was a team that, prior to the Olympic break, had the makings of a perennial Stanley Cup contender. Things weren't supposed to end up like this. And yet, here they are: out of the playoffs, and trying to find answers.
One of the biggest questions the organization as a whole needs to answer is what comes next. For starters, this team has remained more or less the same for the past three seasons – the same number of times they've been eliminated early. Roster changes are a must.
That starts with General Manager Doug Armstrong who isn't far removed from taking home GM of the year honors in 2012. So it isn't out of the realm of possibility for him to make a big trade or sign a big free agent.
One player St. Louis could look to is Jason Spezza of the Ottawa Senators. Original discussions between the two teams circulated around the Senators acquiring Chris Stewart, with Jason Spezza not even considered, but Armstrong has at least had past trade discussions with Sens GM Bryan Murray.
Spezza is a career point per game player (687 points in 686 games) who could solve the team's offensive woes. He's a great playmaker with lots of finesse who also possesses a great shot. The return would most likely be a top six forward – such as Vladimir Tarasenko or Patrik Berglund – and a first round pick, but that's a small price to pay to make that kind of improvement.
On the bench, Ken Hitchcock's contract is up, and the team shouldn't bring him back. His coaching philosophy has led to a hard hitting, defence-first playing style, but that hasn't translated into playoff success. It's time to bring someone in who can build on what Hitchcock has built, and Keven Dineen or Barry Trotz could do just that.
Dineen was fired by the Florida Panthers in November 2013, and then coached Canada's women's national team to a gold medal at the Sochi Olympics. Trotz, formerly of the Nashville Predators, was fired earlier in April and will be looking for a new job for the first time in 15 years. His experience coaching in the Central Division would be a big asset.
The goaltending situation desperately needs to be addressed, as well. Ryan Miller and Brian Elliott struggled in tandem down the stretch, and it remains to be seen what the future holds for either goaltender with the club as each will be a UFA this summer.
Armstrong announced April 29 in his post-elimination media availability that Jake Allen will be up with the team next season. It's unclear what his role will be – as a starter or a backup – but Jonas Hiller of the Anaheim Ducks would be a good free agent pickup, regardless.
Hiller doesn't have a lot of playoff experience, but he's still fairly young (only 32 years old) and he's used to Western Conference hockey. More than that, Hiller can be a mentor for Allen and can be a stop gap until Allen is ready for the starter's role.
But regardless of who is brought in or shipped out, one thing remains certain: Change is needed, and it's coming.