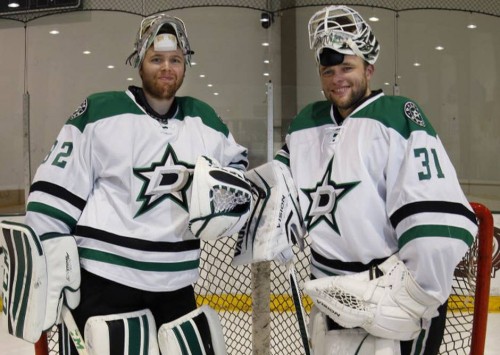 With many major lineup changes during the offseason, the Dallas Stars have already shown early in this season that they are more than capable of a successful season this year, playing much more consistently than we have seen in recent years.
Anyone that has followed the Stars in the past few years has probably noticed that consistency has been the major problem. While they've had no problem on offense, thanks to players like Jamie Benn, Tyler Seguin, Cody Eakin, and others, their defense and goaltending is either amazing or not so hot. When it comes to goaltending, it's no secret that Kari Lehtonen is a world-class goaltender, but when you're playing 65 games a season with a defense that isn't always on their a-game, the pressure and exhaustion can get to you. We have seen Kari play amazing games, making incredible save after incredible save, then allow four or five goals in his next game. One of the biggest questions going into this offseason was how the Stars were going to fix the problematic defense and goaltending, but have no fear, Jim Nill is here.
Early in the offseason Nill knew that Antti Niemi would soon be available, and snatched him up quickly, trading the 193rd draft pick to the San Jose Sharks on June 27, 2015 and signing Niemi to a three year deal just two days later. Despite having the most amount of their salary cap dedicated to goalies in the NHL ($10.4 million over three years), Jim Nill and the Stars are very happy with the decision.
"I really don't see it as strange," Nill said. "I see it as we have two No. 1 goalies, and we're very lucky to have that. Our payroll is in a good place, and we think the goaltending position is very important. So it makes sense to us."
Both men are coming off of average seasons, with Lehtonen posting a 34-17-10 record with a 2.94 goals-against average and .903 save percentage with the Stars, while Niemi finished last season at 31-23-7, with a 2.59 goals-against average and .914 save percentage with the Sharks. While these records aren't horrible, both men have proven themselves to be capable of much more, and were brought together to push each other and strive to be their best.
"I think this will help Kari, help them both, really," Nill said. "I really believe Kari had to play games last year when he wasn't 100 percent, because we had no other choice. Now, we should be getting their best every game."
Both men took much different paths to get to where they are today, with Lehtonen being a young superstar in Finland and eventually being drafted second overall by the now relocated Atlanta Thrashers, while Niemi went undrafted and fought his way into the NHL, eventually earning an audition with the Chicago Blackhawks that he not only used to earn a spot on the roster, but went on to win the Stanley Cup with them in 2010. Despite their differences, they are now together and have formed a seemingly solid duo in the net.
Despite Lehtonen being the go-to head goaltender in Dallas for years now, it was Niemi who was chosen to play in this season's opening game, where he recorded a 3-0 shutout with 2 assists against the Pittsburgh Penguins in his first official game as a Dallas Star. Since then Lehtonen and Niemi have been back and forth starting and both have managed to record 3 wins and 1 loss each, not too bad for a team that has been known to struggle in the goaltending department. While it is too early to truly call whether they will continue splitting ice time or one will take over, it is no doubt that both men have not only managed to push each other to play at their fullest capabilities, but have also formed a great friendship that will ultimately strengthen their play as well as their team.
Love Reading About Hockey?

Subscribe to keep up-to-date with the latest and most interesting hockey news!
| | |
| --- | --- |
| | We hate spam just as much as you |