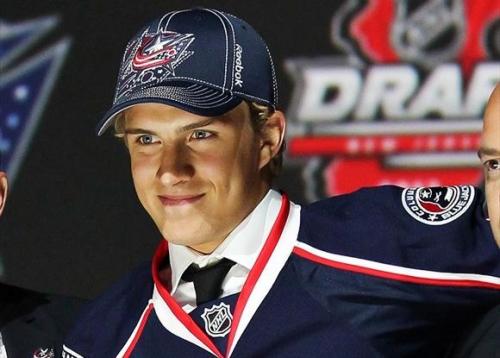 By now, everyone and their mother is aware of the saga going on between Ryan Johansen and the Columbus Blue Jackets.
A quick primer: Johansen is the star 22-year-old center coming off a breakout 33-goal season. He's a restricted free agent, due for a new contract and is looking for a sizable raise. The Jackets would be happy to sign him, but Johansen's agent is trying to use star players like Steven Stamkos and Jonathan Toews as comparables to his client. Needless to say, the Jackets don't see eye-to-eye on those demands and, after team president John Davidson called the demands "extortion", things took an ugly turn and now no one is really sure if or when Johansen will report to the team.
So, with all of that said, there is one burning question to ask: who, if anyone, can help fill the void left by Johansen?
To be fair, no one can totally fill that void. Johansen led the team in both goals and points last season and appeared to be busting out as an offensive presence. Not only that, but 6'3" centermen don't just grow on trees. Replicating his exact contributions likely can't be done, but there are ways to help fill that void, at the very least until things between he and the front office get settled.
The first to help fill that void will be the newest Blue Jacket, Scott Hartnell. The bruising power forward came over in a trade for R.J. Umberger, leaving the Philadelphia Flyers as a consistent 25-goal scorer though that comes having played with one of the most dynamic offensive players in the league in Claude Giroux. At 33-years-old, Hartnell's best days are likely behind him, but building on his past efforts to prove energy and offense for a Jackets team in desperate need of the latter can go a long way towards mitigating the blow of having Johansen in the press box. Hartnell also plays a banging style, bringing good size to the wing and the kind of sandpaper that the Blue Jackets love. If anyone can come close to replicating the kind of contributions Johansen brought to the lineup, it'll be him.
One other player to watch is first year man Alexander Wennberg. The 14th overall pick in 2013, Wennberg is a heavy favorite to make the Jackets out of fall training camp and should be a strong contender for the Calder Trophy as the NHL's rookie of the year. He isn't the flashiest player in the bunch, but he has good size (6'1"), strong skating and good puck skills. He reminds many of Philadelphia Flyer Jakub Voracek, playing a solid two-way game (something the Jackets love in their forwards) and using his great offensive instincts to produce at a solid clip. The thought is that he can be a very good secondary offensive weapon with the potential to grow into one of the top scorers on the team. It's a lot to ask of a first year player, but Wennberg has the skill set to pull it off.
It will be incredibly difficult to fully replace the void created by Johansen. His 33 goals and 63 points likely aren't his ceiling and the team could use his presence to further the momentum they built last year as they strive to not only make the playoffs again, but make a deep run.
If they're forced to replace his offense, the Jackets will have a few options to turn to and hope for the best.
Follow me on Twitter: @TwoPadStackRW