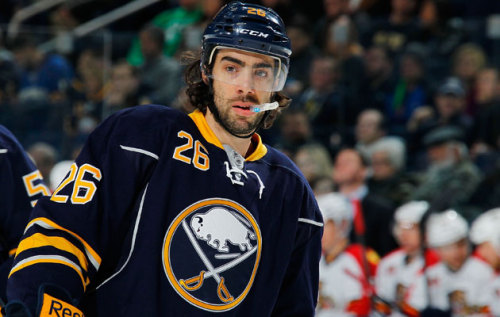 At some point today, the Sabres are set to name a captain and two alternate captains for the 2014-15 season. The question is, who deserves it most? Right now, it's up in the air as there are several possibilities.
Brian Gionta seems to be the name that comes up the most in this discussion. He was captain of the Montreal Canadiens last year, and he brings with him a quiet leadership and veteran presence. He is also expected to contribute offensively, having scored 18 goals with 22 assists last year for Montreal.
But the question some might be asking is this: Does a brand new player deserve the C? What does that say to the players already with the organization? And how much leadership does a brand new player feel like he can take? Gionta's quiet style of leadership may be perfect for someone just coming to a new team. Other players may feel more comfortable with that than with someone who comes in and takes charge.
Still, Gionta does have that veteran leadership and seems to be well liked by everyone.
Drew Stafford is another name that has been mentioned. He's been with the Sabres since 2006, so he's been there through everything, the good and the bad. Only Ryan Miller had been there longer until he was traded to St. Louis last season. Stafford also has that veteran leadership going for him. He scored 16 goals with 18 assists last year after a very slow first half. The coaching transition from Ron Rolston to Ted Nolan had a huge impact on Stafford's season.
The Sabres didn't name a new captain after trading away Steve Ott just before the trade deadline last year, but Stafford fell into that role. He was a vocal leader as well as sort of the team spokesman when it came to the media.
Stafford has also been one of the most vocal leaders on the ice throughout training camp.
While Gionta and Stafford seem to come up the most in captain discussions, there are two more honorable mentions.
Chris Stewart only played in five games last year for the Sabres after being acquired at the trade deadline. He had an ankle injury that never completely healed up. Now though, it's a thing of the past, and he worked hard over the summer to come into training camp at full strength. His teammates say he worked harder than anyone else through the offseason.
Not only did Stewart bring his strength and work ethic into training camp, but he brought vocal leadership. He was the loudest on the ice during practices and games, and younger players looked to him for advice. Grigorenko scored a shootout goal in a preseason game against the Toronto Maple Leafs, and he said afterwards that he'd asked Stewart "if it was OK" for him to try the move he made. Stewart told him to go for it, and Grigorenko succeeded.
Stewart scored 15 goals with 11 assists in just 67 games last season, and he is also known for fighting. He'll defend a teammate when he has to. Just ask Marcus Foligno. Foligno was challenged to a fight by Dane Byer in a preseason game against the Washington Capitals. Foligno, whose shoulder is still getting back to full strength after offseason surgery, refused. Stewart stepped in and took care of business, taking Byer down twice before they were broken up. That earned Stewart several pats on the back as he headed to the locker room.
If Stewart isn't named captain, he deserves to be named an alternate captain at the very least.
Last but never least is Matt Moulson. Moulson was acquired by the Sabres from the New York Islanders on October 27 of last year and played in 44 games for Buffalo before being traded to the Minnesota Wild at last year's trade deadline. Then, Moulson chose to come back and re-sign with Buffalo. He brings with him quiet leadership, similar to Gionta's, as well as the experience of a playoff run with Minnesota last year and with the Islanders the year before.
In his 44 games with Buffalo last year, Moulson scored 11 goals while tallying 18 assists. He was an alternate captain with Buffalo last year. His veteran presence along with his willingness to come back to Buffalo and do what he can to be a leader may have earned him the C.
These four leaders seem to be the frontrunners to earn that C on their sweaters, but of course the Sabres could surprise us all. Head coach Ted Nolan said that he and his coaching staff have been observing everyone throughout training camp in order to make today's decision.