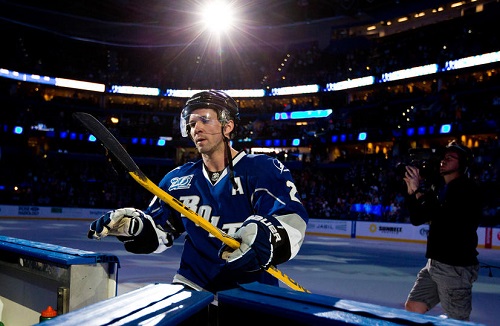 After buying out Vincent Lecavalier in June, who is now with the Philadelphia Flyers, the Tampa Bay Lightning are without a captain for the first time since 2008. That was when they shifted leadership from Tim Taylor to Vincent Lecavalier.
And now, once again, a new captain must be named. And according to Damian Cristodero of the Tampa Bay Times the Lightning have decided that their new captain…will be announced following the final preseason game against the Florida Panthers on Saturday, September 28.
You have to think it's a two-man race for the captaincy.
Martin St. Louis, 37, has been with the club basically his entire career, and he has been an alternate captain since 2007. He also just won the Art Ross Trophy during the lockout-shortened season, leading the NHL in points.
Steven Stamkos, 23, is (arguably) one of the three best players in the league and has nowhere to go but up. The two-time NHL-leading goal scorer is someone the Lightning intend on holding onto for a very long time. Stamkos has worn an "A" since 2011.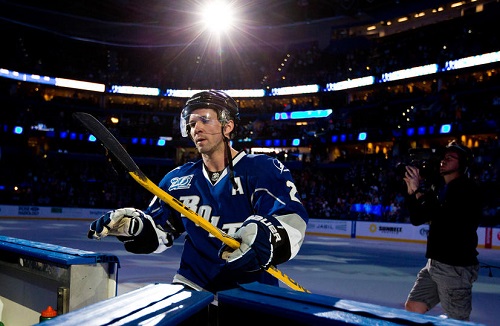 So, it's basically a battle between "what have you done for me" and "what will you do for me" with St. Louis and Stamkos. There have been rumors that Eric Brewer could be in the running as well, since he was the captain of the St. Louis Blues for three seasons. However, I would have to imagine that naming Brewer captain would cause quite the uproar among Bolts fans.
I personally hope that St. Louis is the one who gets the nod, but you can't go wrong with Stamkos either. I feel it would be a respectful, classy thing for Tampa Bay to do if they made St. Louis captain because he has done so much for the organization and doesn't seem to be in much of a decline yet.
However, as we now know, we'll have to wait and see how it plays out.
Who do you think will be named captain? Comment below with your answer.
Love Reading About Hockey?

Subscribe to keep up-to-date with the latest and most interesting hockey news!
| | |
| --- | --- |
| | We hate spam just as much as you |