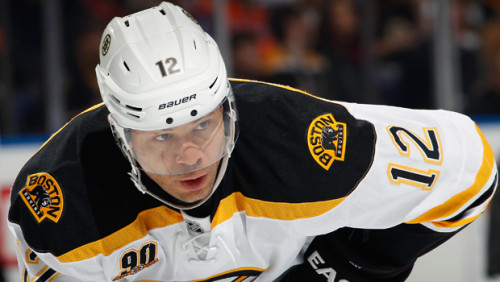 If you were a fan of Jarome Iginla as a Bruin this past year, then you'll be happy to hear that both the Bruins and Iggy are trying to negotiate something before July 1, the deadline that marks Iginla's transition into restricted free agency.
"I hope to be able to come back," Iginla said last month. "It's something that hopefully there's a deal there for everyone. But I know the Bruins got to look at what they want to do, but I really enjoyed it. I hope that there's something that can be worked out there because I also think it's a team that has as good of a shot as any to win."
Considering the options on the market this summer, the Bruins should do what they can to bring back Iginla, even if it means overpaying. It is imperative that David Krejci have a strong right wing presence, and Iginla knocked his role out of the park in the regular season. With the names on the UFA list for his position, it doesn't look like there's a better fit than Iginla under a one year contract, even for a decent chunk of cash.
Iginla made $6 million last season, $4.2 million coming from incentives that he knocked out of the park. He had tied for the lead in goals on the team with 30, had 31 assists and finished with +34. He scored five goals in the playoffs and tallied seven total points in 12 post-season games.
In regards to his age, his performance in the regular season alone demonstrated that his skills- namely his shot and his stick-handling- have not diminished with age. Watching Krejci and him operate as they entered the offensive zone was incredible at its best. Paired with a center who matched his ability to see the ice, Iginla soared. It made you realize how good Krejci is as a playmaker, but it also reminded you that, like the Flames struggled to do for years, once you accommodate Iginla with a top-notch center, you really maximize what he can do.
And that leads to a side note- in regards to his performance in the post season, namely scoring only three goals and no assists against the Montreal Canadiens in Round 2 (I say "only" because that line was expected to do more in a series that Bruins choking in), he should get somewhat of a pass. If anyone expected more from Iginla in that that round, considering that Iginla was brought on in part because his drive for a Cup in his final years might bring the best out of him, they ought to recognize that he was playing with a center who, despite being incredibly talented, was at his absolute worst this post season. Krejci's job was to bring the best out of Iginla, which he did in the regular season, but no matter what he tried to do against Montreal, the two-time Czech Olympian tripped on his own skate laces 90% of the time. Whether its Jarome Iginla or any other winger in the league, a winger's performance will be heavily dependent on the center's play.
I don't think, though, that Krejci's performance is something to dwell on. His track record is great in the playoffs, so ditch any concerns that he won't come to play next year until you see it happen. It will be great to go into the 2015 post-season with Krejci, Iginla and Lucic again.
But it's also a possibility that the Bruins won't re-sign Iginla, and if that's the case, the Bruins have just one real option among UFAs in replacing what Iginla did for the Krecji line- that's Marian Gaborik.
The LA Kings are on the verge of winning a cup with a loaded lineup with virtually all of the key players, locked down for a long time- Dustin Brown, Jeff Carter, Mike Richards, Drew Daughty, Jonathan Quick- except Gaborik, who is a UFA as of July 1. Unless the 32-year-old Slav has become an LA boy at heart and is willing to take a discount, I guarantee you he takes his NHL leading 13 playoff goals and cashes in for an $8 million contract somewhere else. It's feasible to suggest that LA says, "Hey, you were a great rental. Go make some money somewhere else."
Most of the other names on the list are disappointing. Ryan Callahan is the best name on the list of UFA right wingers, and he's not the kind of forward the Bruins want for that spot on the roster.
To get Gaborik, you'd probably have to dump Marchand's cap hit via a trade. If you're going to downgrade on a line, it shouldn't be the one with Krejci on it. He's your best passer, so give him the best player to work with.
So, in the end, if you can't get Iginla at a reasonable price, do what you can to bring in Gaborik. Whatever happens, the Bruins should not enter the 2014-15 season with a downgrade at the right wing position where Iginla sits today. Considering the possibilities, Iginla is the best fit for what they want to do.
Love Reading About Hockey?

Subscribe to keep up-to-date with the latest and most interesting hockey news!
| | |
| --- | --- |
| | We hate spam just as much as you |