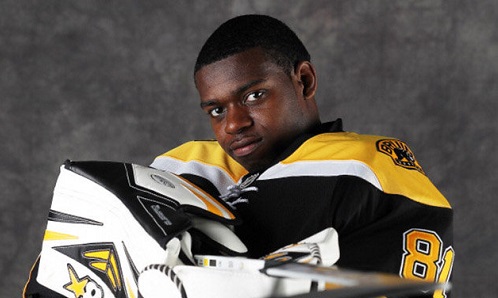 If Bruins general manager Peter Chiarelli is trying to capitalize on a talented young core in the next few years, he's got to try and package Malcolm Subban in a deal this summer or by next spring at the latest. If the scouts are right about Subban, then he'll be desired somewhere in the NHL, and hopefully by a team with something that could help the Bruins in the 2014-15 NHL season.
For one thing, you don't have any needs in goal, short term or long term.
Right now, Malcolm Subban is three years away from his current contract ending. In the 2016-17 season, he'll make $832,500 before any bonuses kick in if he's on the NHL roster. The year after, he'll be ready for a starting goaltender's salary, assuming he turns out as good as he's expected.
At that point, Rask, who just won the 2014 Vezina Trophy, will still have four more years on his current contract.
How do we know that Rask won't have lost any steam by then, his early thirties? Rask has mastered the economy of motion. He is the anti-Thomas. Rask has the most boring highlight-reel, and it is because he's always in the right place at the right time. He never has to dive for a puck because he knows how to follow where the shot is coming from. By playing this way, he takes himself out of a lot of dangerous situations. He's going to be just as sharp, possibly even sharper, in 2017 when Subban's current contract ends.
No matter how good Subban gets, there's not going to be a need for him until he's about 27, assuming Rask would even leave after his contract is up.
Second, Subban holds a lot of value right now, but no one is bust-proof. That value could go down. Subban, who was drafted by the Bruins 24th overall in the 2012 NHL entry draft, Boston's only pick in that year's first round, is a prized prospect thanks to his quickness and his strong poise and positioning. In the 2012-13 season, his last year in the OHL, he led the league in the playoffs with a 2.00 goals against average, winning 11 games in that run for the Belleville Bulls. This past year, his first for the Providence Bruins, he was fifth in the American Hockey League with a 2.31 GAA while having a .920 save percentage. But things didn't go entirely well for Subban in his rookie AHL year. In the 2014 Calder Cup playoffs, he fell off a bit, most of the P-Bruins starts in goal going to Svedberg. Subban's GAA skyrocketed to 2.96.
Rookies make mistakes, but this past postseason is a reminder that no one is guaranteed smooth sailing. If the Bruins are going to have Rask in goal for another seven years, then there is not as much concern for the Bruins to groom another All-Star in Subban. They're not waiting for anything. If they have needs and those needs don't include a goalie, then the Bruins should trade him now while people still view him as a highly desired player. And the Bruins have a fantastic young core- Patrice Bergeron, David Krejci, Rask and Milan Lucic, all hovering in the age range of 26-28. It should be the team's priority to cater to that core in the short term so that they can compete for as many Stanley Cups as possible in that window of time.
The Bruins have needs. It's true that they've got a big enough headache as it is right now trying to lock down Jarome Iginla for another year while thinking about the possibility of losing Johnny Boychuk. Subban doesn't exactly help the Bruins shed dollars from their budget, as he costs barely anything compared to the amount of dollars his trade value would bring to the Bruins. A Keith Yandle type-player would definitely cost some money. If they want to improve the talent they bring in this year without losing too much on their NHL roster, they should trade Subban, if not this summer, then by the trade deadline in 2015.