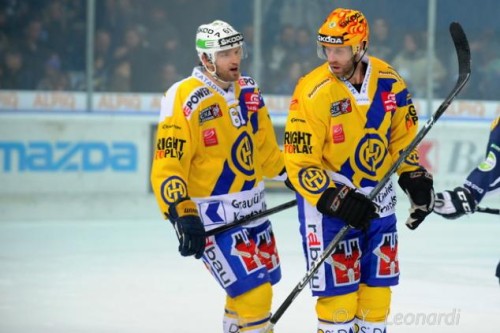 Get ready, Reebok jersey owners, because soon that sweater in your closet will be going out of style (sorry, Taylor Swift) and just be a reminder of a bygone era.
Although not confirmed just yet, Adidas is rumoured to be the company that will replace Reebok as the exclusive jersey producer in 2017-18. And while some stylistic changes are sure to come – we're dealing with two different companies here – the changing of the guard also coincides with the NHL's (Gary Bettman's) growing interest in incorporating ads into the regular jersey design.
So the question has to be asked: Does the NHL really need to go down this route and join the likes of the European leagues? The simple answer is no.
Although there could very well be legitimate business interests motivating the desire to plant ads on jerseys, on the surface it just seems like a giant money grab. The NHL stands to gain almost nothing except more profit and more contacts in the business world (the latter, in turn, will lead to more money making opportunities).
For a league that, only a year ago, signed a $5.2 billion deal with Rogers just for Canadian broadcasting rights, money doesn't seem like something the NHL is in shortage of. That there are three teams – the Toronto Maple Leafs, New York Rangers and Montreal Canadiens – who are valued at $1 billion or greater (according to Forbes) is a testament to this fact.
For the KHL, Swedish Elite League and other less successful leagues to resort to advertising on uniforms as a means of financial stability is understandable. But the NHL is not a league that struggles financially by any stretch of the imagination. Making more money is always nice, but it isn't something the NHL needs to survive – nor will the money made outweigh the costs of doing so.
Aside from the financial aspect of any potential deal, there's another factor that needs to be given serious consideration: the fans. Not many fans watch games just because the jerseys look good, but it doesn't hurt to have an aesthetically pleasing one either (see: Chicago Blackhawks). But making ads a major part of jerseys could put a serious damper on things for many teams.
Anyone who has watched the Spengler Cup or a European league game can – or at least should – attest to the fact the jerseys are a real eyesore. It's tough enough to watch one of those games, so imagine what it would be like to watch 82 of them (at the very least). Throwing a few extra logos on a jersey won't be the difference between a sellout and an empty rink but it could have some negative effects.
Fans may get fed up and stop watching or stop coming to game altogether because they can't stand to see the way their team is outfitted. But more than likely the stubborn loyalty of hockey fans will shine through and they will still turn out in droves. The point is, although they may not show it with their wallets, fans are sure to show some sourness over any changes to the jerseys.
The NHL has a good thing going with Reebok right now, so let's hope the switch to Adidas in two years is the only change made to the jerseys.