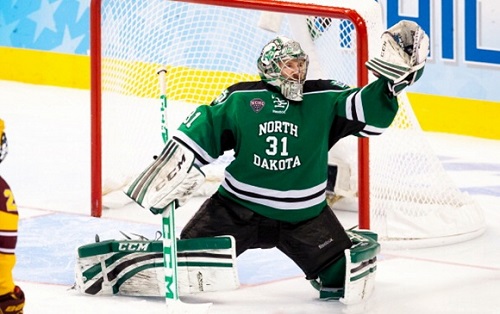 In the 2013-14 NCAA season, Zane Gothberg stole the starting job in net at the University of North Dakota from senior Clarke Saunders, while posting an NCHC leading save percentage and was only .6 seconds away from carrying his team to overtime in a semifinal Frozen Four game, all in his sophomore year.
Two weeks after the season ended, the Boston Bruins put a signing offer on the table. Drafted four years ago, it was the first contract the 21-year-old had ever seen. Gothberg turned it down. He had unfinished business in Grand Forks, ND.
"It basically was automatic," Gothberg said of the decision. "I knew I wanted to make the decision to come back."
And so, two weeks ago, Gothberg attended his fifth Bruins development camp at Ristuccia Arena in Wilmington, MA, once again without a pro contract. His coach at UND, Dave Hakstol, said the decision indicates an understanding in Gothberg of where he is in his development.
"Well, I think its two-fold," Hakstol said. "I think he's focused on having success here. Secondly, he's a player … who is also focusing on getting to the pro level at the right time. There's no victory in signing a pro contract just to sign a contract. I think Zane wants to sign a contract and become a pro when he's ready to be there, and that takes a little bit of presence of mind." Gothberg also said his late grandmother would want him to finish his schooling. She was a professor at UND. "She might be rolling over in her coffin if I didn't go back," Gothberg said.
But the way last season ended for UND – in a Frozen Four loss to the hated Gophers – played just as much a part in keeping Gothberg in the NCAA, if not more. Gothberg's passion for the Sioux goes back further than his breakout sophomore season. He grew up close to UND, where no NHL team closer than 15 hours existed until he was nine. With his grandmother teaching at UND, it was naturally the Sioux he hoped to play for growing up. For Gothberg, whose dream season ended with a crushing loss to a loathsome enemy, leaving UND wasn't an option.
"The reason I came back for my junior season was to win a national championship," Gothberg said. "That's been my number one goal. To play for the free agency stuff, I haven't been concerned about that. I'm just looking to go back and win."
Five years since his first development camp, Gothberg has grown physically and mentally under the Bruins brass that run the camp, assistant general manager Don Sweeney and Providence Bruins coach Bruce Cassidy.
"Night and day, basically," Gothberg said of the difference half a decade makes. "When it was my first year, it was my first year out of high school. I was I think a buck-10 with a wet t-shirt. It was night and day compared to now. I'm bigger, kind of stronger, mentally a lot more comfortable with my game, comfortable with the front office, and from there, it allows you to be successful, allows you to play your game."
When asked about how clogged the Bruins system is with goalies, from Vezina-winning Tuukka Rask all the way down to soon-to-be starting Providence net minder Malcolm Subban, he said he was ready for any competition. The key is to keep positive, even when your rivals are wearing the same colors.
"Whether you go here or any other league, NHL, AHL, even college, there's competition," Gothberg said. "It's nothing you can really escape, and the biggest thing is having a solid bond, both working and helping out with one another, and I'm definitely looking forward to that."
The bond was there between Gothberg and Subban, the goalie said. They've known each other since the latter's first camp in 2013.
"It's kind of like pitchers in baseball. Being a goaltender, you got a special bond with other [goalies] in the game. It's kind of cool to develop that over the past two years, and it's been enjoyable the whole way," Gothberg said.
Gothberg's relationship with the Bruins is strong enough so that he has no interest in testing out free agency after college.
That relationship, however, isn't something he takes for granted. Having turned down one contract, the North Dakotan knows he'd better keep up the strong play in net for the Sioux if he wants that opportunity to remain on the table when he graduates.
"Nothing in hockey is guaranteed by any means," Gothberg said. "The biggest thing is for me is to go into this year and to play my very best and to play the best hockey I can … to really put a statement out there and make the Bruins organization want me that much more."