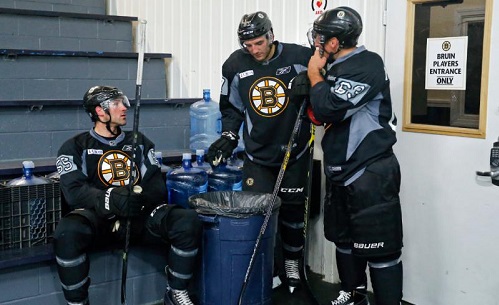 Finally. It's here. Opening Night for the Boston Bruins is right around the corner and fans across the league have bitten their fingernails down to nubs in anticipation of the new season.
From the chill of the ice to singing along with the goal song from Bergy's slap-shot, saying B's fans have endured heartache is an understatement.
However, drama from training camp has provided much entertainment, as well as anxiety, over the past few days; Enough so that we could probably make our own hit television drama out of it.
Camp for our boys in the Black and Gold started last Thursday, September 18th, and with the return of defensemen Dennis Seidenberg and Adam McQuaid you can be sure that it's been one hell of a roller coaster ride.
On Thursday night, Jeremy Jacobs, GM Peter Chiarelli, Cam Neely, and Coach Claude Julien were joined by Captain Zdeno Chara and Assistant Captain Patrice Bergeron to discuss the state of the team thus far at TD Garden with season ticket holders.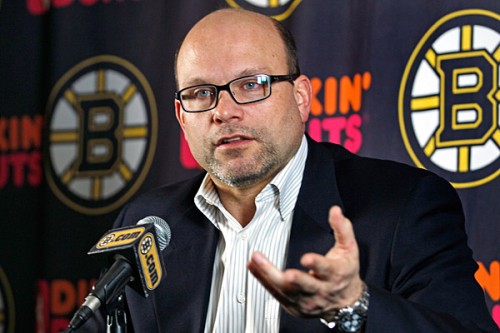 "We're in good shape," Jacobs told the press. "We've got great people coming up through young talent."
When asked about Krug and Smith not being re-signed as of yet, he responded, "You don't want to make big changes with great players like we've got." Well, you could say that's good news for us fans.
Defenseman Torey Krug and forward Reilly Smith have still yet to receive contracts as of yet, and were not present at the Boston Bruins annual golf tournament nor the start of Training Camp Thursday morning.
GM Peter Chiarelli commented little on the possible negotiations occurring between the Bruins Organization with Krug and Smith, "Won't comment on negotiations. We want them in our mix. As it's been chronicled, we've never had that type of player not signed and not come to camp."
"Unfortunately, they're not here… I hope something gets done at some point."
Pause. Rewind back to the Bruins win in 2011. Brad Marchand was yet to be signed at the start of training camp for that year, as well. However, he did have a Stanley Cup ring around his finger and a bright future looming in the distance with the organization. Krug and Smith have little to no inkling as to where they stand.
Nice try, Chiarelli. Nice try.
In regards to the roster for opening night, Chiarelli predicts seven, maybe eight, spots open. Simon Gagne is in that mix as a fairly good contender to claim one of those eight open seats by the time October 8th rears its beautiful head our way.
It's good news that Seidenberg and McQuaid are up and skating around with the rest of the boys, but forwards Gregory Campbell and Milan Lucic are still slow to start due to injuries and Lucic's wrist surgery back in early May.
During Day 2 of camp, first-round draft pick David Pastrnak left the ice and didn't return after a rough hit from defensemen Matt Bartkowski.
Coach Claude Julien commented that he "tweaked his shoulder" and as a result, didn't play in the scrimmage Sunday night against the Providence Bruins.
Pastrnak had been playing alongside David Krejci on the first line as his right way, slowly proving that he deserves a spot on opening night's roster against the Philadelphia Flyers.
The problem? His board work. Taking a hit that bad from Bartkowski in training camp alone could pose as a big problem for him once he hits the ice in the big leagues.
Now, there's plenty reason to say that the B's seem to be held together by duct tape and string at this inopportune moment in time.
With two weeks until opening night, injuries, and no news on negotiations of two of the strongest young players on the team, the Boston Bruins are going to be kicking it into gear for crunch time.
Can they manage to pull through, or will Mama Chara have to take matters into his own hands?
The world may never know…