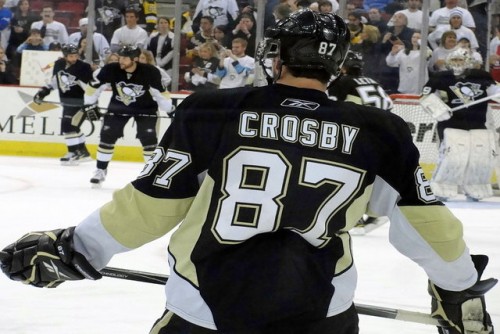 As arguably the most talented team in the NHL, the fact that the Pittsburgh Penguins have failed to make a postseason push since 2009 indicates that it's time for change. Alterations in the head office are already underway, but numerous on-ice decisions must also be addressed before the puck drops in October.
Though some offensive changes are imminent, expect to see many adjustments to the Penguins blue line this offseason.
Elite defenseman Kris Letang is entering a new eight year, 7.25 million dollar contract, which means Rob Scuderi – worth 3.35 million dollars per season – may be traded this summer. Should this occur, expect under performing, first round defensive prospect Simon Despres to be thrown into the mix as well.
Despres is an RFA, and this trade allows the Penguins to free up enough cap space to resign ever improving defenseman Matt Niskanen. His contract should double next season to roughly 4 million dollars, but Niskanen and Letang are two reliable guys any team would want to have locked into their defensive system.
Further, veteran defenseman Brooks Orpik – worth 3.75 million dollars per season – is also a UFA, though he should not be resigned. The Penguins have two young, high potential first round defensemen in Derrick Pouliot and Olli Maatta, and both are showing signs that they are NHL ready.
Maatta, who is coming off a tremendous rookie season after posting up 29 points, is entering the second year of his entry level contract worth $925,000. Pouliot, though still unsigned, posted 70 points in 58 games with the WHL's Portland Winterhawks, indicating that he can bring an aggressive, offensive flare to the Penguins lineup. With some guidance, these young guns can provide the Penguins with the defensive upside they need, and all for less than 2 million dollars for the next two to three years.
Through Letang and Niskanen (and not to mention Paul Martin, who has one year left on his 5 million dollar contract) the Penguins have an experienced defensive core. However, for a team looking to win their primary focus should not involve guiding the Penguins future. For this task, the Penguins should use their freed up cap space to invest in another veteran blue liner.
There are a number of inexpensive, veteran defenseman expected to be in this years' free agent pool – namely Hal Gill, Joe Corvo, and Andrew Alberts – that (guidance aside) would add a much needed depth to the Penguins back end. To fill the enforcer roll, veteran UFA Deryk Engellend should be resigned, and act as that dependable seventh defenseman that every team needs.
With these seven players along the blue line next year, the Penguins will have a complimentary mixture of youth, experience, talent, and grit – and the upside is that they would only get better.
Offensively, the Penguins are stellar. Their top six forwards are incredibly dangerous, and though Jussi Jokinen may be headed to free agency this offseason, it may be for the best. By dropping his 3 million dollar cap hit, the Pens can resign RFA Brandon Sutter, who may be looking for a deal in the three to four million dollar range.
To replace Jokinen, the Penguins should select a left winger – namely Ivan Barbashev or Adrian Kempe – in this years' NHL draft. The Penguins are scheduled to select 22nd overall, and adding a young winger to the mix will help the Pens down the road.
Barbashev can play a strong two way game at both centre and wing, kills penalties, and – despite not having a scoring touch – is able to set up his teammates confidently. Kempe on the other hand has a larger frame, and along with his explosive stride, is able to chase lose pucks down and leave defensemen on their heels. He has great hands and an unrelenting attack, and would fit well in the Pens talented offensive system.
Though they may not play next season, Maatta's incredible play is proof that even the youngest guys can thrive early. Next season the new general manager will have his own outlook, and Barbashev or Kempe will help set him in the right direction.
The Penguins are still young, though Sidney Crosby and Evgeni Malkin are passed their youth, and need to produce beyond the first playoff round. By opening cap space to lock up guys for the future and bring in proven prospects, the Pens will maintain their youth, and continue to improve going forward.
The pieces are there, they simply need to be put together. The Pens already have the talent, youth, experience, and grit associated with an elite NHL club, and with the right moves these complimentary pieces could be rearranged to form a true Stanley Cup team.
So get ready for an exciting offseason, and rest assured that the future is still very bright for this club.