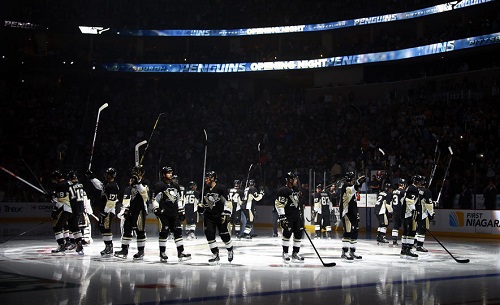 It certainly has been a great start to the hockey season for the Pittsburgh Penguins. In fact, as of this writing, Pittsburgh sits atop the Eastern Conference standings, tied with the Toronto Maple Leafs. Penguin fans have been accustomed to fast starts in the past, but here are three reasons why the Penguins are doing so well this year, and why this success will continue.
1. Sidney Crosby is better than everyone else
Where to start? It seems so cliché to attribute the Penguins' success to Mr. Crosby, but alas, it cannot be ignored. Once again Crosby is far above the competition in the points' race — much like he was last season before a puck forced him to undergo dental-reconstruction surgeries. Take a look at NHL.com's League Leaders statistic page and you'll see Crosby's mug all over the page like the star of a police station's most-wanted bulletin board. He leads in points (17), assists (10), and is second (t) in goals (7). Not only is Crosby shining (like his new teeth) in individual statistics, but he's making his teammates — specifically his linemates — better. Going back to NHL.com's League Leaders statistic page, we see Chris Kunitz sitting atop (t) the plus/minus grouping. Does anyone honestly believe Kunitz would be there without Crosby centering that line? No. No one does.
2. Marc-Andre Fleury has been marvelous
Penguins' fans were concerned about who would backup Fleury after the preseason news of Tomas Vokoun's injury. Penguins' fans were concerned about how he would perform for the opener, the second game, the 50th game, but Fleury has made us all forget about those preseason questions marks with his absolutely fantastic goaltending to start the year. In eight-starts so far this season, Fleury carries a marvelous 7-1 record — the only blemish resulting from allowing only one goal against the Colorado Avalanche and the brick-wall version of Jean-Sebastian Giguere. Again, take a look at NHL.com's League Leaders statistic page and see Fleury's numbers for yourself. Here's hoping Fleury can continue this level of goaltending when it counts.
3. The Penguins have too many good defensemen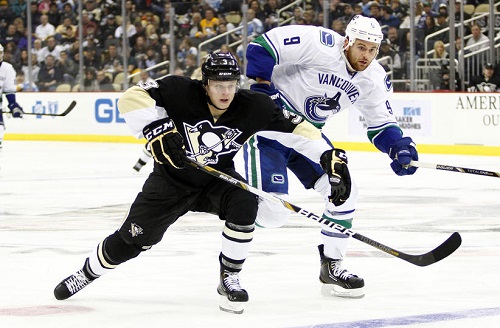 With top-five-in-the-league defenseman (Kris Letang) not playing a single minute this regular season, the Penguins have a big problem in their defensive ranks. They're too deep and they're too good. Brooks Orpik; Paul Martin; Olli Maatta; Rob Scuderi; Matt Niskanen; Deryk Engelland; Robert Bortuzzo; and Simon Despres are all NHL caliber defenseman. But Despres is down with the Wilkes-Barre/Scranton Penguins and Bortuzzo and Engelland fight for that final d-spot each game. With news that stud up-and-coming-star Olli Maatta will remain with the team and not go to Juniors, what will happen to Bortuzzo or Engelland when Letang returns? Will Despres, an up-and-comer in his own right, get a chance to earn more NHL-time this season? The Penguins knew they had this "problem" coming out of training camp; Matt Niskanen was the estimated scapegoat at some point this season, but he has looked amazing and is putting up solid numbers, getting time on the power-play unit. Whatever happens, any team would kill to have this "problem" and because of it, the Penguins might "kill" at the trade-deadline.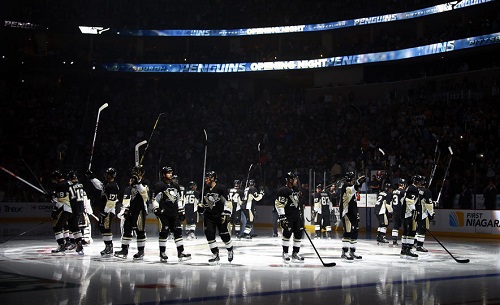 Prospects look great for the Penguins season — Sid's healthy, Geno is skating well, they're 1-0 against the Philadelphia Flyers — and if the three things listed above can continue, the Penguins might be on their way to a Presidents' Trophy and home-ice throughout the Stanley Cup Playoffs.