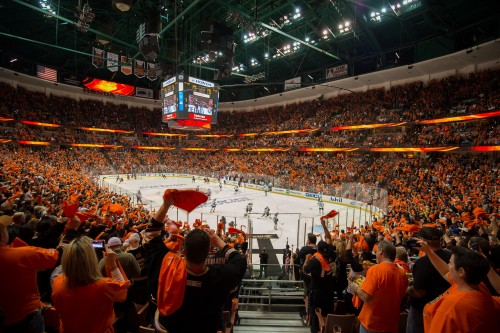 "Close is not good enough"
The Anaheim Ducks new slogan says a lot about how they intend to shape their upcoming season. To do this, several minor (and a few major) changes to the roster had to be made. After losing to the eventual 2015 Stanley Cup champions in game 7, the Ducks have been the favored team to come out on top in 2016. The 2014-15 team last year was a promising one. But Bruce Boudreau, in his fifth season with the Ducks, looks forward to more than just a promising year. The Ducks had won the Pacific Division, clinched the Western Conference, but lost in the Western Conference Finals. Boudreau's current roster (on and off the ice) now holds more than promise or potential, it brings experience and an attitude to win.
Coaching Staff
Head Coach: Bruce Boudreau
Assistant Coach: Trent Yawney
Assistant Coach: Paul MacLean
Assistant Coach: Rich Preston
Goaltending Consultant: Dwayne Rolonson
Amidst the coaching staff, changes have been made to tweak the system a little more. Trent Yawney continues into his second year as Assistant coach with the Ducks, following a successful first year. Rich Preston comes most recently from the WHL. His knowledge as both player within the NHL, and former positions as assistant coach (Calgary Flames 2003-2009) will be useful, but the most interesting staffing change would be the addition of Paul MacLean. Bringing in MacLean will hopefully give Anaheim a better chance with their power play stats. In three of the last four seasons, the Ducks have put up bottom-third ranking scores for their power play. The Senators under MacLean have ranked 11th, 20th, and 14th, from 2011-2014.
The Power of the Swede
Back this year are Forwards Rickard Rakell and Jakob Silfverberg, and Defenseman Hampus Lindholm. Right winger Silfverberg set a career high last year, playing much of his time on the second line with Ryan Kesler. He signed a four-year contract extension this August and continues to be a solid two-way player. For Rakell, after being sent up and down between Norfolk and the Ducks for two years, he found his stride when he was called up by the Ducks December 6th of this past season. His record after that day had him ranked amongst the Ducks players: 5th for goals, 2nd for assists, and 3rd in points. At only 22 years of age and projected to be playing on the 2nd line with Corey Perry and Jiri Sekac, this season Rakell has the opportunity to really make a name for himself. As for Lindholm, he's only 21 and is arguably the best defenseman on the Ducks. His situational awareness and complete confidence in his ability to perform to such a high standard is what puts him in the first pairing of defenseman alongside the recently aquired Kevin Bieksa.
With the addition of Carl Hagelin (acquired from the New York Rangers for Emerson Etem) Anaheim looks to replace scoring lost by Etem, Matt Beleskey, and Kyle Palmieri. Hagelin debuted with the Ducks October 1st in the Pre-Season against Colorado, where he scored an empty netter. He brings a speed to the Ducks that they lacked last year, most notably in their post-season run.
Back Together Again
Possibly one of the biggest moves Anaheim made this off-season was acquiring Kevin Bieksa from the Vancouver Canucks for a second round draft pick in the 2016. Bieksa brings his years of experience to an already solid blue line, replacing Francois Beauchemin as veteran to the younger defensmen on the team. Recently awarded the well-respected "Alternate Captain" title, Kesler was amongst those excited to have him in the lineup, saying, "he brings toughness. People are scared of him on the ice and he holds people accountable. You need that in a lineup."
After being so long in one organization, Bieksa looks forward to the change, "to be in a new spot, and different drills, and coaching staff and new teammates, its a fresh start for myself."
Bieksa on playing Anaheim as a Canuck:
we always knew it was going to be a tough game…its fun to be on this side now
In Their Back Pocket
The Ducks 23-man roster, with both Kenton Helgesen and Nate Thompson on the Injured Reserve, shows the depth this team brings. But looking at the San Diego Gulls shows how strong this organization has become. John Gibson (G), Nick Ritchie (LW), Chris Mueller (C), and Defensemen Joe Piskula and Korbinian Holzer were recently assigned to the Ducks AHL team. All would be great additions to the Ducks roster whenever they are called up by GM Bob Murray. John Gibson dressed in 23 games in the regular season last year for the Ducks, with a 0.914 save percentage and 2.60 goals against average, but a groin injury in October and a earlier hand injury took him out of the post-season.
To Look Out For
Bruce Boudreau has embraced the NHL's new 3-on-3 overtime change. Offensive-minded Defensemen such as Cam Fowler and Sami Vatanen will be huge assets to this new format and are likely to be part of the lines who get this ice time in OT.
Another player to look out for would be Jiri Sekac. Acquired mid-season from the Montreal Canadiens where he got mediocre ice-time, Sekac has thrived in the Ducks lineup. Boudreau has high hopes for him in Anaheim and admitted that he will be getting lots of chances to show what he is made of this year. You may even see him playing on the top line with Ryan Getzlaf in tonights game against the Sharks. The projected lines have Getzlaf and Corey Perry split up for now, but there's no doubt that the two stars will continue to shine.
The Anaheim Ducks seem to have the perfect combination of enough veteran blood to mature the younger players, and enough talented youth to push the team's solid core. Don't miss them face the San Jose Sharks tonight as they kick off the regular season, at 7:30pm PDT (10:30 EST). Their own home opener will be Monday Oct. 12 at 7pm PDT (10pm EST) against the Vancouver Canucks.