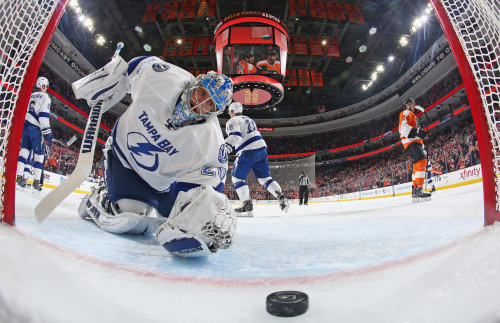 You may notice my bio at the bottom of this story; it says "Tampa Bay Lighting fan pursuing a career as a journalist at the University of Florida."
Old-school journalists will tell you this is contradictory, impossible even.
I have no doubt that if I were to work in the trenches of an NHL locker room day in and day out, it wouldn't be too long before my passion toward the team began to evaporate. Before players simply became co-workers, sources.
But for now, as a columnist for the big and beautiful Internet blogosphere, I am adamant about two things:
I was raised a sports fan, and I am proud of it. If I were to sit here and hold myself to some BS holier-than-thou objectivity standard, I would be lying to myself and anyone reading this. I care about the Lightning, and I want them to be successful. Objectivity is overrated, and transparency is far more important (and comforting, no hidden agendas there).
What is important is being realistic. I've always aimed to find truth in numbers and facts, things that anyone can prove if they have a set of eyes and understand how a sport works. This applies even (if not especially so) when it comes to my own teams.
In short, I'm trying to maintain my love for sports while allowing for myself to accommodate my less naive, realistic side. I don't pretend my teams are the smartest, most well-run organizations in their sport. It's okay to question moves that your team makes. Fans have a role, in part, in holding their team accountable.
For example, Evgeni Nabokov is not a good NHL goaltender. I've said this before, and I'll say it again, but the numbers speak for themselves. Four of the Lightning's worst losses of the year came with Nabokov in net.
And yet, without fail, with each successive unimpressive Nabokov performance, countless Lightning fans on Facebook and Twitter hopelessly and pointlessly defend the old, washed-up goaltender as if he is doing exactly what he is supposed to by playing the part of human sieve.
This isn't a terribly important argument, given that Nabokov doesn't really factor into the Lightning's success this season.*
*We all know it begins and ends with Ben Bishop.
The larger point is this: You should be able to have a knowledgeable and reasonable discussion about your favorite team without it devolving into a debate over team pride ("What, are you a Bruins fan or something?").
Sports are meant to be shared and enjoyed together. Can we just go about it realistically? Is that too much to ask?
Taylor Gaines can be reached at TGaines@hookedonhockey.com or on Twitter @GainesTaylor.
Love Reading About Hockey?

Subscribe to keep up-to-date with the latest and most interesting hockey news!
| | |
| --- | --- |
| | We hate spam just as much as you |