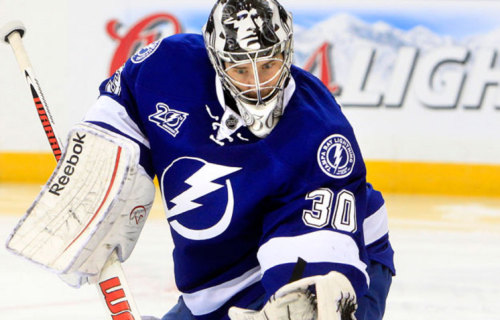 Ever since everything went wrong for the Tampa Bay Lightning against the Montreal Canadiens in the playoffs last season, not a lot more could have gone right.
You've heard about the moves: Jason Garrison (signed), Anton Stralman (signed), Brian Boyle (signed), Brenden Morrow (signed), Ben Bishop (extended), Ryan Callahan (re-signed), Jonathan Drouin (aged).
In every area the Bolts set out to improve this offseason, they did just that. And you, fine reader, may be among those with very high hopes heading into (full) Year Two under Jon Cooper. Lauren Burg has a detailed preview of the Lightning season that will catch you up on everything you may have missed over the summer (except this!), but I wanted to take a different approach to my season preview.
People all around the interwebs are waxing poetic over the Lightning's potential and some are predicting as much as a Stanley Cup championship. Well, despite some cautious optimism myself, I'm going to be the voice of pessimism here at Hooked on Hockey Magazine.
I think the Lightning are certainly a playoff team this season, and there's a chance they are very, very good. But in my mind, there is one thing that the entire season hinges on.
Just think about that miserable playoff series against the Canadiens last season. Remember how hopeless the last three games were? How quickly it was over?
And do you remember Anders Lindback trying to fill in for Vezina nominee Ben Bishop? 104 saves on 118 shots for an .881 save percentage. Yanked from two of the four games. 0 wins, 4 losses.
Thanks to that performance, protecting the net in a back-up capacity became a huge issue that needed to be addressed during the offseason. To that point, Lindback was sent right out of town, signing a one-year deal to back up for the Dallas Stars. However, the Lightning replaced him with Evgeni Nabokov.
Nabokov was 40th among 47 qualifying goalies in save percentage last season (.905) and 35th of 47 in GAA (2.74).* The moral of the story: He's not very good.
*Players must play at least 27 games to qualify (one-third of the season).
This is important, because despite what is shaping up to be a deadly offense and a much-improved blue line, the Lightning's biggest detriment on the road to success this season comes from right between the pipes.
First, there's Ben Bishop. He's not exactly a proven commodity at this point, as last year was the first time he played more than 13 games in a season. And with a lingering wrist injury clearly affecting him toward the end of the year (and causing him to miss the playoffs), injuries are still a concern at this point. And an unhealthy Bishop could cause some real problems for the Lightning (see: playoff series).
Then, there's Evgeni Nabokov, who we have established is not very good anymore at 39 years old. If Kristers Gudlevskis can make a leap from the American Hockey League to the National Hockey League at the young age of 22, maybe Tampa Bay will be alright. Even then, forcing him or Nabokov to shoulder the load for much of the season is far from ideal. If Bishop goes down, the Lightning could go from contender to pretender in a hurry.
I'm not saying there's no reason for optimism in Tampa Bay this year. I'm just warning you. Ben Bishop's health is crucial to contention.
Prediction: 47-29-6, 100 points, 4th in Eastern Conference, Exit in Eastern Conference Semifinals
Simple Answer: I think this team has some serious talent, but they are still a year away. Give them time, though. Jon Cooper will win at every level before he's done.