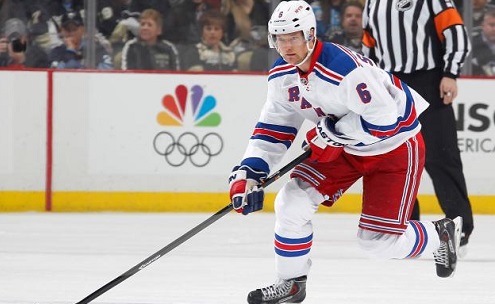 There was a lot of talk about all the cap space the Tampa Bay Lightning were clearing up in preparation for the free agency period in the National Hockey League.
And after a wild day full of free agent signings that saw veterans reuniting with old teammates, stars finding new homes and great amounts of money being given to defenseman, the dust had settled around the league. And the Lightning had three new members themselves to speak of.
The first big signing was on defense. Tampa Bay had been targeting a top-pair defenseman going into this offseason, and they finally got one.
Former New York Ranger Anton Stralman was signed to a five-year, $22.5 million deal that includes a no-trade clause. The 27-year-old was a driving force behind a deep Rangers playoff run and has a combined plus-32 over the past three seasons. He won't score much (18 goals in seven seasons), but Stralman is a strong possession player and gives the Lightning a much-needed right-handed shot.
"He's a really solid defender, very reliable, very good skater," general manager Steve Yzerman said. "With the addition of he and [Jason] Garrison, we think our 'D' is a little bit bigger, little bit more mobile, and we're reasonably deep."
Then, continuing to try to steal every one of Martin St. Louis' teammates, Yzerman signed former Rangers center Brian Boyle, 29, to a three-year, $6 million deal. The 6-foot-7, 244-pound forward looks like he will slot in on the fourth line following the Lightning's trade of center Nate Thompson over the weekend.
Lastly, the Lightning signed 38-year-old Evgeni Nabokov as a back-up goaltender to Ben Bishop for one year and $1.55 million. You wouldn't feel great about Nabokov as your starter, but a back-up with a 2.74 goals against average in 40 games last season isn't too bad.* And you can only hope the aging veteran can help Andrei Vasilevskiy and Kristers Gudlevskis ease into the league in the near future.
*Of course, I fear Ben Bishop's increasingly frequent injury issues could lead to an ugly situation in goal, but on paper, it looks pretty good.
Tampa Bay also signed a couple minor-league forwards to one-year, two-way deals in Mike Blunden and Mike Angelidis. And Yzerman said restricted free agents Andrej Sustr, Brett Connolly and Richard Panik should be back with the team next season as well.
Yzerman said once those deals are completed, the Bolts will shift their focus away from free agency. "Looks like we'll be quiet."
So, things look as strong as ever offensively. The blue line looks somewhat formidable all of a sudden. And the goalie situation, now and into the future, seems pretty secure.
How do you feel about the Lightning's signings Tuesday? Do you think they have a stronger roster than they did during the 2013-14 season?
Leave your thoughts below in the comments or contact me on Twitter @GainesTaylor.