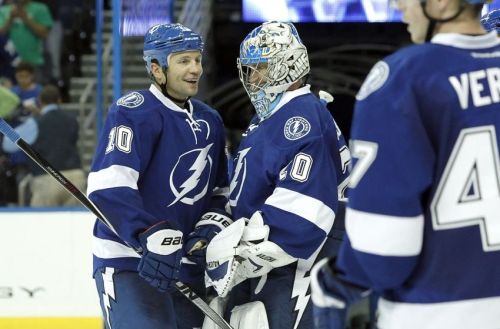 For the first time in what feels like decades, the Tampa Bay Lightning enter a season with expectations sky high. After overcoming a great deal of adversity last season, the biggest being the loss of superstar center Steven Stamkos for nearly four months, and still finishing in second place in the Eastern Conference's Atlantic Division, the Bolts have every intention of building upon a season that ended far too soon. Their playoff sweep at the hands of the Montreal Canadiens came without starting netminder Ben Bishop, a not 100 percent Stamkos and kids with little to no NHL playoff experience.
General manager Steve Yzerman addressed the experience part of things by bringing in some guys with numerous big game appearances. Not only that, Stamkos has gone on record as saying his surgically repaired leg is just about 100 percent and Bishop said he felt 'in midseason form' following his first full preseason game after undergoing offseason wrist surgery, Tuesday night in Dallas. Many of last season's rookies also have a year of playing against top competition under their belt, something which should only help entering this season.
Let's take a look at some of the new additions and subtractions, along with players who could find themselves on the Lightning's opening day roster thanks to a strong preseason. Keep in mind: This may not be completely accurate, as the Bolts have seen many prospects (like pretty much everyone remaining) impress the coaching staff so far but only a few available spots.
Subtractions:
-Martin St. Louis: There was never a guy with more heart than St. Louis had. He was a top winger that had impressive vision on the ice. Putting him alongside Stamkos created one of the league's best 1-2 punches, one capable of changing the outcome of a game in a second. Unfortunately, a dispute with Yzerman because he wasn't originally named to Team Canada, among other things, led to him requesting a move to the New York Rangers at last years trade deadline. He'll certainly be an asset up there, something seen at points during their run to the Stanley Cup finals.
-Teddy Purcell: Purcell's got skills and can score…when he feels like it that is. He broke out early in his Lightning career, but the past couple of seasons his play took a bit of a nosedive. That led to Yzerman trading him to the Edmonton Oilers in exchange for Sam Gagner (who then ended up traded to the Arizona Coyotes a few hours later) in what can only be described as a 'Lightning Fast' flurry of moves to free up cap space prior to July 1st.
-Nate Thompson: Nicknamed the Alaskan Assassin by fans, Thompson was a good third line center for the Lightning. He did a little bit of everything, from killing penalties to winning faceoffs to scoring goals. Not a lot of those, but a decent amount for someone whose primary job was to provide the team with a spark. Unfortunately, his cap hit this upcoming season left Yzerman with a tough decision to make. He ended up trading Thompson to the Anaheim Ducks for a couple of 2015 draft picks in a night that saw many players bite the dust.
-B.J. Crombeen: He was a tough guy who had no fear of dropping the gloves. Past that, I can't say much except good luck with the Coyotes.
-Anders Lindback: A great guy and teammate, Lindback just couldn't seem to stop many pucks that came his way. Maybe it was because he was brought in to be a starter, something he had very little experience doing in Nashville, but that really shouldn't matter. His lack of control and bad decision-making often resulted in losses that could have been avoided. Who knows? A solid backup might have won at least ONE playoff game.
-Ryan Malone: Where do I start? Malone was a top offensive contributor his first few years with the Lightning, but saw a decrease in those numbers the past couple of seasons. Last season, he hit rock bottom. Scratched in favor of young, up and coming guys many times during the team's playoff push, he found himself losing confidence. Then, just before the playoffs began, he got arrested for both driving under the influence and cocaine possession. That made things easy on Yzerman, who quickly used his final compliance buyout to let Malone go.
Additions:
-Anton Stralman: It was clear the Lightning needed to shore up their defense, especially after Montreal walked all over them in last seasons playoff sweep. Stralman addresses that need in a big way, with a plus-9 rating in 81 games and a plus-4 rating in the Rangers run to the 2014 Cup finals. With the Lightning, he'll be the perfect complement to 2009 2nd overall pick Victor Hedman, who many believe could become a legit Norris Trophy candidate this season.
-Brian Boyle: He'll be replacing Nate Thompson's role on the team. A slight upgrade, Lightning coach Jon Cooper has raved about how he can put Boyle anywhere on the ice, in any situation, and he'll likely thrive. He's good at taking and winning faceoffs, killing penalties and isn't afraid to lay big hits or stick up for teammates. It's likely he'll center the fourth line, though that could change as the season plays out.
-Evgeni Nabokov: A veteran presence with tons of NHL experience, Nabokov should prove to be a capable backup for Ben Bishop should anything happen to last years Vezina Trophy finalist. In 39 starts with an offensively challenged New York Islanders team last season, he went 15-14-8 with a 2.74 goals-against average and .905 save percentage. He also recorded four shutouts. For his career, he's played 686 regular season games and 86 postseason contests, with a GAA under 2.50 and save percentage above .900. I think it's safe to say he'll be able to win more games than Lindback did.
-Ryan Callahan: Acquired in the Martin St. Louis trade, Callahan's got a nose for the net and isn't afraid to go into the dirty areas to make something happen. He's also got no fear when it comes to finishing his checks. You can put him on the power play and he'll go to the front of the net, looking for a juicy rebound. There are those who think he can produce more, but from what I've seen Cally brings the Bolts that net-front presence they've craved for so long. He can also help provide leadership to the younger guys.
-Brenden Morrow: There's that experience factor again. A nearly 16 year veteran, Morrow's got leadership and a knack for scoring key goals. In 921 career regular season games, most coming with the Dallas Stars, he's produced 262 goals, 305 assists and 567 points. During 94 playoff appearances, he has 19 goals, 27 assists and 46 points. He served as the Stars captain from the 2006-07′ season until his trade in March of 2013 as well. On the Lightning, Morrow's expected to join Brian Boyle on the fourth line and help provide extra leadership outside of captain Steven Stamkos.
-Jason Garrison: Known for his big shot, Garrison is a weapon on the man advantage. In his second full season with the Florida Panthers during 2011-12′, he tied a club record with nine power play goals. That total led all teammates as well. He's also pretty solid in his own end, evidenced by the team-high plus-6 rating he produced that year. Signing on as a free agent with the Vancouver Canucks in 2012-13′, he just continued his great play. He scored three of his eight tallies on the power play and posted a career-high plus-18 rating. Last season was difficult for him, as the team struggled under new bench boss John Tortorella. With the Bolts, Garrison will likely be part of the second defensive pairing, alongside either Eric Brewer or Matt Carle, and get a crack at helping the teams numbers on the man advantage.
Other players likely to make the Lightning this season are Nikita Kucherov, who I strongly believe will have a breakout year, Brett Connolly and 2013 third overall draft pick Jonathan Drouin (once his fractured thumb heals that is). Vladislav Namestnikov, Jonathan Marchessault and Cedric Paquette will probably end up with the AHL's Syracuse Crunch, but will no doubt be called up to the big club in the event of injuries (though I certainly hope we don't have to call up nine at one time like last season) and the like.
I'll provide you with a quick look at the three most important positions and give my thoughts on the upcoming 2014-15′ season now.
Defensemen:
Adding Jason Garrison and Anton Stralman should make the Lightning a significantly better team defensively. Victor Hedman's also expected to make the leap from good to great this season. For the third pairing, Radko Gudas has the ability to be a solid defenseman at the NHL level. We've seen his fearlessness in regards to dropping the gloves, but he's got a lethal shot from the point. Using that at various times throughout the season could be beneficial. Matt Carle and Eric Brewer will be on the second and third pairing, and will need to block shots, along with clogging the blue line. Mark Barberio, he can be used as a seventh defenseman at times but needs to show a bit more consistency to find a regular spot in the lineup.
Goaltending:
FINALLY! After enduring years upon years of a goaltending carousel with no real solution, the Lightning seem to have found their man in Ben Bishop. His 37 wins last season were a new franchise record which, combined with a top 10 ranked GAA and save percentage, made him a Vezina finalist for league's top goalie. Spelling him with Evgeni Nabokov should result in some more close games and potential wins for the team. If Bishop can stay fairly healthy, while playing at his normal high level, and Nabokov's able to perform as he has for much of his career the Bolts should be a playoff lock.
Forwards:
The Lightning are loaded up front, and there's still plenty waiting in the wings. It all starts with Steven Stamkos who, prior to getting injured last year, was being named as a front-runner for the Hart Trophy. He's got a legitimate shot at capturing another Rocket Richard trophy, possibly a Hart and leading his Bolts deep into the playoffs this season with the number of playmakers available. However, first the coaches need to find some permanent linemates for him. There's been some experimenting during the preseason, but no one's grabbed hold of that coveted position alongside the captain yet. Jonathan Drouin could end up there at some point, but coach Jon Cooper seems intent on starting Drouin lower for the time being. I can't disagree, as he is only 19 years old. Calder Trophy finalists Ondrej Palat and Tyler Johnson look to build upon last seasons success, while Nikita Kucherov and JT Brown try to have breakout years. Ryan Callahan and Valtteri Filppula will also be crucial to the success of this team, as will new additions Brian Boyle and Brenden Morrow.
One of the few questions I have for this season is will the Lightning let these heightened expectations mess with their play on the ice? Will they take some opponents too lightly, thinking they're a 'sure win'? You can make the argument either way, but ultimately the team itself has to provide an answer. If they can take care of business, not paying attention to predictions or standings, and stay relatively healthy I believe the Bolts can challenge Boston or Montreal for the Atlantic Division crown and go fairly deep into the playoffs. Maybe deep enough to give Stanley another much-needed tan.