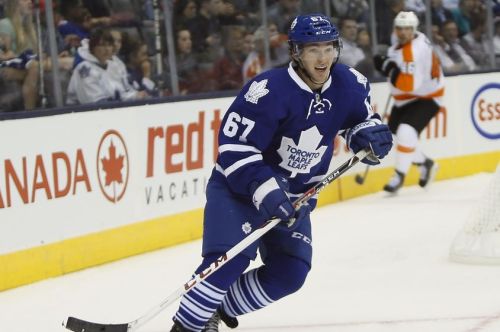 Standing 5-foot-8 and clocking in at 167 pounds, the Toronto Maple Leafs Brandon Kozun is familiar with being overlooked – that is, until now.
The 24-year-old is turning heads at Leafs camp, using his speed and offensive flare to garner attention. Despite carrying a smaller frame, he is showing signs that he could add a lot to Toronto's fourth line.
"I'm just trying to get better every day," said Kozun. "We'll see where it goes. So far, so good."
Kozun was a sixth round draft choice (179th overall) by the Los Angeles Kings in 2009, and – surprisingly – has yet to play an NHL game. He registered two 100-point seasons with the WHL's Calgary Hitmen, collected seven points in six games at the 2010 world juniors, and scored 20 or more goals in his first three AHL campaigns.
But more importantly, he has demonstrated that he can contribute at the NHL level, and Kozun believes his explosive skating is a contributing factor. "For me, if I'm not skating, I'm not very valuable," he said. "If you know how to use it in the right ways, it can help you."
Throughout the preseason Kozun has used his speed on the penalty kill, the forecheck, and on the offensive rush. He creates plays, scores goals, and pressures the opposition relentlessly – something the Leafs have lacked in their bottom six for consecutive years. He has 5 points (2G, 3A) in six exhibition games, and has left Leafs management with a big decision to make.
Leafs assistant general manager Steve Spott, who coached Kozun last year with the Marlies and at the world junior championship, had faith in him early on.
"When I met with him last year I told him I thought he could play in the National Hockey League on the fourth line," said Spott. "I'm a believer that you have to have different lineups depending on who you're playing on any given night. He gives you an element of speed."
With Kozun in the system, the Leafs wouldn't be forced to dress an enforcer for the sake of filling in the lineup. Depending on their opponent an enforcer may be unnecessary, giving the Leafs added depth down below. "There are certain situations that call for speed and skill, and there are other situations where the other assets of [physicality] and grit… take precedent," said Leafs head coach Randy Carlyle.
For example, the Boston Bruins are a hard hitting club, and dressing Colton Orr or Frazer McLaren would be a wise decision; but against the Montreal Canadiens who no longer have George Parros? From this standpoint, it makes sense to dress Kozun opening night.
But again, despite some logic and a strong camp, when you're well less than six feet making the NHL jump is always going to be a tough sell.
"The issue has always been his size and can he do it at the next level. We brought him into our team (the Calgary Hitmen) and he was the most dynamic player at that time in the league," said Dave Lowry, Kozun's coach for three of his four years in major junior. "He doesn't take no for an answer. He goes to the areas to score."
Nathan Gerbe, Brian Gionta, and Martin St. Louis are some of the NHL's smallest, and each has found success in their own way. "I think as a smaller guy you always have an uphill battle," said Kozun. "On the other hand, I think that's one of the reasons I've gotten to where I've gotten today."
In the NHL size is one thing, but offensive instinct can go a long way. For Kozun, lets hope it's enough to be out the odds.
"I'm a small guy," said the NHL hopeful, "but I want to play big."