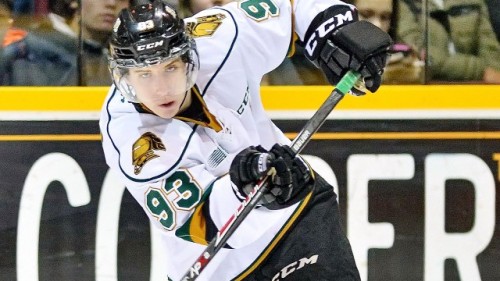 The Leafs couldn't draft Connor McDavid but that didn't stop them from moving in the right direction. As it stands today the Maple Leafs have more prospects than people give them credit for, a handful of whom could be NHL ready as early as next season.
Below is a chart to illustrate the depth of this growing prospect pool.
| | | | | |
| --- | --- | --- | --- | --- |
| Left Wing | Centre | Right Wing | Defencemen | Goalie |
| Brendan Leipsic (3rd Rd. 89, 2012) | William Nylander (1st Rd. 8, 2014) | Mitchell Marner (1st Rd. 4, 2015) | Morgan Reilly (1st Rd. 5, 2012) | Antoine Bibeau (6th Rd. 172, 2013) |
| Andreas Johnson (7th Rd. 202, 2013) | Frederik Gauthier (1st Rd. 21, 2013) | Connor Brown (6th Rd. 156, 2012) | Stuart Percy (1st Rd. 25, 2011) | Christopher Gibson (2nd Rd. 49, 2011) |
| Nikita Soshnikov (Undrafted) | Zach Hyman (5th Rd. 125, 2010) | Casey Bailey (Undrafted) | Matt Finn (2nd Rd. 35, 2012) | Garret Sparks 7th Rd. 190, 2011) |
| Dmytro Timashov (5th Rd. 125, 2015) | Josh Leivo (Rd. 3, 86 2011) | Jeremy Bracco (2nd Rd. 61 2015) | Travis Dermott (2nd Rd. 34 2015) | |
| Martins Dzierkals 3rd Rd. 68, 2015) | Carter Verhaeghe (3rd Rd. 82, 2013) | Nikita Korostelev (7th Rd. 185, 2015) | Viktor Loov (7th Rd. 209, 2012) | |
| Nolan Vesey (6th Rd. 158, 2014) | Ryan Rupert (6th Rd. 157, 2012) | Fabrice Herzog (5th Rd. 142, 2013) | Andrew Nielsen (3rd Rd. 65, 2015) | |
| Dominic Toninato (5th Rd. 126, 2012) | Tony Cameranesi (5th Rd. 130, 2011) | J.J Piccinich (4th Rd. 103, 2014) | Jesper Lindgren 4th Rd. 95, 2015) | |
| Pierre Engval (7th Rd. 188, 2014) | | Tyler Biggs (1st Rd. 22, 2011) | Rinat Vailev (3rd Rd. 68, 2014) | |
| | | | Petter Granberg (Rd. 4, 116 2010). | |
| | | | Cody Donaghey (undrafted) | |
| | | | Stephen Desrocher (6th Rd. 155, 2015) | |
| | | | Tom Nillson (4th Rd. 100, 2011) | |
| | | | Max Everson (7th Rd. 203, 2011) | |
** Note: Red = weak prospects; Blue = average prospects; Green = strong prospects (based off point production and/or role performance this past season) **
Since 2005 Toronto has drafted a number of quality NHLers (Anton Stralman, Nikolai Kulemin, Carl Gunnarsson, James Reimer, Viktor Stalberg, Leo Komorov and Nazem Kadri to name a few) but none have emerged as superstars on a team that so desperately needs one.
And no, despite being one of the NHL's most elite goal scorers, Phil Kessel does not fit the bill.
The Seguin/Kessel trade is the oldest debate in the book, but the fact Kessel's likely on the move indicates Toronto should have kept their second overall selection. Instead Toronto's top pick in 2010 was Brad Ross taken 43rd overall, a low level player recently dealt to the Edmonton Oilers. Additionally, since trading Tuukka Rask in 2005 and lacing up Luke Schenn prematurely in 2008, Toronto has shown they cannot draft and/or develop top prospects even when they have the opportunity to do so.
That is – until now.
Following Friday's draft Toronto's now acquired six first round skaters since 2009, each soon to begin or having already started promising NHL careers. Nazem Kadri, Stuart Percy, Morgan Reilly, Frederik Gauthier, William Nylander and now Mitchell Marner come together to form the deepest prospect core Toronto has had in recent memory.
Gauthier was named the 2014-15 QMJHL top defensive forward, Nylander averaged 0.95 PPG in Sweden followed by a seamless AHL transition, while Marner is arguably the most skilled forward beyond McDavid in the 2015 draft class. Each registered noteworthy campaigns and could crack the Leafs roster as early as next season. At the NHL level Reilly showed great strides near season's end and Kadri, though he posted a weak 39 points in 73 games, is still expected to improve. Stuart Percy showed incredible poise in Leafs gear to begin the season and continued to develop at the AHL level thereafter.
Put simply, having these six skaters at the disposal of a managerial staff adamant of proper development is nothing short of a game changer. More importantly, though, Leafs President Brendan Shanahan and company appear to have found quality talent beyond the first round.
This was seen most prominently when the Leafs selected Nikita Korostelev as their final selection, 185th overall. The powerful Russian recorded 53 points in 55 games this season with the OHL's Sarnia Sting, playing alongside sixth overall 2015 selection, Pavel Zacha. Amazingly while Zacha recorded 0.92 PPG, Korostelev narrowly beat him out registering 0.96. According to pre-draft rankings Korostelev was listed number 50 by NHL Central Scouting and 69 by TSN's Bob Mackenzie, so the fact that Toronto grabbed him in the final round is an absolute steal.
What's more, Toronto selected Dmytro Timashov – who led the entire QMJHL with 90 points in 66 games – with the 125th pick. In the postseason he added another 18 tallies in 22 contests, numbers indicating a dynamite fifth round selection for the blue and white.
In 2012 the Leafs did the same thing with Connor Brown (6th round, 156), who let's not forget led all AHL rookies in points this past season, finishing 12th across the league. Add Brown to the growing list of Leafs' prospects showing signs of being NHL ready and you can't help but get a little excited.
Even more exciting, though, Toronto is adding quality talent to their prospect pool beyond the draft entirely. Nikita Soshnikov, an undrafted KHL forward signed by Toronto in March, set new career highs this year (32 points in 57 games), an incredible leap from the meager five points tallied his rookie season. Casey Bailey was also undrafted, while Brendan Leipsic and Zach Hyman are two prospects acquired via trade both coming off dominant campaigns.
This weekend Toronto (or namely Leafs director of player development Mark Hunter) went out of his way to select skill over size, a category that kept many of these elusive prospects lower down. In fact, six of Toronto's nine selections were less than 6 feet tall but if Tyler Johnson or Martin St. Louis have proven anything, it's that size isn't everything in today's NHL. The league is opening its doors to smaller, flashier players (i.e. Johnny Gaudreau, Jiri Hudler) and the Leafs are embracing this opportunity.
Say what you will about the Leafs new philosophy, but at least Toronto has a plan and they're looking to follow through. Once Kessel, Bozak, Lupul and the rest of the Leafs core are dealt (which is sure to happen at some point) the prospect pool will only grow deeper. In my mind the Leafs are headed in the right direction seeing as the deeper your prospect pool, the more opportunity you have to develop your club for the future.
This is the new direction of the Toronto Maple Leafs and this is how you win championships but most importantly, this is a prospect Leafs Nation could definitely live with.