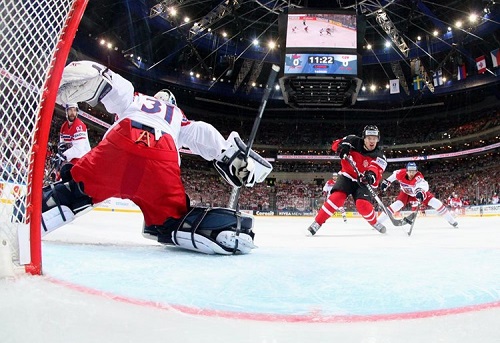 Canada defeated host Czech Republic 2-0 Saturday morning to advance to the gold medal game, their first gold medal appearance since 2009.
Taylor Hall and Jason Spezza scored for Canada while Jaromir Jagr, who has a team leading six goals for the Czechs, was contained early.
"JJ is definitely a key part of their team," Canada's Ryan O'Reilly said of Jagr. "We kept him on the outside. That was a key part of our tactic. But he's a talented player and a couple of times he had us back on our heels a bit. All five of our guys in our own end were working hard to make sure they couldn't get him the puck so much."
Since the tournament began Canada has shown their offensive flare, but today's win proves they are much more versatile. Through the first forty minutes Canada pelted 35 shots at Czech goaltender Ondrej Pavelec, but chose to take a defensive stance to secure the win in the final frame.
"We said before that we can't score our way out of wins," Spezza noted. "Some nights we have to defend our way to wins. Tonight after we got the two goals we sat back, defended, and kept them to the outside."
The opening goal came quickly following a solid team effort. Defenceman Patrick Wiercioch fired the puck up to Sidney Crosby at centre, Crosby then finding Jordan Eberle with a sensational set up. Upon being swarmed by the opposition, however, he sent the disc to Hall who had the open net, making it 1-0 Canada at 8:40.
Canada made it 2-0 off a Spezza toe drag in period two. Using his size and speed, he fired a low shot between the legs of defender Jakub Krejcik and though Pavelec's pads, scoring his tournament leading 14th point.
The game could have broken open for Canada, but Pavelec stood tall through 60 minutes. Entering the second frame the shots were 35-18 in favor of Canada, Pavelec making three phenomenal saves in the frame's final minute.
But despite Pavelec's efforts, the Czechs couldn't solve Canada's defensive game in period three, Mike Smith recording his second straight shutout. Heading into the gold medal matchup, however, Canada knows they can't sit back as much as they did this morning
"Last game we won with a scoring effort," said coach Todd McLellan. "Tonight we won with a checking effort. We didn't want to just be a checking team in the third, and maybe we did a bit too much checking. Hopefully that's good for us going forward to the final game.
Love Reading About Hockey?

Subscribe to keep up-to-date with the latest and most interesting hockey news!
| | |
| --- | --- |
| | We hate spam just as much as you |