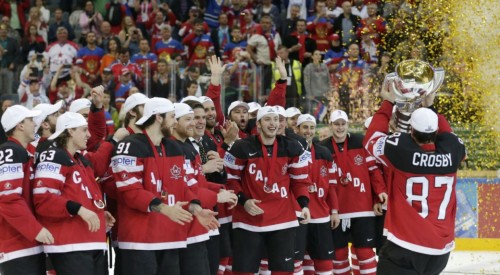 Canada routed defending champion team Russia 6-1 Sunday afternoon, winning their first World Championships since 2007.
There wasn't a weak link on Canada's roster, the team scoring a tournament high 66 goals (a new IIHF Canadian record) and giving up just 15 tallies. Canada had depth at all ends of the ice and their perfect 10-0 standing is proof that they were destined for gold.
"Our guys really wanted to win — they really did," said coach Todd McLellan.
Canada's fourth line got things started, Cody Eakin scoring first followed by a strong Tyler Ennis wraparound. Stars Sidney Crosby, Claude Giroux, Tyler Seguin and Nathan Mackinnon also found the back of the net for Canada, Evgeni Malkin notching the only Russian marker.
"That was really the story for the whole tournament. Everyone contributed, every line, both offensively and defensively," said captain Sidney Crosby. "We had some guys do a great job on the penalty kill. Smitty (Mike Smith) was awesome in net. It was a total team effort."
With Sunday's win, Crosby – who collected 11 points in the tournament – becomes just the eighth Canadian player to join the triple gold club, adding this victory to Olympic gold medals in 2010 and 2014 and his 2009 Stanley Cup. What's more, Crosby is one of only 26 players to do this in the history of the game.
"It's a great honour," said Crosby of the achievement. "I've been fortunate to play for some great teams. You know sometimes you just need some luck. I feel fortunate to be a part of it and it's a privilege that we could do this as a group."
By game's end Canada outshot the Russians 37-12, keeping Russian superstar Alex Ovechkin at bay. This is Canada's first win in history over the Russians in a world championship gold-medal game and the largest margin of victory ever surrendered by the Russians.
"I thought that we got a little extra motivation from the Russian team today," said McLellan. "Their staredown in the warmup was just exactly what our team needed. We talked about which staredown would be more important — the one before the game or the one after. We decided the one after would be more important so we appreciated the motivation."
It's often said that this tournament doesn't matter – it's just preparation for training camp in September – but this opinion couldn't be further from the truth. These rivalries run deep and everyone wants to win.
Nothing tastes better than gold.