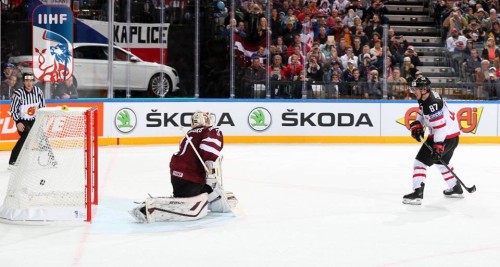 It was a one sided affair to begin the World Championships, Canada crushing Latvia 6-1 in Friday's matchup in Prague.
Jason Spezza led the charge, notching two goals and adding an assist to be named Canadian player of the game. Fellow line mates Sidney Crosby and Nathan Mackinnon kept the pace going, the line clicking from the opening faceoff.
"We're so new to each other, we're trying to build chemistry," Spezza said. "We talked every turn we came to the bench, we tried to figure out our systems, we tried to figure out the big ice, to use these games as building blocks for your team. Even if we got up early, we stuck to our plan and got better as the game went on."
Mackinnon registered the opening goal at 9:57 in period one, Spezza and Matt Duchene tallying goals two and three a few minutes later. Despite the early lead, however, head coach Todd McLellan wasn't satisfied with his team's effort.
"We weren't happy with the neutral-zone play in the first five-to-seven minutes," he said. "Smitty had to make some saves early to settle us down…. After that, we figured some things out. We all bought into it and it allowed us to play in the offensive zone."
Tyler Toffoli tallied Canada's fourth marker at 2:20 in the second frame, Mackinnon adding two assists in the victory. Outshooting the opposition 42 to 17, goaltender Mike Smith finished the game with 16 saves, his shutout ruined by former NHLer Kaspars Daugavins at 12:05 of the third period.
Crosby scored on a penalty shot with 23 seconds remaining in regulation to cap off the beating.
"It was pretty good," he said. "We skated well and generated some good chances." This is Crosby's first time lacing up for Canada in the World tournament since his draft year, the last time the Penguins missed the postseason.
Aside from winning by a large margin, the Canadians came together as a cohesive unit to begin the tournament, a prospect that McLellan values moving forward.
"The timeframe that this tournament is played in is very short and you've got to come together as a group," he said. "We're not shooting for the stars in the beginning, we're trying to get better every day. That's kind of a theme we've adopted and I think we've used our six or seven days now together doing that."
Team Canada is back in action on Sunday when they play Germany at 10:15 a.m. ET.