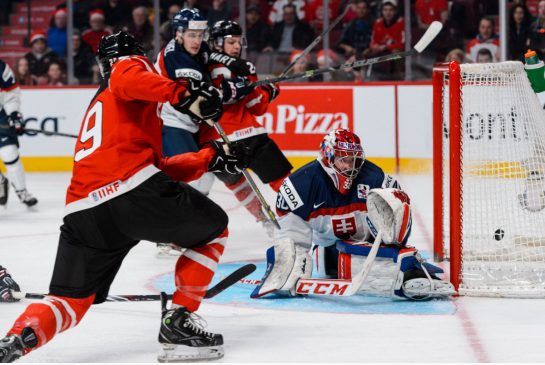 Team Canada was in control from start to finish, and thumped Team Slovakia to open the 2015 World Junior Championship.
Forward Robby Fabbri netted two goals, scoring his first 4:52 into the opening frame. Less than five minutes later it was already 3-0 for Canada, and the team never looked back.
Forward Nick Paul tapped home Canada's fourth goal down low in the slot, Brayden Point notched his first, and Max Domi wired home his first goal to put Canada ahead 6-0. Nic Petan lifted the puck over the Slovakian goalie to tally his third point of night, and Jake Virtanen closed out the scoring with a tough-angled tap in along the goal line late in period number three.
Moreover, while Canada's offensive phenom Connor McDavid was held off the score sheet, number 17 still hammered six shots on goal, and demonstrated his incredible stick handling ability during a heads up play in the offensive zone. After tonight's performance, it is evident that McDavid does not need to score to make highlight reel plays.
Though team captain Curtis Lazar was also kept scoreless, all of Canada's forward lines created space and kept the puck moving to generate offensive zone time. Petan, Virtanen, Point, Duclair, and Domi each registered a goal and an assist in the win, while Sam Reinhart tallied two helpers. Domi came close to registering his second goal when he stripped the Slovakian defense of the puck, and raced toward the net with a will to score.
But even as their offensive depth came through, Canada was able to limit shots against, outshooting the opposition 34 to 12. The Slovaks were pressured into playing both goalies, and their forwards were pressured into turnovers throughout the game.
In contrast, defenseman Shea Theodore made the only defensive mistake for Canada, coughing up the puck deep in his own zone in the final frame. Fortunately, Montreal Canadiens prospect Zach Fucale was able to stand tall, deflecting the puck up into the netting to secure a shutout performance.
Despite a dominant performance up and down the roster, Fabbri was named player of the game after collecting four points (2G, 2A) in Canada's dynamite performance. A well deserved accolade if there ever was one.
http://www.tsn.ca/video/wjhc-fabbri-lauds-canada-s-offensive-showing-1.168568
Last year, Team Canada started the game against Slovakia down 3-1, but the skill and speed of this junior squad was too big a test for an overwhelmed Slovakian lineup.
Team Canada is back in action tomorrow evening when they return to the Bell Centre to play Team Germany at 8 p.m.