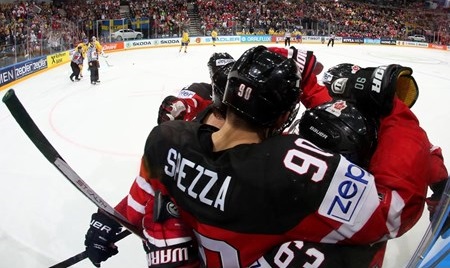 Following yesterday's 6-4 win against Sweden, Canada (4-0) now has a commanding 12 points to sit atop group A. Sweden and Switzerland are tied for second place with 8, Sweden losing their first game of the tournament yesterday afternoon.
But the fact that Canada won in regulation (or at all for that matter) comes as a surprise. Down 3-0 after 20 minutes off goals from Anton Lander, Victor Rask and Filip Forsberg, Canada didn't look like the powerhouse everyone expected.
"They move the puck well," said captain Sidney Crosby. "We were standing around watching them a little too much. So we weren't competing as much as we needed to. We can't afford to do that again. We can't take a whole period like that and be down 3-0. But it's a good learning experience for us."
Canada would turn on the jets in the second, however, Aaron Ekblad, Taylor Hall and Sean Couturier tying the game at threes. "We had a big wake-up call in the first," said Tyler Seguin. "We went to the dressing room and talked before the second. A lot of guys were saying we can do better. We can score goals. We can be better at defending. We put it all together and came away with three points."
Crosby was put on a line with Eberle and Hall to begin the second and the chemistry was relentless. The trio generated three scoring chances and on their next shift, Hall was able to pot his tournament leading fifth goal – and eighth point – on a penalty shot.
"It's a lot different than a shootout," Hall said. "I just wanted to go down there and try to get him moving with that first fake, and I managed to open him up. Good moment for our team. It's always fun to score on penalty shots. It's a great way to get momentum."
But Sweden would reclaim the lead minutes later off an Oscar Moller one-timer, beating Smith over the stick side shoulder to make it 4-3. This would be Sweden's final lead, however, Canada notching three unanswered tallies in the final frame.
Midway through period three, Crosby picked the pocket of Swedish defender Oscar Klefbom behind the net and found Eberle in the slot, who in turn tipped it behind him to Patrick Wiercioch. Wiercioch wired a high shot over Anders Nilsson's glove at 10:24 to draw even.
Three minutes later Tyler Ennis then gave Canada its first lead on its first power play. Coming in off the rush, Hall dropped the puck to Ennis who ripped another shot past Nilsson's glove side. Tyler Seguin added an empty netter at 18:10 to end the game.
Canada has two days off to prepare for their next contest against France on May 9th at 6:15 a.m. ET.