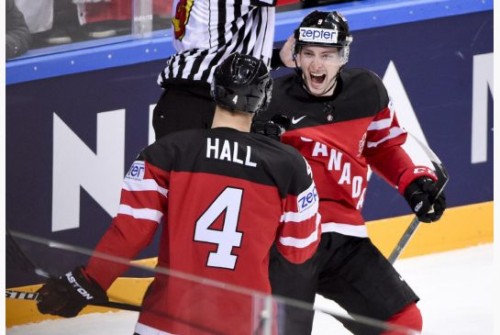 Entering the tournament the question of whether Team Canada could come together as a group was up in the air. On Sunday this uncertainty was pushed farther back, Canada destroying Germany 10-0 in Sunday's tilt.
Taylor Hall scored a hat trick to keep Canada at the top of group A with a perfect 2-0 record and tournament leading 16 goals.
"I think the coaching staff has done a really good job of preparing us for what it's like on this big ice and giving us tips and pointers on what the successful teams do over here," said Hall. "We're trying to incorporate that and I think we're doing a good job."
Sidney Crosby opened the scoring in period one, Canada up 9-0 after 40 minutes. Cody Eakin, Aaron Ekblad, Claude Giroux, Tyler Ennis and Matt Duchene also found the back of the net.
Composed entirely of NHLers, Canada's squad is adjusting well to the 100-foot width of international rinks. In North America rinks are 85-feet wide and many thought this might prove troublesome for Canada's elite roster.
"It was a game where we were able to penetrate a little bit and that's always nice," said Hall. "In this big ice you want to get to the middle of the rink as quick as you can and get shots off… I think we're starting to figure out how to play on this ice and it's nice."
Crosby agreed with Hall, saying Sunday's rout was an improvement from Friday's 6-1 victory over Latvia.
"It was good," Crosby said. "I thought we were better today than we were last game. So that's the most important thing that you got to get better with every game. It should happen as the guys get more comfortable with the ice."
Martin Jones made 17 stops to earn the shutout, Mike Smith shutting the door for Canada in Friday's victory. With two sound performances in the crease, Canada hopes to continue their dominance in the offensive end s well.
"One of our main points when the game was a little bit out of hand there was to try and play well for Jonesy," said Hall. "Make sure that we played with good habits and I think we did that."
As soon as training began following the regular season, head coach Todd McLellan has pushed his team to come together and get better every game. After today's performance, it's clear his team heard him loud and clear.
While it might prove difficult to play a stronger game, Canada will look to continue their dominance tomorrow against the Czech Republic.