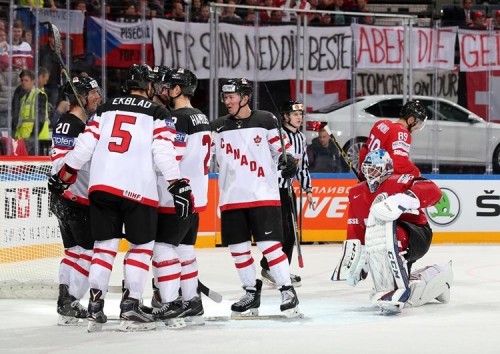 There were seven goal scorers in Canada's 7-2 rout over Switzerland Sunday, Canada clinching group A with their sixth consecutive victory.
"We just tried to keep it simple and bring as many pucks as we could at the net, jump on those second and third chances," said Sean Couturier, who had one goal and two assists. "Tonight we had a few goals like that. That's what we need to do to keep going forward."
In fact five of Canada's seven tallies were recorded off rebounds in the slot, helping Canada secure a matchup against the fourth place team in group B. The contest is set to take place on Thursday in Prague. Canada hasn't scored seven or more goals against Switzerland in over 16 years, a prospect they look to continue moving forward.
"We've got a team that can roll four lines pretty easily," said Tyler Seguin. "It's very evident on our roster. It's easy to put a bunch of stars together, but you've got to come together as a team, and we've done a good job of that thus far."
Seguin scored for Canada 53 seconds into the match, the Swiss tying it up midway through. Nathan Mackinnon would reclaim the lead for Canada with 18 seconds left in the opening frame.
"I got lucky, I guess," said MacKinnon. "Caught the post. It turned out to be a nice shot. But don't expect those again all the time. I just wanted to get a shot on net. It was late in the period and thankfully it went in."
Canada scored three unanswered goals in period two from Aaron Ekblad, Jordan Eberle and Cody Eakin, taking a 5-1 lead to the locker room after 40 minutes.
The Swiss would add another tally to open the third, but Canada answered right back notching two more of their own. Couturier and Claude Giroux would close out the scoring for Canada and the game.
Canada plays their final preliminary contest tomorrow when they face off against Austria (0-2-1-3) at 6:15 a.m. ET.