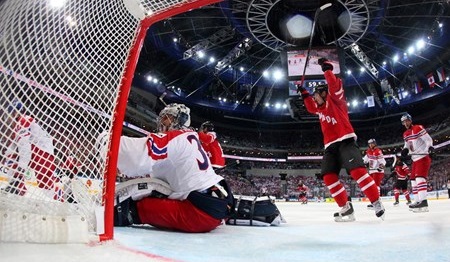 Team Canada is now a perfect 3-0-0-0 in world tournament action, soundly defeating the Czech Republic 6-3 on Monday.
Following yesterday's win, Canada continues to sit atop group A with three regulation wins and a commanding nine points. Canada has produced up and down the lineup notching a tournament leading 22 goals, but struggling Tyler Seguin finally made his way onto the score sheet.
"It was getting a little annoying with all the chances and nothing to show for it, but I feel like I took some of my own pressure off myself with getting that goal," said Seguin. "I'm happy about it, it was a big win and now we move on."
Seguin's goal put Canada ahead 4-2 early in period three, proving to be the game-winner in what was overall a very close matchup. "We got a couple of power play goals," said captain Sidney Crosby, "[but] it probably wasn't a three-goal difference."
Canada was outplayed in the opening frame but still managed to score first off a miscue behind the Czech goal. The puck was sent in deep and everyone – including Czech netminder Ondrei Pavelec – thought it would go to the other side. Instead it stayed put, Jordan Eberle recovering the disc and shoveling it through the near side.
Taylor Hall scored in the frame's final minute, but seconds later Martin Erat capitalized off a defensive breakdown inside Canada's line. The Czech's deserved this goal, balancing out the momentum heading into the locker room.
Upon hitting the ice for period two, however, both teams were more careful with the puck. It seemed like the frame would be scoreless, but at 15:45 Martin Zatovic sent a weak deflection past Mike Smith to tie it up. The packed 02 Arena erupted immediately but the celebration didn't last long. Sean Couturier tipped in a Tyler Toffoli shot to reclaim the lead at 17:40, Canada again taking a narrow one goal lead into the dressing room.
The Czech's would take two bad penalties in period three, Seguin and Crosby scoring to put the game out of reach. Vladimir Sobotka scored for the Czech's soon after, but Toffoli added an empty netter at 18:31 to put the nail in the coffin.
Canada is set to face Sweden tomorrow, a team who beat Latvia 8-1 in Monday's other Group A matchup.
"Sweden's a great team," said Seguin. "They've proven then can score goals. We've got to be ready for them and we're looking forward to another great game."