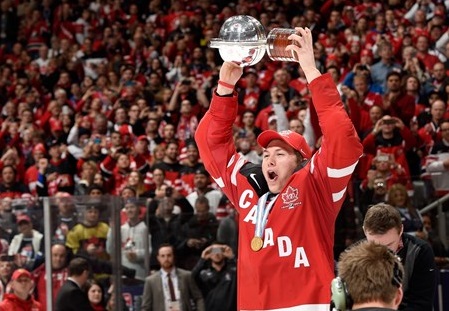 The nation was watching, cheering, and crying; it was a game to remember. After an exhilarating 60 minutes Team Canada was able to hold on to defeat Russia 5-4, and reclaim gold on Canadian soil.
It started as a picture perfect game. Max Domi was physical before the opening puck drop, and 23 seconds later Anthony Duclair had shot the puck into the Russian cage.
"It started on the faceoff there [with Domi], but I'm glad we got the goal," said Duclair. "I'm really happy to be here and nothing tastes better than gold."
Nick Paul found the back of the net two minutes after, and Russian coach Valeri Bragin pulled his starter from the game. Everything was going right for Canada, until Dmitri Yudin wired a shot passed goalie Zach Fucale at 9:20 in period one. This was the first indication that Russia was not going to go down easy.
Canada's Connor McDavid capitalized on a breakaway to make it 3-1, Domi slapped home Canada's fourth, and Sam Reinhart tipped in a Domi slapper to take a commanding four point lead. The excitement was high, 19,014 fans were buzzing in the Air Canada Centre, and the nation was almost ready to relax.
But in an instant, panic ensued. Russia scored three unanswered goals in 3:16, and drew a hooking penalty in the final moments of period two. Heading to the dressing room, Canada was on their heels and the Russians were hungry for a first place finish.
"That's the beauty of junior hockey," said Canadian captain Curtis Lazar. "Back and forth. You think you have it in the bag and they come back. That's what the Russians did."
But compared to the second both teams played a relatively conservative third, and Canada's defense was able to shut the door on their Russian rivals. As the clock's final seconds ticked away, Team Canada, the crowd, and the nation exploded in celebration. For the first time in six years Canada has not only won gold, but they have won it in a manner fit for the record books.
"To end the streak of Canada not being on top, we can finally call this game ours," said Lazar. "What a way to do it."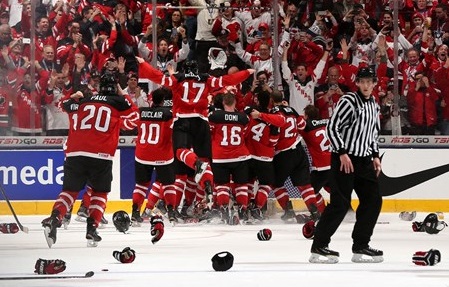 As Canadian head coach Claude Groulx predicted before the game: "There (have been) many great games between Russia and Canada and I think tonight will be one of them," he said.
And as it turns out, he was right.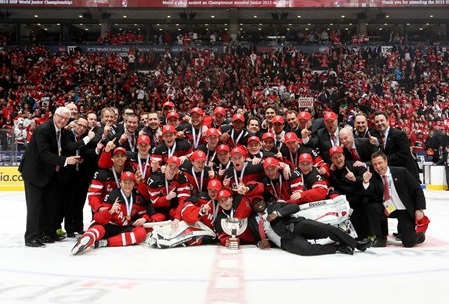 Canada went 7-0, and never trailed in the tournament.
"We're world junior champions. We're world champions," said McDavid. "It's joy… Right now this is just absolute joy."