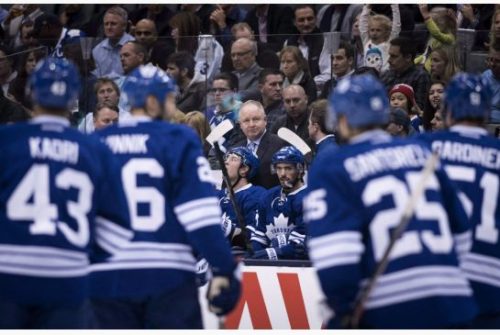 David Nonis, Senior Vice President and General Manager of the Toronto Maple Leafs, announced Tuesday morning that head coach Randy Carlyle has been relieved of his duties. Assistant coaches Steve Spott and Peter Horachek will oversee the Leafs' bench during their next game Wednesday night when the Leafs host the Washington Capitals.
"It's always a tough decision. It's not about one game or one stretch," Nonis said during a press conference. "We felt that we had to make that change today based on the way the team was trending."
In three-and-a-half seasons with Toronto, Carlyle has amassed an average 91-78-19 record for a total of 201 regular season points. Split amongst each season, the Leafs have made one playoff appearance (during the lockout year) and had the awful collapse in 2013-14 when Carlyle was behind the pine for all 82 games. In his opening season he only coached 18 contests (going 6-9-3) making it difficult to judge this season in conjuncture with the others.
Put simply, given the lockout success year, the 2013-14 end-of-year collapse, and their shaky playoff berth mid-season today, Carlyle has shown he is not capable of carrying the Leafs beyond the opening 41 games.
As it stands right now, the Leafs are one point ahead of the Boston Bruins for the final wild card spot in the east, and have gone 3-7-0 in their last 10. With 42 games remaining, this trend seems all too familiar to stand by and watch everything unravel.
"We had some good stretches, but I can't stand here and tell you we've been consistent," said Nonis. Broken down into 10 game increments, the Leafs went 5-3-2 in October, 5-4-1 up to mid November, and an incredible 8-1-1 approaching the Christmas break. Since then, the Leafs have begun their mid-season slide down the standings, and it's about time this negative trend be addressed before another season goes to waste.
"I want to thank Randy for all of his hard work and dedication," said Nonis. "It's never an easy decision to make when changing your leadership but our team was not trending in the right direction and we felt an immediate change was necessary."
But let it be said that Carlyle was only part of the problem, and more work needs to be done.
For example should Joffrey Lupul be traded? Or despite being Toronto's best defenseman, is Dion Phaneuf fit for captaincy? Or the main question: Why do the Leafs consistently give up 40-plus shots-per-game, especially when the "defensive-minded" Carlyle came to Toronto to replace Ron Wilson's "run-and-gun" style?
It doesn't make sense, which means Leafs' skaters should also be playing for their jobs. "The coach takes part of the responsibility," said Nonis. "The coaches are easy to let go. We all have to take responsibility, the players included."
It's evident that the Leafs' problem is much larger than a coaching change, though unfortunately for Carlyle, he had set himself up a while ago to be the next Leafs' coach to be kicked to the curb.
"They fire coaches when you don't play sound defensively and you don't have success," Carlyle said shortly after filling in Wilson's position. Ironically, it seems Carlyle was only explaining his eventual outcome.
But while Horachek and Spott try and figure things out, Pittsburgh Penguins former head coach Dan Bylsma remains on the market. The 44-year-old has spent this season scouting all NHL teams from his living room, watching and re-watching games with intensity.
"There are some analytic aspects of the game that I'm looking at and delving into what the numbers mean, what the analytics mean," Bylsma said. "There are certain aspects of how some teams play that I want to dissect and breakdown."
Bylsma has said he is studying the NHL tirelessly in case his phone rings with the next job offer, so maybe he'll have the answer the Leafs are looking for.
So what's next? Will Bylsma step in and assume control, or should Spott and/or Horachek receive a promotion? These questions are pressing, but in all honesty at this point any change is welcome.
Love Reading About Hockey?

Subscribe to keep up-to-date with the latest and most interesting hockey news!
| | |
| --- | --- |
| | We hate spam just as much as you |