Featured
Chris Culligan scores goal of the year for the Cardiff Devils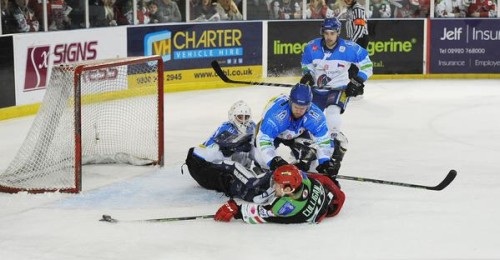 "That was the goal of the season" is frequently a phrase said too often, but last night as the Cardiff Devils took on the Coventry Blaze in the UK's Challenge Cup Semi-Final, perhaps it was a fitting statement.
To put the Devils up 2 – 1, Sydney, Nova Scotia native Chris Culligan went through alone, only to be caught up and impeded by the Blaze defence, but that wasn't enough for Culligan to quit on his chance. Falling to the ice, Culligan wriggled his body to wrap the puck past Blaze goalie Brian Stewart from his back in what is possibly one of the best goals in not only UK hockey, but one of the best in all of the worldwide hockey season.
Shades of Alex Ovechkin in this goal.
Culligan – who is enjoying a great first year in the UK, after four impressive years for the University of New Brunswick – scored just one of the Devils five goals on the night that included two goals from former AHLer Joey Martin while former New York Islander Ryan O'Marra was one of three Blaze players on the board in the Devils 5 – 3 victory. Over the two legs the Devils won 4 – 1 on the road before their sixth straight victory and their 22nd home victory out of a possible 27 since their first home game in both the Elite Ice Hockey League and Challenge Cup since September 6th, in a close 3 – 2 victory over the Hull Stingrays.
The Devils now face the Sheffield Steelers on March 8th to be crowned the Challenge Cup Champions, the first time a team other than the Nottingham Panthers will win the tournament since the Devils lost out in 2009-10, the Devils are looking for their second victory in the tournament since their victory in 2005-06 while the Steelers will be looking for their first victory in the modern era, after winning four times between 1999 and 2003.