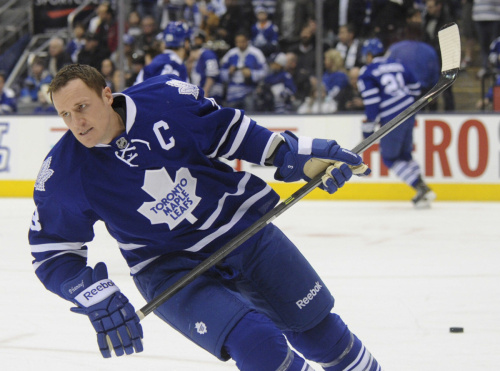 After dropping 12 of their final 14 games last season, the Toronto Maple Leafs are looking to start this year off on the right foot. Training camps opened across the league on Thursday, but for the Maple Leafs it was the first day of what is bound to be a grueling competition.
The Leafs invited 64 players to training camp, a total comprised of 40 forwards, 18 defensemen, and six goaltenders. With a mere 18 spots to fill and 3 goaltending positions available, however, many players will be left on the outside looking in.
But that is just how Leafs general manager Dave Nonis wants it to be. For Leafs management this is more than a training camp – it's a tryout.
"In the past, you like to keep a spot or two open for people to try and fill those last remaining spots. This year, we took a different approach," said Nonis. "We're going to have more people than spots available in the organization in order to create that competition right away."
On defense, captain Dion Phaneuf has optioned to switch over to the left side, but his defense partner remains unknown. Stephane Robidas, Roman Polak, and Cody Franson are all right-handed shots, and will be competing for a top two role. Gardiner and Rielly should both play on the left side, but there are a number of new faces that could earn a position as a number seven guy.
The Leafs have invited 35-year-old veteran Henrik Tallinder, and 27-year-old Brendan Mikkelson to camp on professional tryouts, and both will be looking for a fresh start. Tallinder had a -21 rating for the Buffalo Sabres last season, and Mikkelson has only played four NHL games, but they'll need to play their best to beat out the competition.
According to the National Post, Peter Granberg was penciled in as the number seven defenseman heading into training camp, but the 22-year-old Swede's only NHL experience came in the Leafs final game last season. Prospects Stuart Percy, Matt Finn, Viktor Loov, and Andrew MacWilliam will all compete, though none have played an NHL game.
But while the Leafs top six is just about set in stone, the competition up front is much more contested. Phil Kessel and Tyler Bozak will play on the top line, but word on the street is that Joffrey Lupul may have a shot at rejoining this dynamic duo. Lupul had 67 points in 66 games in 2011 when he played with Kessel, and he is anxious to get back to that level.
"We didn't finish where we wanted to last year and it made for a long summer," he said. "Now it's [about working] on systems, and each player, [and getting] himself to where he needs and wants to be."
And there is no Leaf keener on improving his game than number 71, David Clarkson. He had an abysmal season last year, totaling 11 points in 60 games, and is looking to earn a spot back on the second line.
"This is the first summer I've been healthy. I didn't take (much) time off, I went back into training right after the season, so I'm ready to hit the reset button and I'm looking forward to the next few weeks (of training camp)," he said. Clarkson has added an additional 15 pounds of muscle to his frame, so hopefully this will make a difference out on the ice.
Dropping down to the third line, there are seven players competing for three available roster spots. Centres Peter Holland, Daniel Winnik, Mike Santorelli, Petri Kontiola, and wingers Matt Frattin, David Booth, and Leo Komarov are each looking to impress, and all of them have at least some NHL experience. Last season the Leafs were the 28th worst penalty killing team, and these guys will be contending for an opportunity to change that.
"I bring a hard-nosed, defensive style," said Winnik. "If you're in the top 10 in penalty kill, you're usually in the playoffs." But even if they fail to make the third line, the fourth line is just as crowded. Marlies Josh Leivo, Trevor Smith, and David Broll are competing, while NHL enforcers Frazer McLaren and Colton Orr are also at Leafs camp.
Simply put if players want a position, they need to perform. "If some of the people on one-way contracts don't have good training camps – or beyond that don't play well or compete throughout the season – there's going to be someone else who's going to take that position," said Nonis.
Even Jonathan Bernier, who may have had a better season than James Reimer, is not in the clear. The number one position is still available, and Reimer has not entered camp as Bernier's backup. "I was told that there is a definite opportunity, and that's the mindset I'm coming in with, to really take advantage of the opportunity that's going to be given and earn the No. 1 spot," Reimer told Sportsnet 590 The Fan on Monday.
Whether it be a position on line one, a spot on the blue line, or time in the crease, the Leafs are setting up for some very heated competition. They will begin the pre-season against the Philadelphia Flyers on Monday in London, ON. at 7 p.m.
So don't assume a player is "safe," and please don't count anybody out, because at this stage anyone can make it. "It's a new year," said Lupul. "Everyone has a clean slate."