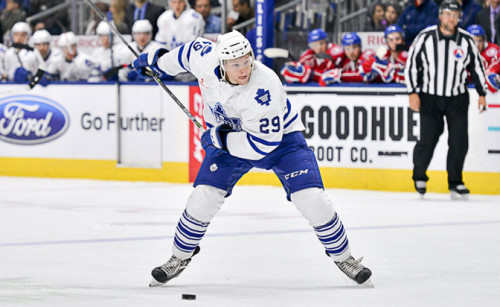 This Toronto Maple Leafs season was so terrible that people failed to focus on an incredible highlight amidst the chaos: the incredible development of Connor Brown.
The 21-year-old right-winger leads the Toronto Marlies with 60 points (20G, 40A) in 73 games, carrying exactly where he left off a year ago. During his final OHL season, Brown captained the Erie Otters totaling 128 points in 68 games, receiving the Eddie Powers Memorial Trophy as the league's top scorer.
In three OHL seasons Brown recorded a commanding 250 points in 199 contests, but this still wasn't enough to erase all doubt amongst AHL coaching staff.
"I had questions at the start of the season whether he'd be a player that could come in and be an impact player," said Toronto Marlies head coach Gord Dineen. "Being a younger guy and not real big in stature, I thought it would be a big adjustment… he erased all doubts in my mind as to his capabilities."
Though while his point totals are impressive, the Etobicoke native's development is due in large part to his junior career with the AAA Toronto Marlboros. Other 2012 draftees Scott Laughton (no. 20 Philadelphia Flyers), Scott Kosmachuk (No. 70, Winnipeg Jets), Matia Marcantuoni (No. 92, Pittsburgh Penguins), Jake Paterson (No. 80, Detroit Red Wings), and Adam Pelech (No. 65, New York Islanders) were each members of that 2012 powerhouse, a record setting year for Marlboro NHL hopefuls.
The seventh draftee of this elite squad, however, is Brown's current teammate and long time friend Matt Finn, drafted no. 35 by Toronto.
"Me and Finner played together first when we were 5-years-old all the way up to our OHL draft year," Brown said. "We were obviously drafted to different teams in the 'O,' but to both be drafted to Toronto in 2012, that was pretty special."
Given the Maple Leafs recent instability on and off the ice, Brown's chances of making the big club in September are strong. His skating ability needs improvement and he should fill out his five-foot-eleven, 170-pound frame, but his offensive instincts are exemplary. The Leafs are looking to develop a defense first mentality, however, meaning Brown must continue to build his defensive game.
"I'm a very competitive hockey player and I truly want to win night in and night out," Brown said. "I think I try to do whatever I can to help us win and have a good understanding of how much defense helps you win."
Originally projected to make his NHL debut during the 2016-17 campaign by NHL.com, the sixth rounder (no. 156 overall) is showing signs of quicker development. The Marlies are 7-3-0 in their last 10 and are on the verge of clinching the final playoff position in the western conference. Should Brown's dominance continue beyond the regular season he'll be a big story heading into training camp come the fall.
Brown ranks 10th in AHL scoring and leads all AHL rookies in point production. It's never a guarantee for junior stars to transition seamlessly to the professional stage, but Brown continues to beat out the odds.
"The opportunity could be there for Connor to take," said Leafs interim general manager Kyle Dubas. "At some point he'll make his NHL debut… [and] if he continues to do the work, he will get to where he needs to be."